By
for on January 16th, 2019
Know Your 'Victoria' History: "Uneasy Lies the Head That Wears the Crown"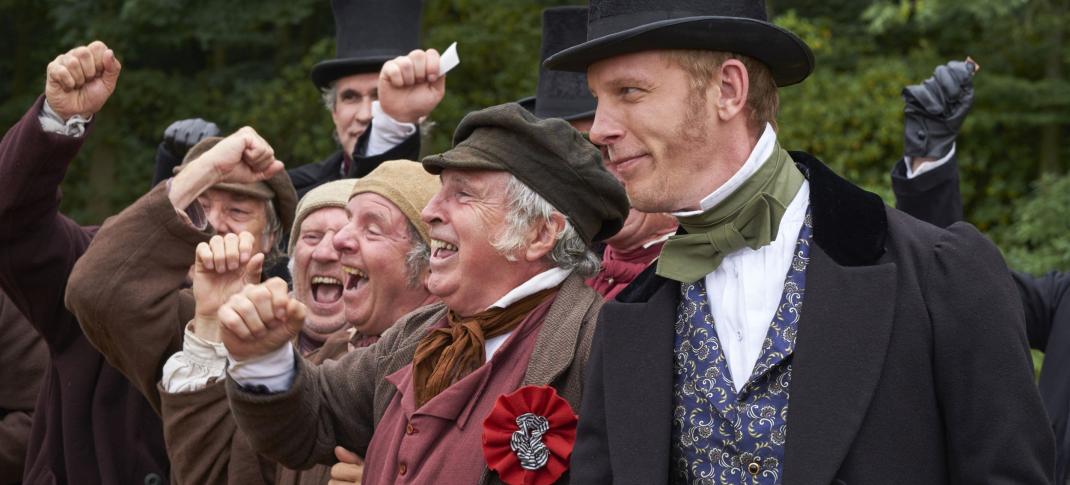 Think you know the history of Queen Victoria's reign? Wondering how much of the history portrayed by PBS series Victoria is accurate? 
We take a look at the truth behind the drama in the first episode of Season 3, "Uneasy Lies the Head That Wears the Crown."
The Chartist Movement & Revolution
By starting Season 3 in 1848, the series lands directly at the height of the Chartist movement. This is perhaps the most serious subject the show has tried to tackle since last year's Irish famine episode. The revolutionary effort, as the show takes pains to repeatedly point out, was a push to give working people the right to vote. They wanted things we take for granted today, including secret ballots, the ability for anyone to run to be an MP, and for MPs to draw salaries, so they didn't have to be independently wealthy to work in government. The movement started back in 1836 and attempted to get Parliament to accept their petition three times in the next decade or so. The last great push occured in 1848, which is what the show is pulling from, when the Chartists insisted they had 6 million signatures to present.
Also, the timing of the events in the episode is (for once) correct. The apex of the movement came in April of 1848,  not long after Louis Phillipe was deposed and came to England in exile. Victoria gave birth to Louise in March, right in the middle of the hysterical build up, just before the family was moved to Osborne House for safety.
Lord Palmerston & The Whigs' Return To Power
As fans will remember from Season 1, Victoria had an irrational fondness for the Whigs, thanks to the presence of Lord Melbourne. The Whigs' return to power marks the beginning of the gradual sea change in her political beliefs, especially as she comes up against Lord Palmerston and his sympathies towards the revolutionary spirit of the times. 
A great deal of what the show portrays in the opening episode of Season 3 is correct. Palmerston, as Foreign Secretary, was described as "blunt, imperious," and he regularly ran over Russell, his Prime Minister. He was known for not worrying about offending other countries or the Queen. He did not actively support revolutionaries, and the show is correct in pointing out his hypocrisies of supporting them abroad while attempting to squash them at home. But he was openly sympathetic to some of their aims, which made the revolutionaries in the U.K. mistake him for being on their side.
Also, while it is true he was a notorious womanizer in his younger years, by Victoria's time he'd married and settled down with none other than Lord Melbourne's widowed sister, who he'd been carrying on an affair with for years. By all accounts, he was faithful to her after they married. 
Princess Feodora
Unlike the first two storylines which are based in fact, the Feodora drama is 100% fabricated. It is true Victoria had an older half-sister on her mother's side, whose name was Feodora. Her father was Emich Carl, Prince of Leiningen and Victoria's mother's first husband. (There was also an older brother named Carl, who was 3rd Prince of Leiningen.) Both were born in Bavaria, Germany. Feodora was 7 when her father died and 11 when her mother remarried and moved her to England.
It is also true Feodora married in 1828, after only meeting her perspective husband twice, and eagerly left Kensington Palace afterward to live in the Schloss Langenburg castle in Germany. By all accounts, she hated everything about England, from the food to the weather, not to mention the stuffy court where everyone spent their time hysterically worrying about her half-sister who it was known would be Queen by then. 
Feodora was content in Germany with her husband and six kids, even though they lived in genteel poverty. The idea Victoria had "forgotten" about her sister, or would have been "surprised" by an extended stay related to revolutionary uprising (of which there was little in the German Federation) is nonsensical, as is any idea that Feodora had ulterior motives toward the English queen. The two of them were life-long penpals. Feodora did visit Victoria a few times, and when she did, the Queen would grant her a £3000 allowance, none of this passive-aggressive "you can wear my clothes" stuff. But those visits occured during times of Victoria's being in crisis, like after Albert's death, and Feodora never stayed long.
---
By
for on January 16th, 2019
More to Love from Telly Visions