By
for on January 23rd, 2019
Know Your 'Victoria' History: "London Bridge is Falling Down"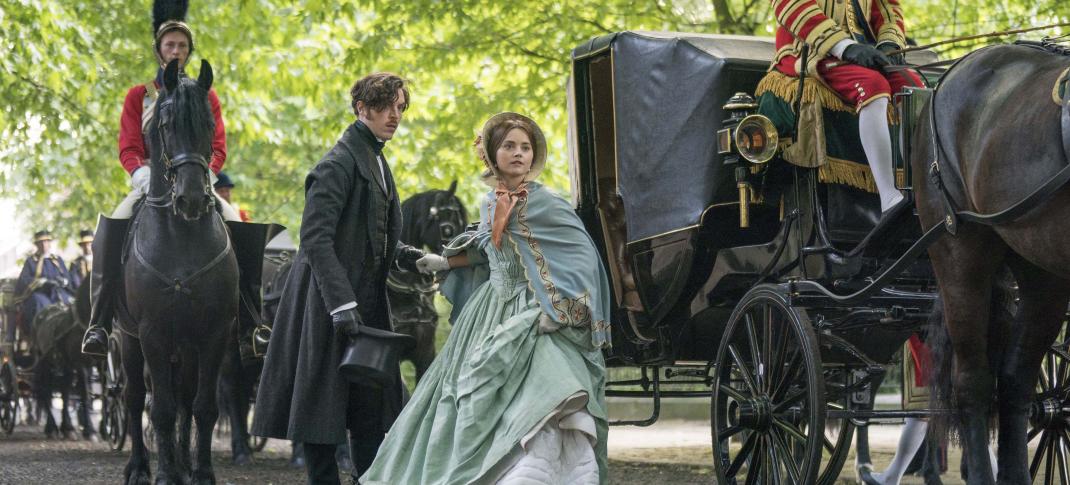 Think you know the history of Queen Victoria's reign? Wondering how much of the history portrayed by PBS series Victoria is accurate? 
We take a look at the truth behind the drama in the second episode of Season 3, "London Bridge is Falling Down."
Did Victoria Really Care About The Love Of Her People?
This week's episode finds Victoria lamenting her diminishing status as her "people" rebel, and she takes off for the Isle of Wight on the insistence of the men around her. In terms of actual events, everything here is accurate. The Chartist movement peaked in April of 1848, one month after Victoria gave birth. At the insistence of everyone around them, the royal family really did decamp, baby and all, to Osborne House. And yes, in the end, it was all for nothing, as no major riot happened.
The show presents this last fact as Victoria bemoaning how she should have been there when the Chartists arrived at Parliament. The people they love her, right? Why wouldn't they love her? Was this really her attitude?
Well, as some might say: right church, wrong pew. Victoria would indeed have been concerned about the people "loving" her. But it wouldn't have been an emotional concern the way the show angles it. For those watching historian Lucy Worsley's excellent Victoria & Albert: The Wedding companion piece, the series digs into how getting the public to "love" Victoria and Albert was an entire PR campaign, of which their wedding was one facet. The kings preceding Victoria did a real number on the monarchy's popularity. Making the queen and her family "accessible" as it were, was part of a long-planned effort to prop themselves back up, put into practice decades before revolution became an immediate concern.
Victoria would have been worried that her people didn't love her, but not because of some "the queen loves the people, and they love their queen" nonsense. She would have been worried because if they didn't, she would have failed at her one job. And that job was keeping everyone's heads attached.
Who Was Sophie, Dutchess of Monmouth The New Mistress of the Robes?
Queen Victoria had a *lot* of people go through the role of Mistress of the Robes over her 60-year reign. Harriet Sutherland-Leveson-Gower, Duchess of Sutherland whom we met in Season 1 and last saw in Season 2, about to begin an affair with Ernest. Charlotte Montagu Douglas Scott, Duchess of Buccleuch and Queensberry, was the second, who Season 2 aged up into a maternal figure played by Dame Diana Rigg. She did indeed leave the post in 1846.
But the next Mistress of the Robes Victoria had was Harriet (again), who returned to the post. The Duchess of Sutherland retained the position from 1846-1852, and then again from 1853-1858 and finally from 1859-1861. In between, it was held by Anne Murray, Duchess of Atholl, and Louisa Montagu, Duchess of Manchester. She was eventually succeeded by Elizabeth Wellesley, Duchess of Wellington.
In all, a dozen women held this role over Victoria's lifetime. And none of them were Sophie, Duchess of Monmouth. Nor were any of them the daughters of grocers. They were all peerage-born, titled ladies, so it's not like the show took someone else from history to reinvent here. Speaking of inventing, there was no Duke of Monmouth either. The title was forfeited by James Scott who was both Duke of Monmouth and 1st Duke of Buccleuch, back in the 1680s. Scott attempted a rebellion to depose James II so that he himself could become king. He failed. His son became the Earl of Dalkeith, and his grandson was Francis Scott, 2nd Duke of Buccleuch. 
In short, both these characters are wholly made up, though if Sophie seems to be inspired from anywhere, it's Oscar Wilde's The Picture of Dorian Gray.
Did The Chartist Revolution Really End Peacefully?
That's a nice way of putting it. In reality, the Chartists' promised revolution never came. Though Irishman Feargus O'Connor, editor of The Northern Star, promoted the movement in his paper, claimed they had 6 million signatures, and promised hundreds of thousands would take to the London streets to demand their rights in Parliament, nothing of the sort happened. A tiny group showed up, there were not 6 million signatures, the anticipated riots just didn't occur. The other papers of record called the entire movement a fiasco, and the Chartist movement never really recovered.
Though their aims did eventually all come to pass in the early 1900s, it turns out Victoria was right on this one. Lord Palmerston et al. were blowing it all out of proportion, and there was little to fear.
---
By
for on January 23rd, 2019
More to Love from Telly Visions