By
for on February 2nd, 2022
The 'Killing Eve' Season 4 Trailer Promises a Dramatic Final Chapter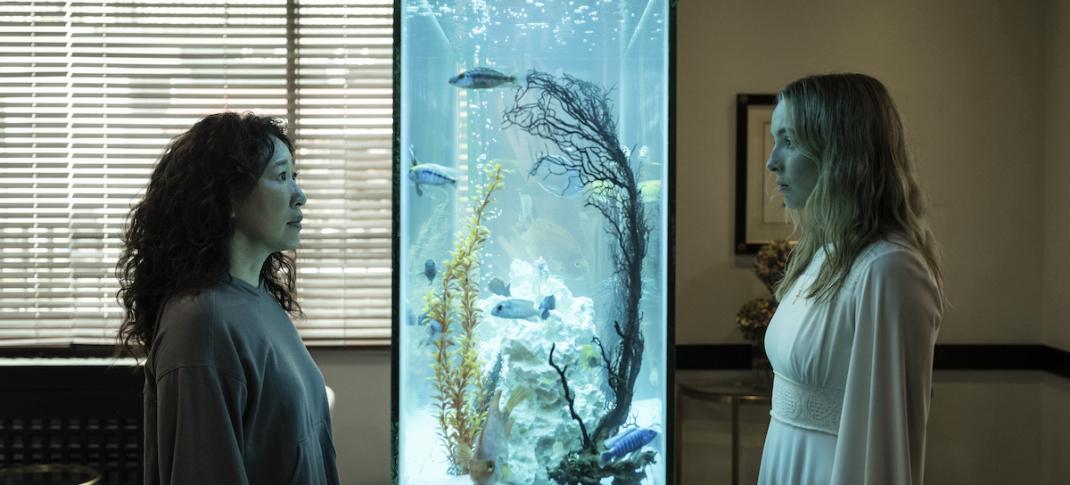 The full trailer for Killing Eve Season 4 is here and if this two-minute clip is anything to go by, this final run of episodes is going to be one wild ride.
The series stars Golden Globe winner Sandra Oh as former British intelligent agent Eve Polastri and Emmy winner Jodie Comer as stylishly violent assassin Villanelle. Over the course of the series to date, the two fiercely intelligent women have chased each other all around Europe as a mutual but dangerous obsession developed between them. Season 3 ended with a series of events that finally forced both Eve and Villanelle to acknowledge the toxic bond they share and their mutual inability to let go of whatever the twisted relationship between them is, however you might want to define it.
Yet, as Season 4 begins, all our leading women find themselves in very different places and trying to change their lives, with varying degrees of success. Following their emotional face-off on Tower Bridge, Eve and Villanelle appear to have gone their separate ways. Villanelle is trying to find herself through therapy and religion, looking for all the world as though she's making a genuine attempt to change her ways (even if, as she admits in the trailer, she's not exactly doing a bang-up job of it.) Meanwhile, Eve is out for revenge and once again working with her former boss Carolyn (Fiona Shaw), seemingly to find out who has been killing members of the mysterious shadow organization known as the Twelve. Carolyn is also desperate to uncover the person who ordered the kit that killed her son Kenny (Sean Delaney) last season. 
But, to the surprise of no one, it doesn't look as though Eve and Villanelle will be able to stay away from one another for long. (Is it just me that feels like that bit that is clearly their reunion scene in the trailer is some kind of shout-out to Baz Luhrman's Romeo + Juliet? Am I reading too much fanfic?) And given the nature of both women and their relationship, it's as unlikely to end well for either of them as ever. 
"Do you know the fable about the scorpion and the frog?" Eve asks Villanelle in the clip. "They both die because the scorpion can't change its nature." But, as Villanelle incisively points out, what happens if it's Eve who has been the scorpion in this scenario all along?
Watch the trailer for yourselves below.
"Eve and Villanelle, having left each other in total turmoil on Tower Bridge at the end of season 3, are thrown into season 4 trying to figure out what they mean to each other and what their lives now stand for," Executive Producer Sally Woodward Gentle told Entertainment Weekly back in December. "This one is going to be a lot more personal and passionate than the seasons before."
The final season of Killing Eve will premiere on February 27 on BBC America and AMC+. An encore presentation will air Monday nights on AMC beginning February 28. 
---
By
for on February 2nd, 2022