By
for on January 7th, 2019
'Killing Eve' Season 2 Will Premiere in April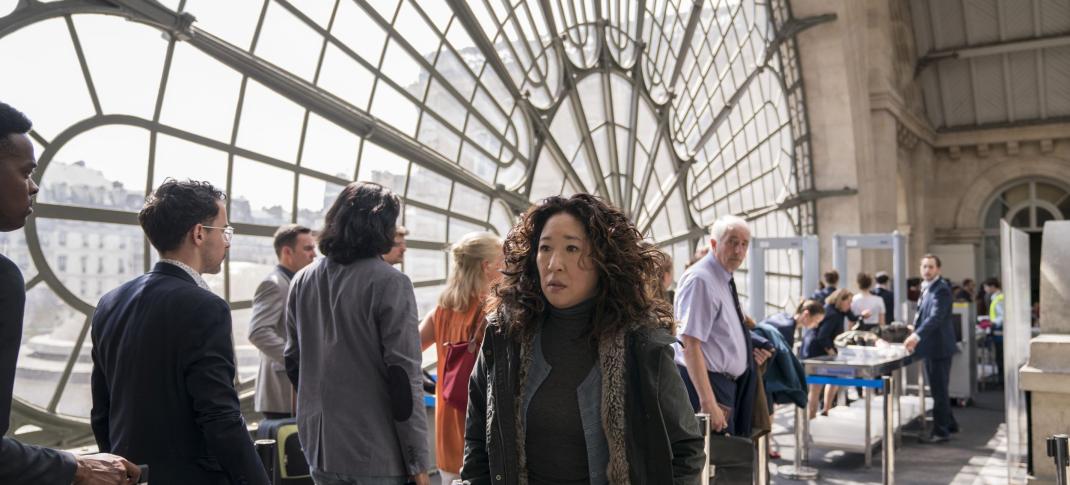 BBC America's fantastic drama Killing Eve will return to the airwaves with Season 2 this coming April.
There are moments in every TV reviewer's life when you watch a pilot, and it's like discovering a gem no one has seen yet, and you want to rush out and tell everyone. In 2018, that pilot episode was for Killing Eve, BBC America's first major hit since Orphan Black concluded. The series stars Sandra Oh (Grey's Anatomy) as Eve Polastri, an MI-5 desk jockey with an obsession with female serial killers. Her co-star, Jodie Comer (The White Princess) plays Villanelle, conveniently a female serial killer.
It's a match made in cat and mouse heaven, and Oh's performance is one for the ages, as evidenced by her Emmy nomination and Golden Globe win for the role. Her Emmy nomination was historic, the first Asian woman to ever be nominated for Best Actress in a Drama, and her Golden Globes win was also history-making, as she is now the first woman of Asian descent to win more than one Globe in her career. (She was also the first Asian woman ever to host the Globes, and she did a damn fine job last night with Andy Samberg, if I may say.)
Killing Eve is written by Phoebe Waller-Bridge, of Fleabag fame, and her comedy fingerprints are all over what is otherwise a thrilling (but never scary or gory) show. Based off the Luke Jennings' Codename Villanelle novella series, the first season covered some of the events of the first two novellas before going off and doing its own thing. Whether or not Season 2 plans to use some of the adventures from the third and fourth stories, Villanelle: Shanghai and Odessa, or continue off on its own path, remains to be seen. Waller-Bridge also received Emmy and Globe nominations for Best Drama for Killing Eve, though unfortunately lost out in both categories.
In the middle of all this, BBC America was proud to announce the show's return date for a second season on Sunday, April 7, 2019. According to the press release:
Killing Eve will return for its highly-anticipated second season on Sunday, April 7 at 8 p.m. Sandra Oh and Jodie Comer reprise their critically-acclaimed performances as Eve (Oh), an MI6 operative, and psychopath assassin Villanelle (Comer) in this story of two women, bound by a mutual obsession and one brutal act. Beginning just after the end of the final episode of Season 1, Villanelle has disappeared, and Eve is left reeling, having no idea if the woman she stabbed is alive or dead. With both of them in deep trouble, Eve has to find Villanelle before someone else does… but unfortunately, she's not the only person looking for her.
The show isn't kidding about the series picking up almost exactly where it left off. According to AMC president Sarah Barnett, the show picks up "exactly 36 heart-thumping seconds after the events of the season finale."
Fiona Shaw (Harry Potter) will also returns in Season 2 as Eve's ex-boss, Carolyn Martens. Newcomers to the cast for the second season include Nina Sosanya (Good Omens) and Edward Bluemel (A Discovery of Witches). PBS fans will also be thrilled to see some familiar faces guest starring, including Julian Barratt, who was part of The Mighty Boosh along with The Great British Baking Show's Noel Fielding, as well as Henry Lloyd-Hughes (Indian Summers) and Shannon Tarbet (Inspector Lewis).
For those who haven't yet watched the first season, it's only eight installements, and all of them worth it. (Though if I had to pick one, episode 5, entitled "I Have A Thing About Bathrooms," is perhaps the season's high point.) But you don't have to take my word for it. Even Netflix, which doesn't have the streaming rights to the series, was so excited by Oh's Golden Globe win for the show, they took to Twitter and told everyone to check it out... over on rival streaming service Hulu. 
When a show is so good it can make rival networks go all Miracle on 34th Street with the spirit of generosity weeks after the holiday ended, you know it's worth watching.
Killing Eve Season 1 is currently streaming on Hulu. Season 2 premieres on Sunday, April 7, 2019. Mark your calendars - and if you've already been watching, tell us what you think of the show!
---
By
for on January 7th, 2019
More to Love from Telly Visions