By
for on April 7th, 2019
'Killing Eve' Season 2, Episode 1 Recap: "Do You Know How To Dispose Of A Body?"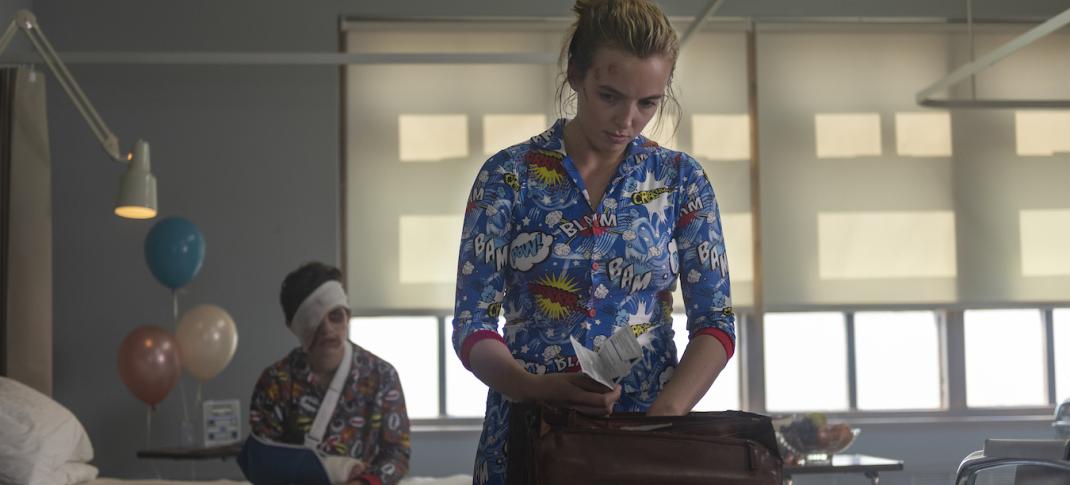 Killing Eve returns with a new season, a new showrunner, and a new game of cat and mouse.
Julia: Forgive the smell; he has been the tiniest bit exhumed.
Last season on Killing Eve, Eve Polastri (Sandra Oh), a smalltime paper pusher at MI-5 discovered a serial killer, Villanelle (Jodie Comer) and became obsessed with chasing her down. Over the course of the season she lost her best friend Bill, she nearly ruined her marriage with Niko (Owen McDonnell), and she got fired from Secret Intelligence (twice!) in pursuit of her quarry. Season 1 ended with Eve finally arriving in Villanelle's apartment, where she proceeded to knife her in the stomach. The new season begins all of 30 seconds later, as Eve, desperate to escape, and believing herself to have committed a murder, is attempting to flee the building as the police arrive.
Before we go on, let's be clear, Eve's wounding of Villanelle (real name Oksana Astankova) was not fatal at all, just inconvenient and bleedy. Mostly, Eve has made things deuced awkward, not only because our villain is wandering around the streets of Paris bleeding in the most unfashionable of manners, but because Eve has a bloody knife in her pocket, which makes going through security rather difficult in her quest to get out of the city. Villanelle, at least, has the experience to deal with her problems, throwing herself in front of a taxi, so her blood has a sudden and convenient explanation, not to mention a driver who will rush her to the hospital out of guilt. Eve sits around at train station bars, finding herself approached by AA evangelicals who mistake her for an alcoholic.
Phoebe Waller-Bridge, who created the series and showran the first season did not come back for Season 2, due to conflicts with her other hit show, Fleabag. For those who might be worried that the writing, the humor, or the sometimes surreal curlycues the show takes would disappear under a new regime, fear not. New head writer Emerald Fennell (yes, of Call the Midwife fame) nails Eve's "bored housewife in denial" inner life, and keeps Villanelle just as bluntly batsh*t as ever, about three degrees off of normal. If anything, this season is a little more off-kilter, especially as Eve dives deeper into the world of spies. The visit to the morgue, in particular, encapsulates the show's delightful inner wackiness. 
But I'm getting ahead of myself.
Once at the hospital, Villanelle convinces the doctors that her stab wound was domestic violence and calling authorities will put her in danger, thus keeping herself and her visit off the record books. Having bought herself some time, she convinces the newly orphaned teen in the next bed, Gabriel (Pierre Atri) to steal her a doctor's uniform in hopes of escaping, but she collapses before managing it. The poor kid is impressionable, depressed about his life's prospects with his parents dead and his face ruined. Villanelle attempts to explain that looking weird on the outside isn't a bad thing, because normal is boring. Just as one might think she's convinced him, it turns out he's convinced her. So she breaks his neck, steals his clothes and candy, and rolls out in a wheelchair to freedom. 
Back in London, Eve attempts normality, but she's not fooling anyone, least of all her husband Niko. Considering she's a walking PTSD disaster, and she refuses to pick up the phone when Carolyn (Fiona Shaw) calls -- or even turn off the ringer -- it's pretty obvious that his wife is not ok, even if she won't say why. Not that Carolyn is going to be given the slip, and Eve finds herself reporting in and (once again) unfired. They take a trip to the morgue to visit Carolyn's friend Julia (Barbara Flynn), in which Eve discovers the best thing to eat while looking over a two months old dead body is a burger. (This being London, sadly I don't think they get Five Guys, as the chain hasn't quite jumped the pond yet.)
The dead man is Alistair Peele, a man who had died of a heart attack and buried with the assumption that nature had taken its course. That is, until Nadia (Olivia Ross), the Russian agent from last season who was once Villanelle's partner, slipped a note out of the prison where she was being held with the man's name inside, addressed to Eve. Once Julia pinpoints the heart attack was caused by a bubble implanted in the bloodstream and not nature's natural rhythms of life and death, suspicions now running rampant this is another of Villanelle's victims. Eve is once again back on the case.
---
By
for on April 7th, 2019