By
for on August 16th, 2022
Hulu's 'Wedding Season' Trailer Will Have You Running From The Altar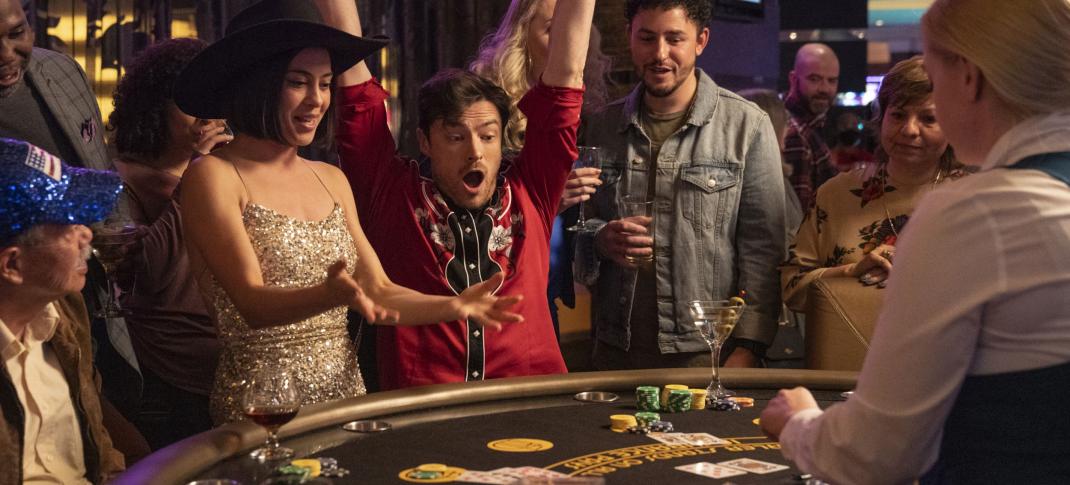 It took nearly three years for Disney to start pulling in U.K. series, but the arrival of Welcome to Wrexham this month marks the start of a new era in streaming, where Disney, and its Hulu subsidiary, are significant players. Hulu already has an ongoing deal with BBC Three that's produced series like Harlots, Normal People, and the recent Conversations with Friends. But now that Disney+ is also greenlighting shows to put on the more adult-oriented version of its streaming service, we can expect much more. The latest, Wedding Season, suggests anglophiles are going to benefit highly.
The wedding of the season in question for the new series is Katie's. The problem is she's not marrying her true love. She's marrying her fiance, Hugo, to who she made the unfortunate decision to become engaged before actually meeting her true love, Stefan, at a different wedding a couple of months ago and has been having a torrid affair ever since. Stefan does his best to stop the proceedings mid-ceremony interrupting with a raucous "I object," but Katie does not listen since the bills have already been paid, and married Hugo anyway....for about half an hour. Then she's widowed when Hugo, the rest of the Delaney clan, and Katie's parents are all offed by a poisoned wedding dinner.
Enter the bumbling law enforcement officers, DCI Metts and DI Donahue, who are pretty sure Stefan did it. However, Stefan is pretty sure Katie did it. Meanwhile, Katie wants to be just about anywhere before the dancing starts. So the two exit the reception hall and go on the run, desperately looking for evidence to prove themselves innocent. As the two realize they need not to be together and yet cannot seem to escape each other's orbit, the series rolls from rom-com to murder mystery to comedy, to drama, and then back again.
Here's the series synopsis:
This genre-busting series tells the story of Katie and Stefan who fall for each other at a wedding and begin an affair, despite Katie already having a fiancé. Two months later at Katie's wedding, her new husband and his entire family are murdered. The police think Stefan did it. Stefan thinks Katie did it. And no one knows for sure what the truth is…The series is an action-packed romp across the UK and the US as Katie and Stefan go on the run, all while trying to prove their innocence.
Rosa Salazar (Brand New Cherry Flavor) stars as Katie, with Gavin Drea (Vikings: Valhalla) as her lover and fellow fugitive Stefan. George Webster (Industry) plays Hugo Delaney, Katie's doomed husband. The series co-stars Jade Harrison (Queens of Mystery) and Jamie Michie (The Spanish Princess) as Metts and Donahue, the detectives tracking the couple down. The series also features Callie Cooke (Rules of the Game), Bhav Joshi (Vigil), Ioanna Kimbrook (Suspicion), and Omar Baroud (Baptiste). The series was conceived and written by Oliver Lyttelton (Cheaters) and directed by George Kane (Crashing). 
All eight episodes of Wedding Season arrive as a set on Wednesday, Sept. 8, 2022, on Hulu in the U.S. and on Disney+ overseas.
---
By
for on August 16th, 2022