By
for on October 23rd, 2019
HBO's 'Catherine The Great' Is Totally Great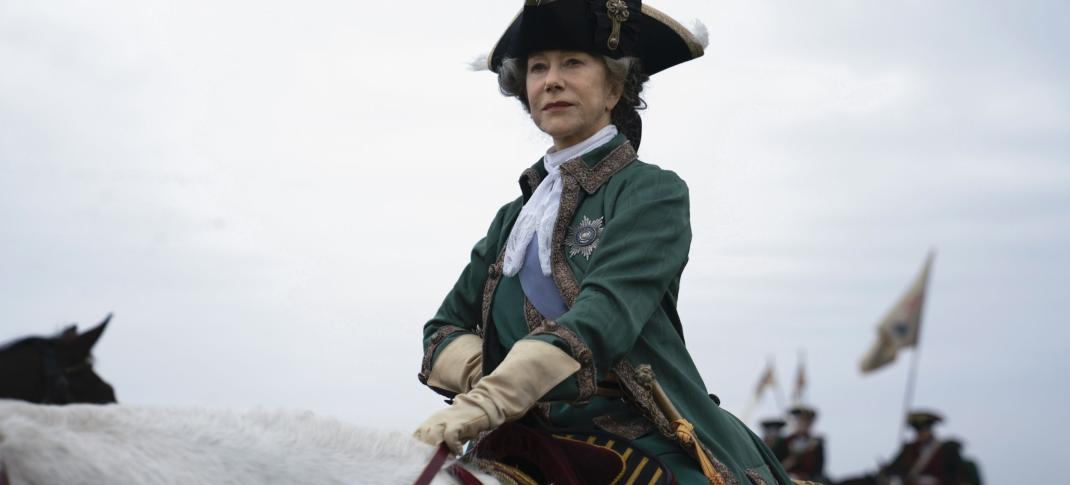 HBO's newest Russian-themed miniseries, Catherine The Great, started airing this past Monday night, occupying the same spot as Gentleman Jack and Chernobyl from earlier this year. Featuring Helen Mirren as the titular empress, the series is a gorgeously detailed piece.
Catherine The Great follows in the footsteps of PBS' Victoria, and Netflix's The Crown, which focuses on the modern-day monarchy headed up by Victoria's great-great-granddaughter, Elizabeth II. But both those queens are Western figures who are at least semi-familiar to the audiences tuning in. Catherine is different. Born Princess Sophie of Anhalt-Zerbst of the ruling German family of Anhalt, she took the throne at the age of 33.
Both Victoria and The Crown spent their first seasons highlighting how much their monarchs were as much accidents of history as they were of birth. They also focused on how young they were when they found themselves ruling. Catherine The Great is so uninterested in excusing her rise, that it doesn't even bother to show her coronation. The opening episode lays out what we need to know. After 15 of marriage to Peter III before he became Tsar, she politely waited a whole six months afterward before staging a coup and taking power for herself.
The series begins a full eight years into Catherine's reign as her son, Tsarevich Paul (Joseph Quinn), reaches his 16th birthday. To the horror of those who assumed his mother to be some kind of Queen-Regent, Catherine rolls her eyes at those who expect her to cede the throne. Moreover, Grigory Orlov (Richard Roxburgh) and his brother Alexei (Kevin McNally), key figures in the coup that brought her to power, finally realize the long-anticipated marriage they had assumed would be part of the bargain is not happening. In fact, Catherine is bored with Grigory, and more than ready to trade him out for the younger Potemkin (Jason Clarke).
Like both Victoria and The Crown, history is mushed together to make itself a point her. Catherine is beset on all sides by those who would pull down the usurper, the female who would dare rise above her station. But HBO's series is not just a look at a woman who took power and then refused to be cowed into giving back one inch of it. It also explains her place in Russian history. She dragged the country into the Age of Enlightenment while expanding the borders of the empire, (especially the ones that she claimed via campaigns headed up by Potemkin). It's hard not to notice that Catherine's conquests are what lay the historical groundwork Russia uses to claim southeastern and southwestern Asia today. Her influence still stretches on 250 years later.
All this and Catherine is still allowed to be a person with feelings, relationships, and complicated desires. The show is a tour de force for Mirren as well, adding to the stable of royalty she's spent her later years playing. (Her performance as Queen Elizabeth II in both The Queen and The Audience were both instrumental in inspiring The Crown, and some believe Mirren should take over the part once more after current queen Olivia Colman finishes her turn in Season 4.) Her characterization of Catherine has a level of nuance that would carry the series even if it were terrible. (But it's not.)
Catherine The Great consists of four episodes and airs on HBO on Mondays at 10 p.m. ET. Let us know if you give it a look! 
---
By
for on October 23rd, 2019
More to Love from Telly Visions