By
for on August 6th, 2021
Hulu Announces 'The Great' Season 2 Will Arrive In November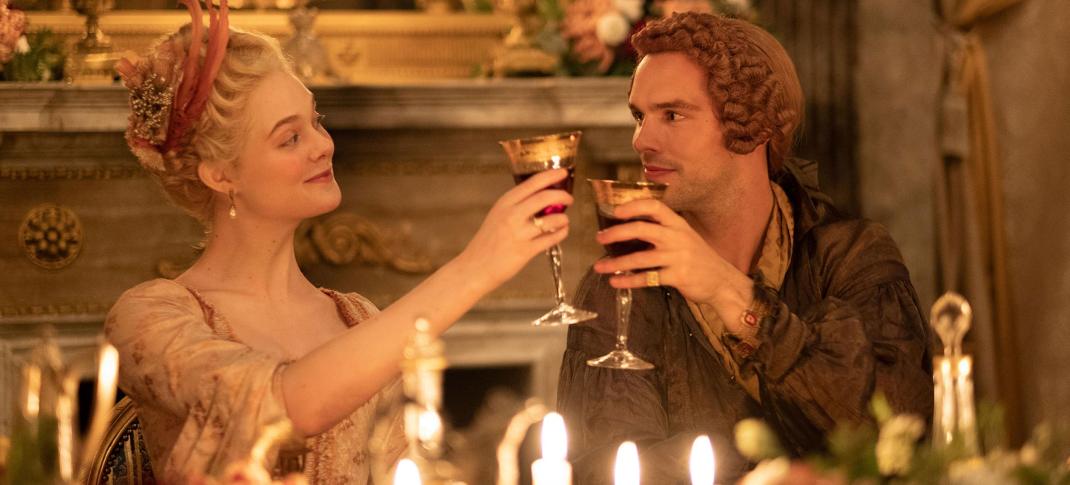 When Hulu's The Great landed in 2020, it was the second miniseries based on the life of Russia's famous Empress, Catherine the Great. The first, which aired on HBO and starred Helen Mirren, was your typical period drama full of A-list stars and profound historical moments over Catherine's long reign and her multiple love affairs. 
Hulu's take was not that.
Part of a growing body of surrealistic modernist takes on period dramas, the series stars the much younger Elle Fanning in the titular role of Catherine. The Great was an irreverent comedy that loosely follows Catherine's marriage to Peter, who reigned as Emperor of Russia under the title Peter III for all of six months until Catherine deposed him. Based on Tony McNamara's 2008 Sydney Theatre Company stage play, McNamara also serves as an executive producer alongside Fanning.
Season 2, which wrapped filming last month, now has an official teaser and release date, and even better, it has Gillian Anderson guest-starring this season.
Here's the series official synopsis for the new season:
In season two of The Great, Catherine finally takes the Russian throne for her own—but if she thought coup-ing her husband was difficult, it's nothing compared to the realities of liberating a country that doesn't want to be. She'll battle her court, her team, even her own mother in a bid to bring the Enlightenment to Russia. Meanwhile, she'll also battle her heart as Peter slowly transitions from a much-hated husband to a prisoner? Ally? Lover? Ultimately, Catherine will learn that to change a country, you must let it change you, that there is a fine line between idealism and delusion, and that becoming "Great" will ask more of her than she could have imagined.
Elle Fanning will return as Catherine in Season 2, alongside Nicholas Hoult, who plays her rather useless husband, now a rather useless Emperor. Phoebe Fox will also be back as Catherine's BFF and maid, Marial. Adam Godley returns as Archbishop Archie, Gwilym Lee is Peter's BFF Grigor Dymov with Charity Wakefield as his wife, Georgina. Douglas Hodge is also back as General Velementov, Sacha Dhawan as Count Orlo, Bayo Gbadamosi as Arkady, and Belinda Bromilow as former Empress Aunt Elizabeth.
Anderson guest stars this season as Catherine's mother, Joanna Elisabeth of Holstein-Gottorp, who engineered her daughter's marriage but was ultimately banned from Russia due to her affair with Count Ivan Betskoy, who plotted against Aunt Elizabeth. Joanna was banned from Russia when Catherine married and died before she gained the throne. How much of this will make it into the series is anyone's guess. The Great may be great fun, but it is not great at historical accuracy.
The Great Season 2 consists of ten episodes, just as the first season did. It will premiere on Hulu on Friday, Nov. 19, 2021, on a weekly release schedule. The Great Season 1 is streaming on Hulu.
---
By
for on August 6th, 2021
More to Love from Telly Visions