By
for on November 28th, 2011
Happy Birthday Martin Clunes!
Happy birthday to Doc Martin star Martin Clunes, who turns 50 today! Best known for his portrayal of the curmudgeonly, cranky Doctor M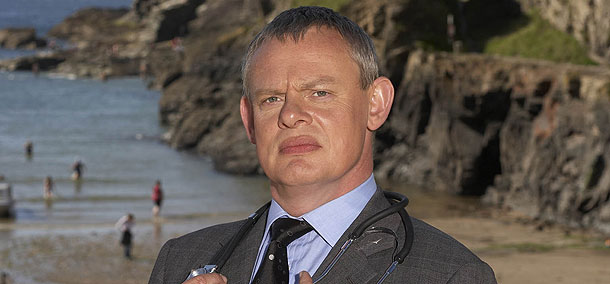 artin Ellingham in the ITV comedy/drama, Clunes has also starred in Men Behaving Badly, William and Mary, and Reggin Perrin, among other things.  He was seen most recently in the fifth series of Doc Martin, which just wrapped up its run across the pond a few weeks ago and will be airing here in the States in 2012 – most likely in the spring. (WETA viewers who love this show to pieces: the minute we know a confirmed airdate, we'll share it. Pinky swear. But it's coming, promise!)
Clunes is one of the few British television actors where virtually everyone seems to absolutely love him to bits – so he must be doing something right. We'll be doing our best here at Telly Visions to make the wait for new episodes interesting for you – join me in the coming weeks as I confront a rather significant personal lapse (embarrassing Anglophile confession alert), namely that I've never really seen Doc Martin. Well, an episode or two, here or there. But, still. Most of the series = complete, unforgiveable gap in my British TV knowledge base. Obviously, this means it's time for a viewing party.
So, whether you'd like to take a walk down memory lane in Portwenn with me while we're waiting for the new series, or just laugh at my reaction to a surprise character or storyline that everyone knows about except yours truly – stick around! Feel free to leave a rundown of your favorite episodes in the comments, just to give a sense of which you all might have the most interest in revisiting.  
---
By
for on November 28th, 2011