By
for on January 14th, 2012
The Great Doc Martin (Re)Watch Continues – Series 1, Episodes 3 and 4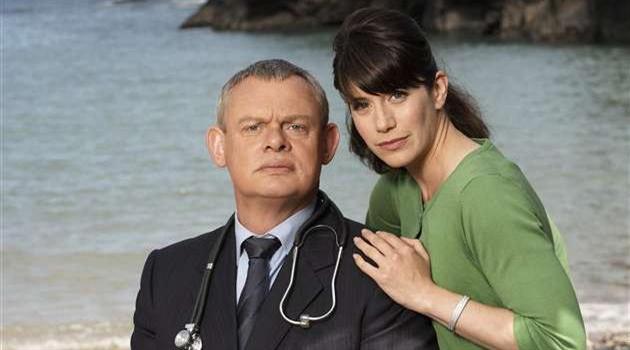 The Doc Martin viewing party continues this week at Telly Visions with episodes three and four from Series 1. We've now had two episodes to establish the basic set up of the show, so I'm curious to see what things look like now that we've some idea of who the people are and how the village of Portwenn operates.
So, click through and come chat with me! Leave your thoughts, favorite moments, funny lines, etc. in the comments.
Series 1, Episode 3: "Sh*t Happens"
This is the One Where: The village gets a stomach bug epidemic, something might be wrong with their water supply, and Doc Martin should probably never do radio appearances ever.
Toilet Humor. Literally. I could probably do without that. I suppose I might have guessed that from the episode title if I'd been paying attention.  See, kids, this is what happens when you think all British television is endlessly highbrow. No one goes in expecting diarrhea jokes.
The fact that toilet humor (literally and otherwise) is really not a thing I tend to enjoy as a viewer means that this episode was largely forgettable for me, but it does have some nice character moments despite its overly gross subject matter.
The Townies Are Interesting. I do quite like the Large boys, and would be curious to see more of their relationship. I find it intriguing that Al Large want a different kind of life than his father's and something bigger than the town that they live in. I also loved Caroline Bosman's fierce determination to protect Portwenn from Martin's speculation about the water.
Martin Makes Friends. The growing relationship between Martin and Roger is nice to watch, and a lovely bit of continuity. It's nice to see Martin have something like a friend – or at least someone he can talk to like one – he's so abrasive to the population at large that it's a relief to see a different side of him.
The pool situation. The scene where Martin freaks out an entire swimming pool of children by telling them there's something wrong with the water was pretty classic. 
On the somewhat related subject of the water supply – I did love the tiny bit of backstory that they worked in here, with the story that Portwenn's economy had nearly been ruined several years prior by a similar faulty accusation about the water supply.  Building the history of the town and its residents is important for the show, and this was handled exceptionally deftly.
Doc Martin Doesn't Know Everything. One thing I do like is that – as rude and cranky as Martin can sometimes be, this show isn't afraid to show him being wrong – epically, tremendously wrong – and taking responsibility for his words and actions. He's socially tone deaf, yes, but he is exceptionally self-aware, and it takes some of the edge off his character when he does things like staying on Caroline's radio show and willing taking heat from the townspeople about his incorrect deduction about the water supply.
The Continuing Saga of Martin and Louisa. I thought their conversations were cute, but their decision to meet for a drink seemed the tiniest bit rushed to me.  I'm happy to see that their mutual antagonism seems to be wearing off, but it's a big jump from mutual toleration and possibly grudging respect to let's be friends and have drinks (or flirt or what have you).  Hmm.
Best line: "Well, Caroline, it seems to me you have about a thousand locals who do nothing but talk about themselves. Why don't you interview one of them?"
Series 1, Episode 4: "The Portwenn Effect"
This is the One Where: The Portwenn Players Dance! Louisa tries to get Martin to go with her, but he declines, so she takes Mark instead. One of Louisa's students causes trouble on a school trip, and there's a Park Ranger who thinks he lives with a giant squirrel.
The Continuing Saga of Martin and Louisa, Pt. 2. So, despite what I said before, just up there? When Martin sort of absently and mistakenly admits that Louisa is his dream women? Completely adorable.
Cornwall. Why don't I live there? How is this place so beautiful? I like Martin getting out of Portwenn regularly if only so I can see more of this absolutely gorgeous countryside.
An Exceptionally Interesting Case This Week. Park Ranger Stewart who may or may not be crazy and may or may not be holding Martin hostage in his house until he gets drugs for his imaginary giant squirrel friend was my favorite of the medical cases-of-the-week we've seen so far. Entertaining, surprising, suspenseful and quite moving at the same time. Poor Stewart. I felt awful for him, and I love the town for rallying round and bending backward to do whatever they need to do to help keep him stable after his experiences in Bosnia. Maybe not the most proper medical response, but it's sweet.
Adventures in Awkward Dating. Even though almost everything that happened at the Portwenn Players dance was kind of predictable, it was also very enjoyable. Mark's a sweet guy, and the scene where he danced to Kool and the Gang was hilarious. And of course, Martin's expression when he saw Louisa dancing with Mark was priceless. Okay, maybe I'm more okay with that plotline than I thought.
Best Line: Peter People think I'm being rude, but I'm just saying what's in my head, you know. Doc Martin: Yeah. I do know.
Final verdict for this week? I'm starting to see why people find this show so charming. Martin Clunes manages to give Doc Martin a lot of interesting layers, and I think the case-of-the-week plots (the toilet humor part aside) are getting more interesting and more illustrative of things going on with the characters, in addition to being plot points. Looking forward to polishing off Series 1 next week!
---
By
for on January 14th, 2012