By
for on September 5th, 2019
'Great British Baking Show' Season 7 Airs Weekly on Netflix, Starting With Cakes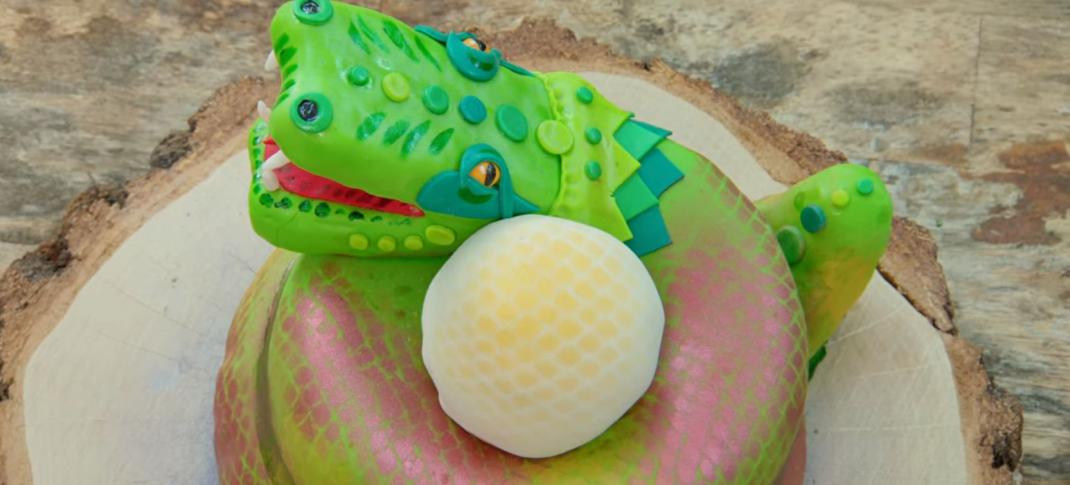 Netflix begins airing Great British Baking Show Season 7 in a weekly format, as God and Paul Hollywood intended. First up: Cake Week!
When Netflix grabbed the rights to The Great British Baking Show in 2018, thereby making it a "Netflix Original" in this country, they were already a season behind. Channel 4 had aired the full run of Series 7 in 2017. Series 8 was already getting under way. In short order, Netflix dropped all of Series 7 (called Season 5), followed by all of Series 8 (called Season 6) as soon as it finished its run overseas. But now, Netflix has caught up to Channel 4. In celebration, the streaming service has moved the show to a once-a-week format. This means we here in the United States can watch as a family, the way they get to in the U.K. New episodes will premiere every Friday here in the U.S., just a few days after they air on Channel 4. And you know what that means: Baking Show recaps are back!
Season 7 Episode 1 landed while most of us were on vacation, so here's what you missed during the premiere episode.
Naturally, it was Cake Week. This being the show's tenth anniversary (despite Americans never having seen the first two seasons), Paul and Prue decided to get into the costume fun with Noel and Sandi for the show's opening, for a full Wizard of Oz gag. Cakes and Quiches and Pies, oh my! Also, for the tenth anniversary, the show will start with a Baker's Dozen of contestants, something the show hasn't done since Series 4 (which was Season 2 for us), which means at some point there will be a forced double elimination.
This week's signature challenge is to make a Fruit Cake! The horror, etc. I feel that the best way to get to know the contestants is via their bakes, so let's dive right into what they made. As always, this is our "Pass/Fail" part of the competition. 
Priya Sunshine Fruit Cake Pass. Prue calls it light.
Jamie Easter Simnel Cake Pass. Super pretty and it holds together perfectly.
Henry Wood Street Cake Pass. Despite his decoration collapsing at the last minute.
Amelia Christmas Cake Pass. It's a little moist.
Phil Spiced Fruit Cake with Rum Glaze Fail. Too spicy, no fruit flavor.
Helena Fruit Bat Cake Fail. No fruit
Michelle Bara Brith Teulu Ni Pass, but barely. Flavor saves her. Texture is a disaster.
Steph Great Grandma's Fruit Cake Pass. Prue threatens to steal it
Rosie Spicy Chai Loaf Fail. Too chewy and cinnamony
David Squishy Squashy Fruit Cake Pass. But too heavy on the almond flavor.
Alice Gingerbread Fruit Cake Wreath Pass. Paul says it's pretty enough to hang on a door.
Michael Cup of Chai Cake Pass. Paul calls it a perfect tea cake
Dan Jamaican Rum Cake Fail. Raw.
Onto the Technical! Prue sets it. Six Angel Cake slices, three layers of Genoise sponge, each with a different color and flavor. Each layer is iced with Italian meringue buttercream, and fondant feathered on top. In short, this has nothing to do with the American Angel Food Cake. For those who are interested in Knowing Your GBBS History, this cake first came to popularity in the late 19th-century but didn't win "English Cake of the Year" until 1986. 
In order from worst to best:
13. Jamie: A disaster from start to finish
12. Helena: Buttercream melted, cake is rubber
11. Michael: Messy, collapsed cakes
10. David: Too much icing.
9. Dan: Good buttercream, bad cake
8. Phil: Good feathering, medium cake
7. Priya: The colors are off on the cakes
6. Michelle: Thin layers, but nice fondant.
5. Alice: Managed to be pink, declared "not bad."
4. Amelia: Declared "delicate."
3. Steph: Good hight, messy icing
2. Rosie: Good feathering
1. Henry: Got the height and the buttercream both right
The first Showstopper of the season is "the Birthday Cake they dreamed of as a child." It's a bit of a free for all in terms of size, layers, and flavor, and more about the whimsy and the "Wow Factor" of the decor. There are several contestants who are taking inspiration from fairies and fairytales, but others are just going totally outside the box and hoping it flies.
Michelle's Tŷ Tylwyth Teg Prue calls it exquisite. It's carrot cake inside, and the spice balance is perfect. Paul calls it "faultless."
Helena's Away with the Fairies Not only is this cake gorgeous, but the depth of chocolate flavor inside gets praised by Paul.
Priya's Once Upon a Time It doesn't look like a book. The orange chocolate inside is merely ok.
Alice's Like a Child in a Sweetshop Prue cheers that it didn't collapse. Very light sponge inside.
Phil's Retro Rocket It's a bit "leaning tower of cake." But Prue and Sandi love the retro style. The sherbert cake is too sweet.
Henry's Secret Woodland Judges are bowled over by the design. But the chocolate is too sweet.
Amelia's Carousel Birthday Prue calls it classy, but it doesn't taste good.
Steph's A Sundae on the Beach Prue loves the idea of the collapsed ice cream cone, but it's overbaked.
David's Snakey Birthday Cakey It's so cute, even if at first glance it might be taken for a dragon. The egg has gummy snakes inside. The chocolate is fantastic.
Rosie's Magical Jungle Paul calls it simplistic and clumsy, but cake inside is beautiful.
Michael's Treasure Chest They love the outside, and the look of the sponge inside, but the flavors are not much.
Dan's Pirate Island Paul calls the waterfall clever, but the flavor is slight.
Jamie's Salted Caramel Schnauzer Birthday Cake And Jamie's cake is...a dog. Fitting considering the weekend's he's had. There are "dog biscuits" in the center. And it's overbaked and too sweet.
Michelle did only middling in the Technical, and she barely passed the Signature, but her Showstopper did showstop. She is our first Star Baker of the season. As for who will fade into GBBS obscurity with all those who go home first it's surprisingly not Jamie. It's Dan and his manbun. Sorry mate.
---
By
for on September 5th, 2019
More to Love from Telly Visions