By
for on September 14th, 2021
'The Great British Baking Show' Introduces The Baking Class of 2021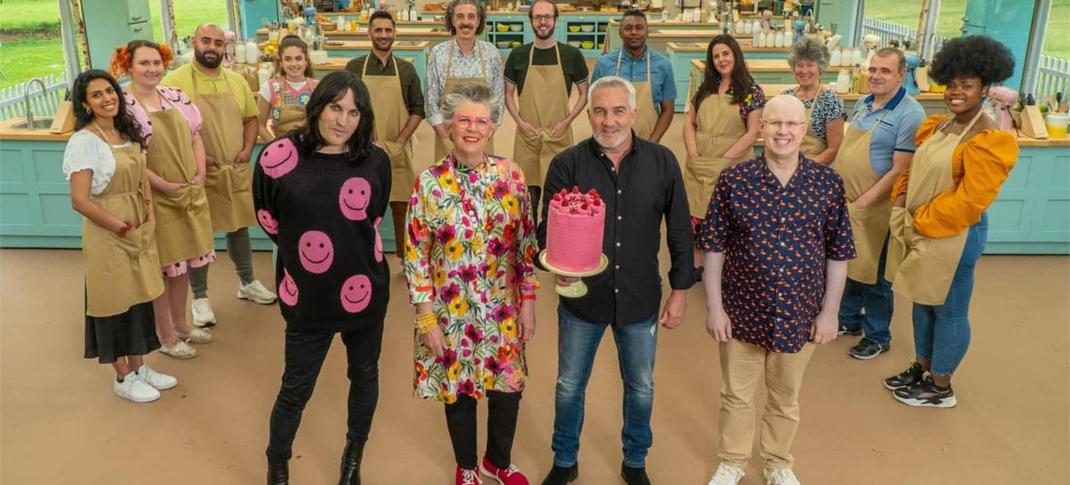 After much throat-clearing and deliberate delays, The Great British Baking Show (a.k.a The Great British Bake Off) has confirmed it will return right where everyone knew it would, in the third week of September. As it did last year, the series will premiere overseas in the U.K. on Channel 4 on Tuesdays at 8 p.m. BT, starting on Sept. 21. The show will then cross the pond later that same week to arrive on Netflix here in the U.S. at 3 a.m ET on Friday morning, Sept. 24. Both editions will keep to a weekly schedule so fans on both sides of the Atlantic can stay in the conversation.
With only a week until the show's premiere overseas, Love Productions also finally revealed this season's crop of bakers. Though that may seem a little last minute, it's pretty par for the course both for GBBO and Netflix's ongoing reality show schedule. The Circle (Netflix's American version of the U.K. hit social media competition series) didn't reveal its Season 3 contestants until about ten days before the show's first batch of episodes dropped. With so many amateurs, it's hard to know who will be good at keeping spoilers under wraps and who will blab at the first reporter who asks, so keeping the cast anonymous until it's nearly go-time is the safest option.
So who are the lucky members of the Bake Off Class of 2021? Let's run down the list of strangers we haven't met whose cakes and puddings will soon be offered up for judgment and a potential Hollywood Handshake.
Please give a warm welcome to the Bake Off Class of 2021! #GBBO pic.twitter.com/kTBOwyFy21

— British Bake Off (@BritishBakeOff) September 13, 2021
Here they are in alphabetical order:
Amanda: 56, is a detective with London's Metropolitan Police. Her Greek-Cypriot heritage influences her baking.
Chigs: 40, is a sales manager from Leicestershire. He only started baking seriously during the lockdown in 2020.
Crystelle: 26, a client relationship manager from London, finds inspiration in her Portuguese-Goan-Kenyan heritage.
Freya: 19, and this season's youngest baker, is vegan. She's a psychology student from North Yorkshire.
George: 34, a "shared lives co-ordinator" from London, is the second Greek-Cypriot baker. 
Giuseppe: 45 and a chief engineer is Italian-born but Bristol-based and looks to be this season's science nerd
Jairzeno: 51, and one of the many heads of finance in London, moved to the U.K. from Trinidad 15 years ago.
Jürgen: 56, an IT professional, moved to the U.K. 18 years ago from Germany and now lives in Sussex. 
Lizzie: 28, and a car production operative from Liverpool.
Maggie: 70, and this season's oldest baker, is a retired nurse and midwife from Dorset.
Rochica: 27, and a junior HR business partner from Birmingham is a former professional dancer.
Tom: 28, and a software developer in Kent, who is into amateur dramatics and singing.
Like last year, this group of bakers filmed in the Bake Off bubble, which means that the usual ability of contestants to go home and recharge after every round of competition will be missing. That may not sound like a big deal, but one of the reasons GBBO has always had this kinder, gentler type of reputation is that the more introverted contestants can last longer because of these built-in breaks. Without them, the gentler contestants, like last year's Sura, wind up going home earlier than they otherwise might. Also, some of the easier bakes (like brownies!) wind up being harder than expected due to the reduced practice time.
This year's judging and host lineup remain the same from last year, with Paul Hollywood and Prue Leith judging the bakes and Noel Fielding and Matt Lucas urging the bakers on. Last year, there was a bit too much boy energy in the tent between Noel and Matt and Paul. I don't know about anyone else, but one can only hope that there's at least some course correction on that front for Season 12.
The Great British Baking Show Season 12 (Collection 9) premieres on Channel 4 on Tuesday, Sept. 21, at 8 p.m. BT. It will stream here in the U.S. on Netflix starting at 3 a.m. ET (that's 12mid PT) on Friday morning, Sept. 24, with weekly released episodes.
---
By
for on September 14th, 2021
More to Love from Telly Visions