By
for on October 30th, 2020
'The Great British Baking Show' Season 8, Episode 6 Recap: "Japanese Week"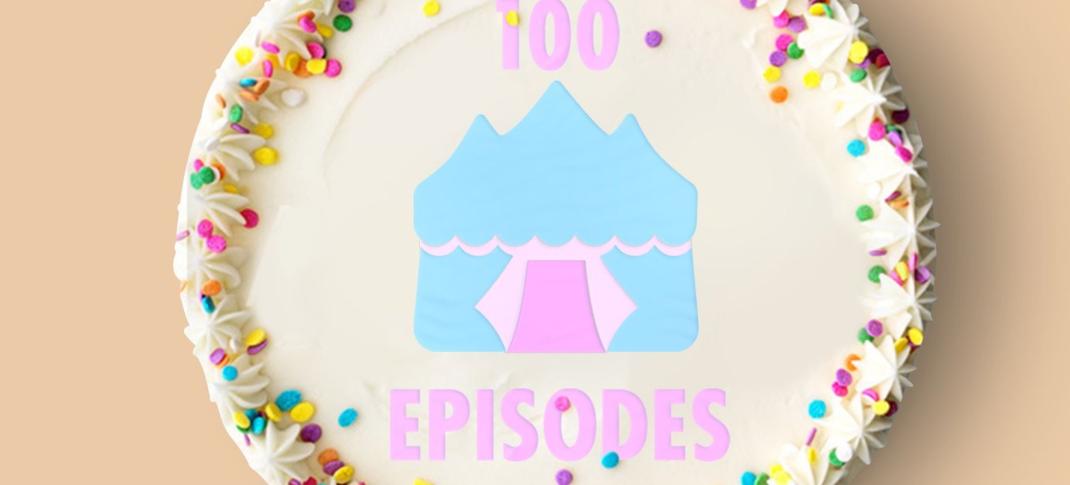 A significant shift happened in The Great British Baking Show Series 5, which was the American Season 1, and I'm not just talking about the show's move to broadcasting on PBS. It was the first season where the show introduced theme weeks beyond the traditional "Pastry," "Pâtisserie," and "Pie & Tarts." The theme that year was "European Cakes." That week's success led to other experiments that yielded memorable episodes, such as Victorian Week, which spawned historical themes ever since. "European Cakes" also brought about themes like "Italian Week" and "Danish Week." 
But even so, the series remained anchored in the euro-centric Western tradition. That ends now, with the show's 100th episode, as the Baking Show branches out for the first time into Asian bakes with "Japanese Week." (The show reveals this was Paul's idea since he was in Japan just before the coronavirus shutdowns began.) The series has had its share of South Asian bakes over the years, as contestants like Nadiya and Ruby paid homage to their upbringing in their work. But this is the first time the show has officially broadened its horizons. It's high time, too, considering that cooking grains over heat to produce carbs is a staple of food across all cultures. It also promises to be a challenging week since none of the contestants are likely to have made these delicacies at home.
Thankfully, the series is over the halfway point, with seven contestants left, so hopefully, this experiment in cross-cultural baking will not lead to bust-style trainwrecks. As it is, the Signature looks plenty tricky, as the contestants must make eight matching steamed buns. (Bao are more associated with Chinese food, but there are also Japanese versions known as Nikuman.) Traditionally steamed buns are filled with meat, but these can be any flavor they like. As always, the Signature is judged on a pass/fail metric.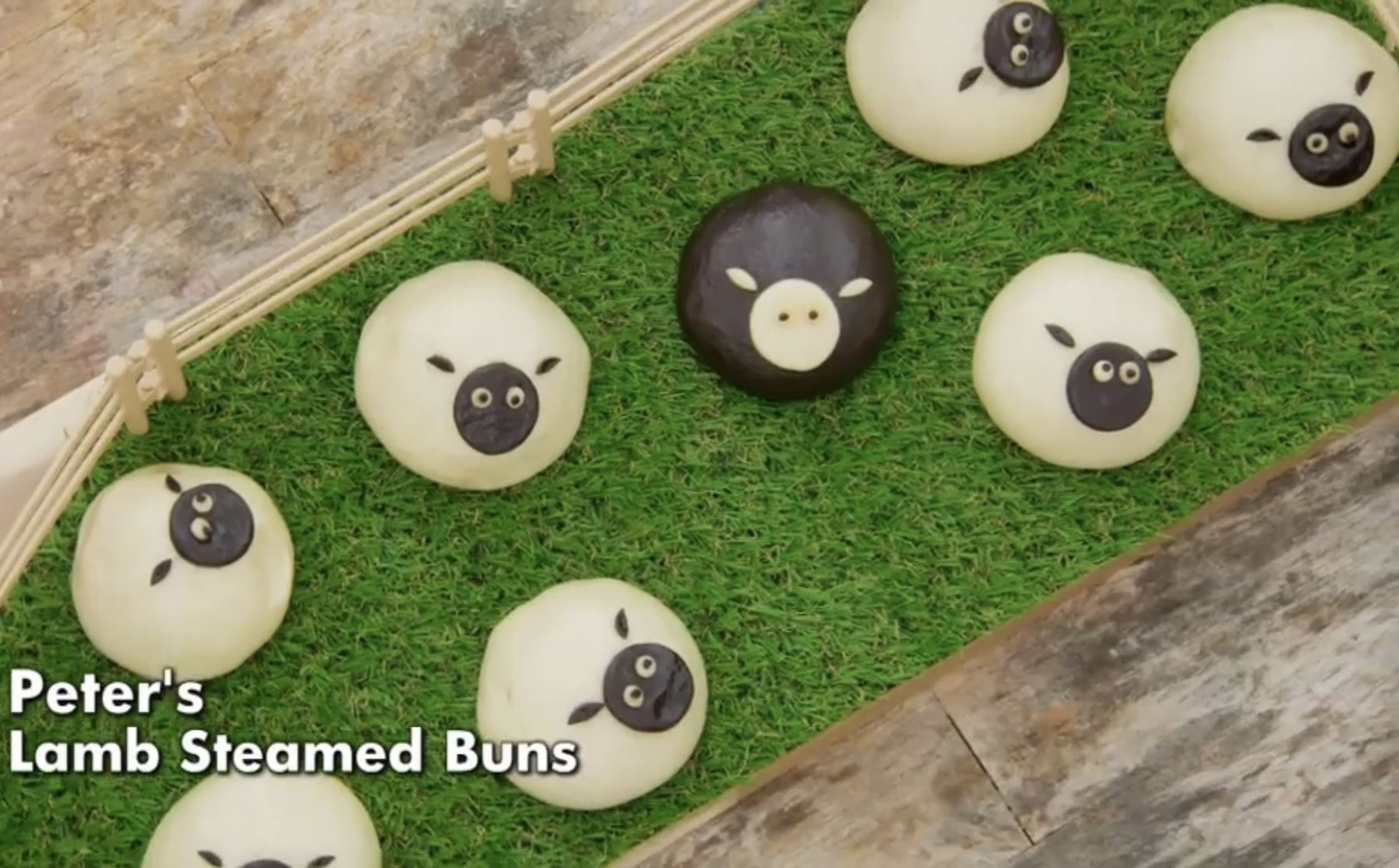 Hermine Chicken Nikuman Panda Buns (Pass) Paul thinks they're a bit untidy and over bready, but the flavor packs a punch.
Mark Burger Buns (Pass) He made the mistake of using gherkins, which Paul hates. He made one gherkinless one for Paul, though, which earns back points.
Laura Piggy Pork Belly Buns (Pass) There's too much filling, so the pigs are mottled, but it tastes great.
Marc "Hmmmm Dhal" Steamed Buns (Pass) He made them traditional looking, but they're a bit too big. But the taste saves it.
Dave Chicken Shaped Katsu Curry Buns (Pass) They're super cute, but the filling tastes a little flat.
Peter Lamb Steamed Buns (Fail) The only one who failed his filling to bread ratio, but it's tastes nice.
Lottie Cheeseburger Steamed Buns (Pass) She also skipped gherkins on Paul's, but her flavor is better, and her buns are more polished.
The show's gotten on a more even keel now, with so many bakers passing this week with flying colors. Prue set this week's Technical. She tells the bakers not to panic when they see it because it's all stuff they've done before.
That's because this week's challenge is a Matcha-Filled Crepe Cake. That does sound like a far-out concept, but as Prue says, it's simple when you break it down into pieces. Make a stack of matcha-flavored (green tea) crepes, and stack them with thin layers of whipped cream and fruit between each one until you have a cake. And at least, unlike Bao buns, they're within the realm of the actual theme. In this case, it's strawberries and white chocolate ganache buttercream. She also wants fruit and edible flowers on top. Everyone quietly stares at the directions before taking a breath and getting started.
Even though none of them had heard of a crepe cake, let's see how they managed.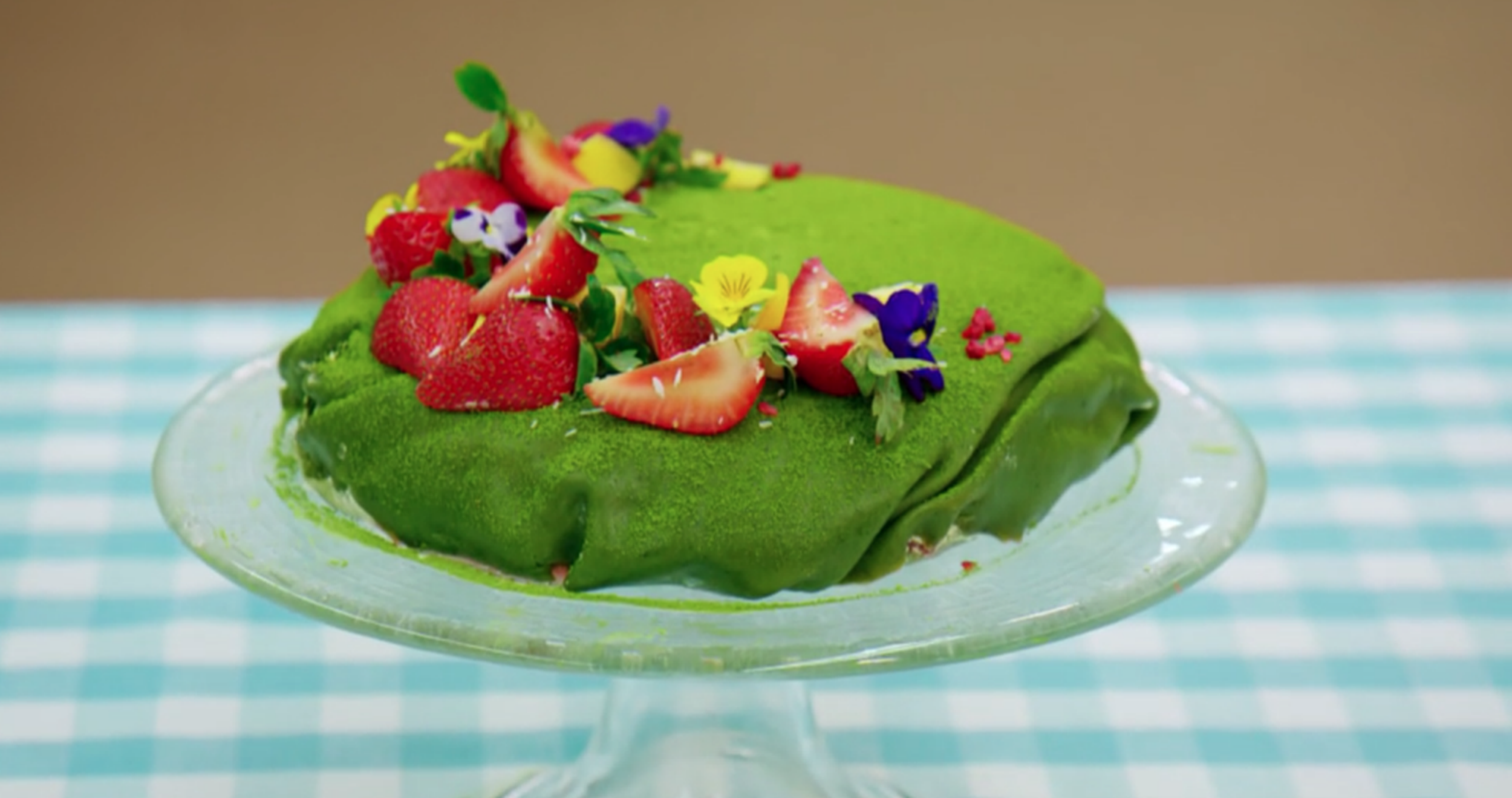 7. Laura: It's too small and thin, and the crepes were too thick. She doesn't have enough layers
6. Marc: It's mottled, and there aren't enough layers. Also, the filling is too thick
5. Mark: It's not well folded, and the strawberries are too thick
4. Hermine: Too much decor trying to hide how messy it is
3. Dave: He overdecorated, but the inside is decent.
2. Lottie: Too much coconut in the decor, but the taste is silky smooth
1. Peter: Game, Set, Matcha.
The only one to fail his Signature, Peter's come back with a first in the Technical, making it anyone's game in the Showstopper. That will be a Kawaii Cake, which is a shorthand way of saying that this is not a Japanese bake at all, but a western-style cake decorated in the famous Kawaii (cute) style. Ah well, the show tried. Perhaps next time, they'll just call it "Asian Week." At least they tell the bakers the flavors and ingredients should take "inspiration" from Japanese cuisine.
Let's see who is super cute and what came out a disaster. This week, the show's official Twitter account was kind enough to tweet out pictures of all the cakes.
BADminton? This is GOODminton!
Here's Peter and his Dizzy The Shuttlecock Kawaii Cake Showstopper. #GBBO pic.twitter.com/jGe7VVB5ra

— British Bake Off (@BritishBakeOff) October 27, 2020
Peter's "Dizzy the Shuttlecock" It's a cute idea, Peter's shuttlecock character that's been hit in the head, with its fiery sparklers. The rainbow layered interior is more of an Asian style sponge cake, but the flavor is weak.
Canine? More like ca-fine!
Here's Dave and his Matcha Shiba Inu Kawaii Cake Showstopper. #GBBO pic.twitter.com/D2OmbrVHJd

— British Bake Off (@BritishBakeOff) October 27, 2020
Dave's "Matcha Shiba Inu Cake" It's an adorable puppy even though the icing is a little cracked in places. The layering is good, and the flavors are a great combination.
So good that even Super Mario would hold off jumping on it.
Here's Lottie and her 'Into The Japanese Woods' Kawaii Cake Showstopper. #GBBO pic.twitter.com/mfNKgG2N0X

— British Bake Off (@BritishBakeOff) October 27, 2020
Lottie's "Into the Japanese Woods" Her mushroom is a little on the messy side, and the eyes aren't big enough. But the cake is stunning and delicate. Matt makes sure to get the judges to try her candyfloss (cotton candy)
An edible Tim Burton movie that deserves Oscars.
Here's Hermine and her Strawberry Cherry Blossom Kawaii Cake Showstopper. #GBBO pic.twitter.com/NxhacYTeMT

— British Bake Off (@BritishBakeOff) October 27, 2020
Hermine's "Strawberry Cherry Blossom Cake" It's more of a wedding cake than a cute cartoony cake. That doesn't mean it's not beautiful, and it tastes lovely, but it missed the theme entirely. Prue calls her a very good French baker. Too bad it's not French Week.
It's the ulti-mutt dog bake creation!
Here's Marc with his Hamish The Dog Kawaii Cake Showstopper. #GBBO pic.twitter.com/qg28DG5Slu

— British Bake Off (@BritishBakeOff) October 27, 2020
Marc's "Hamish the Dog Cake" He got the cartoon face correct, but it's a bit brown all around. The judges love it anyway.
The best Upside Down since Diana Ross!
Here's Laura with her Upside Down Pineapple Kawaii Cake Showstopper. #GBBO pic.twitter.com/Qa2kjy3fyd

— British Bake Off (@BritishBakeOff) October 27, 2020
Laura's "Upside Down Pineapple Cake" My personal favorite of the day, it's an actual upside-down pineapple. Paul agrees it looks exactly like an image you would see all over the place in Japan.
Far too cute to eat!
Here's Mark with his 'Avo Baby' Kawaii Cake Showstopper. #GBBO pic.twitter.com/yXi77YVKfr

— British Bake Off (@BritishBakeOff) October 27, 2020
Mark's "Avo Baby" It's a cute idea, but they're messy, especially the baby avocado. The sponge is dry, and the flavor is very one-note. Paul says the bottom layer is almost inedible. Ironically the baby avocado is the best tasting of the lot.
Lottie lands Star Baker for her cake; Paul says he's never had a cake like that in 11 seasons. Laura saved herself with her Pineapple character, and Prue isn't going to send Hermine home despite her missing the theme altogether. That makes it's Mark's turn to leave the tent.
---
By
for on October 30th, 2020
More to Love from Telly Visions