By
for on October 23rd, 2021
'The Great British Baking Show' Collection 9, Episode 5 Recap: German Week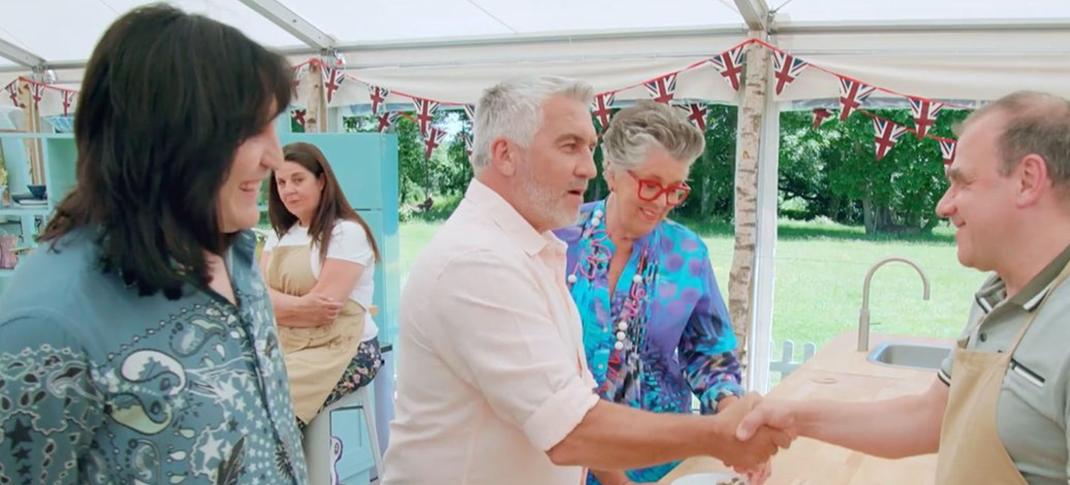 For the first four series of The Great British Baking Show (the U.K. editions, not the American ones, which means we're only talking The Beginnings Season 1 and regular edition GBBO Season 2 here), each Theme Week was a basic bake. Not Just Bread, Cakes, Biscuits, and the near-to-the-end Pâtisseries, but your everyday categories: Pastries, Desserts, Traybakes, Pies, Sweet Doughs, etc. But with Season 5 (U.S. Season 1) and then the move to BBC One from BBC Two, the series introduced a new theme style: regional.
Series 5 started simply with "European Cakes." Serines 6 and 7 (Seasons 3 and 4) got more involved with historical themes like Victorian and Tudor. But the show moved to Channel 4, doing a "regional" theme has become nearly a yearly thing: Italian, Danish, and last year's Japanese (which was really Asian Fusion). This year, the show has retreated to the European continent, where the production is more comfortable and brings us German Week. Jürgen, start your engine and your German language lessons! Oh, and everybody else, get ready too.
The good news about doing German Week is that the series has never done this theme before, meaning all three challenges are entirely new to the tent. And even better, they're semi-simple ones because their newness is enough to impress. So let's make like the stars of HBO's newest hit, be impressed Prue can disconnect lighting socco and for some reason that affects the sound design, and join The Great British German Baking Show, which apparently already named Jürgen Star Baker for efficiency's sake, already in progress.
Signature Challenge
Lizzie's Mandelhörnchen and Cheeky Boys. Naughty but nice. #GBBO pic.twitter.com/icKyjrQiCF

— British Bake Off (@BritishBakeOff) October 19, 2021
The Signature Challenge this week is to make two dozen German Biscuits. For those who have had Empire biscuits at Christmas, they're the same thing, shortbread cookies that are sandwiched and iced. Paul is also demanding almond flour biscuits as the second batch of 12 so that the contestants have to make two different kinds of biscuits by default. As always, the Signature is judged on a Pass/Fail metric.
Giuseppe Bethmännchen/Italian Linzer Augen (Pass) They're all lookers. The sandwich cookies are tasty, and the almond ones are unusual and delicious.
Crystelle Chocolate Engelsaugen/Pistachio Beidesanda (Pass) Both are called a triumph by Prue.
Chigs Marzipan Hausefreunde/Almond Mandelhörnchen (Pass) The marzipan doesn't come through, but the flavors are good.
Lizzie Mandelhörnchen/Cheeky Boys (Fail) The cheeky girls are adorable but underbaked, and the Mandelhörnchen are too big.
Amanda Spritzgebäck/Glühweinplätzchen (Pass) She lost a cookie, so one batch only has 11, but the flavors save her.
George Aniseed Springerle/Cheesy Marzipan Biscuits (Pass) They are neat as a pin which is a step up for George, though they are a bit tough. 
Freya Lebkuchen/Zimtsterne (Fail) Her vegan tricks did not work on these biscuits, and she wound up with hard overbaked pucks.
Jürgen Tee-Sterne/Milchkaffee-Kipferle (Pass) Of course. Hollywood Handshake recipient.
I mean, is anyone surprised? The only surprise here is that Freya didn't do well, while George managed to neaten up. Meanwhile, we should start worrying about how hot it is in the tent this week because the little black fans are running on every station when the show reaches the afternoon challenge.
Technical Challenge
Life. #GBBO pic.twitter.com/luxp5aOd3i

— British Bake Off (@BritishBakeOff) October 19, 2021
Prue sets this week's Teutonic Technical Challenge. She advises the bakers not to panic before exiting the tent. Personally, I will be panicking because I have to spell the damn thing. It's a Prinzregententorte, which is just German being fancy over a Prince Regent Cake. If anyone has ever had one, you'll know it's the cake with the dozens of tiny, tiny, tiny little layers of custard and sponge. It's a Victorian-era cake, named for Luitpold, prince regent of Bavaria. It supposedly has eight layers to represent the eight districts of Bavaria.
8. Amanda: The rosettes are white instead of chocolate, and the cake is tough
7. Crystelle: The rosettes are melted, and the layers are thick in the middle
6. George: The layers are too thin, and the chocolate is erratic
5. Freya: The layers are uneven, as are the sides
4. Jürgen: He didn't get all his crowns on!
3. Lizzie: It's correctly flat and has good layers
2. Chigs: Good shine and straight sides, even though the rosettes collapsed
1. Giuseppe: It's immaculate and moussy inside
The judges nearly fall over that Jürgen isn't at the top, but let's be real, Giuseppe is his real competition, and as Prue puts it, it takes an Italian to make a german cake. But Jürgen isn't fussed. He never liked Prinzregententorte and has never made or eaten one. He prefers Black Forest. 
Showstopper Challenge
Lizzie's Bavarian Fairy Tale Yeast-Leavened Cake Showstopper. #GBBO pic.twitter.com/4mEgFmCI8t

— British Bake Off (@BritishBakeOff) October 19, 2021
For the Showstopper, the bakers are making leavened Yeast Cakes, at least two tiers high. They should be inspired by the kinds of Yeasted Cakes one finds in Germany. Basically, it's a bread cake, think Brioche. Because the cake is relatively simple, the judges are looking for a high decorated final product.
Ever one for keeping it real, Jürgen points out this is actually a ludicrous exercise. A yeasted cake isn't tiered or highly decorated. It's like telling the bakers to make a three-tiered apple crumble or trifle and then insisting one cover it in icing. Paul cops to the production anglicizing the challenge for British audiences. Jürgen sighs and adds beer.
Crystelle's Bavarian Brioche Yeast-Leavened Cake Showstopper. #GBBO pic.twitter.com/32WyozADJm

— British Bake Off (@BritishBakeOff) October 19, 2021
Lizzie "Bavarian Fairy Tale" It's pretty if a touch on the messy side. But the flavors are great though Prue says it's not sweet enough.
Crystelle "Bavarian Brioche" It's beautiful with a rosette waterfall down the side. Paul loves the flavors and structure.
Chigs "Lemon & Mixed Peel Cake" The little dotted decorations are a bit honeycomb-ish, but that's quibbling. Paul says it's dry and overbaked.
Amanda's Rum, Plum & Raisin Yeast-Leavened Cake Showstopper. #GBBO pic.twitter.com/Us2Mk66DVa

— British Bake Off (@BritishBakeOff) October 19, 2021
Amanda "Rum, Plum & Raisin Cake" She stepped up her decoration game this week on the top layer. The bottom, not so much. But the flavor is stunning, to the point that Paul calls it one of the best-tasting things he had in quite some time.
Freya "Upside-Down Cake" The plums are bleeding, and the lack of icing means she can't hide the bumps and cracks. There's a lot of dough to topping, and it's underbaked.
George "Chocolate & Tahini Anniversary Cake" It's shockingly pretty for George, though the colors aren't even on the layers. But it's raw in the middle.
Giuseppe's Amarena Cherry Yeast-Leavened Cake Showstopper. #GBBO pic.twitter.com/DAa26kUXbr

— British Bake Off (@BritishBakeOff) October 19, 2021
Giuseppe "Amarena Cherry Cake" It's neat as a pin, and each layer is precisely one size smaller than the one above. When Paul takes off the top two layers to cut the bottom, the top one goes flying, saved by Matt, who isn't letting any of this cake go to waste.
Jürgen "Beer Soaked Bake" Prue calls it very breakfasty, and Paul agrees it's a bit doughy, and he doesn't love it. Jurgen agrees it could have been lighter.
Jürgen got a handshake, but Paul was expecting perfection and didn't get it. Giuseppe, on the other hand, did deliver perfection. As for the bottom, George is reaching the end of his time. But the show is keeping him around for one more round at least, and Freya is heading home. 
---
By
for on October 23rd, 2021
More to Love from Telly Visions