By
for on June 1st, 2023
'Grace' Season 4 is Already Filming for a 2024 Release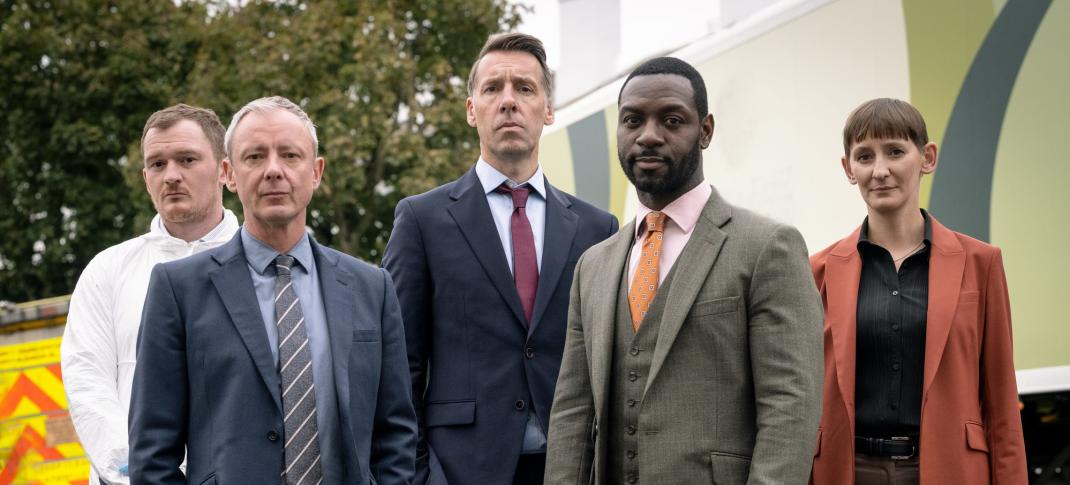 Like many series that premiered in the glut of 2020-2021, Grace was initially overlooked by American audiences when it first arrived. The series, starring John Simm (Life on Mars) as DSI Roy Grace, was based on the Roy Grace books written by novelist Peter James, with Russell Lewis — the man behind Endeavour — writing the show's debut TV movies and the subsequent Season 2. Lewis stepped down for Season 3, leaving the show to Ben Court & Caroline Ip (Whitechapel) and Ed Whitmore (Manhunt) to continue it. With Season 4 greenlit and running four installments, filming is already underway for the Brighton-based mystery.
Like Lewis' other hit show, the Grace series is a "short season, long episode" format. Season 1 was initially filmed as two feature-length episodes but wound up divided, with the second episode joining the three commissioned episodes of Season 2. Season 3 also ran three feature length-installments, and Season 4 is planned for four. Unlike Endeavour, which started life as a TV movie before becoming a series that ran 3-4 episodes a season, Grace treats its installments as standalone films and sticks close to the books, as the 120-minute run time per episode makes that a sensible option.
Season 1 adapted James' first two novels, Dead Simple and Looking Good Dead, with the latter becoming the premiere of Season 2 in the U.K. (On BritBox, both episodes came over as Season 1, as originally intended.) Since then, the show has continued going in order, adapting Not Dead Enough, Dead Man's Footsteps, Dead Tomorrow, Dead Like You, Dead Man's Grip, and Not Dead Yet. The series is currently 18 books and counting — Number 18, Picture You Dead arrived in May 2023 — so the series has plenty more material to work with.
These are the synopsis for Season 4's mysteries, which adapt the next four novels in the series:
Dead Man's Time: A vicious robbery at a secluded Brighton home draws Grace and Branson into a puzzling inquiry when thousands of pounds worth of beautiful antiques are stolen from the house. As Grace digs deeper into this mysterious crime, he unearths a web of ancient grudges - a web that leads him down a dark, murderous trail through the world of Brighton antiques.
Want You Dead: Grace and Branson investigate a case where nothing is as it first appears. When an unidentified victim is found dead in curious circumstances, the post-mortem reveals more questions than it does answers. As Grace works to identify the body, hoping this might provide some crucial clue as to the killer's motive, he soon has another death on his hands when a second victim shows up in central Brighton, discovered in similarly bizarre circumstances.                                           
You Are Dead: Grace and Branson are thrown into what is possibly their most disturbing and high-profile case yet when an unsettling discovery of skeletal remains is unearthed by workmen digging up a path in central Brighton. Meanwhile, across the city that same morning, a victim is snatched in broad daylight. With no witnesses and no sign of who took her, Grace starts to suspect whether the victim's fiancé is lying to the police.
Love You Dead: When a known Brighton burglar is found dead in his car, in gruesome circumstances, his wife claims that he had turned over a new leaf, but all the evidence points to the fact the victim may still have been up to his old tricks and was breaking and entering on the night he was killed. As Grace and the team work to hone in on the circumstances leading to the victim's death, Roy receives a call from a US police contact about a crime abroad that bears the hallmarks of a mafia hit. 
Simm will once again be joined by his co-stars, Richie Campbell (Top Boy) as DS Glenn Branson, Zoë Tapper (Liar) as Cleo Morey, Craig Parkinson (Line of Duty) as DS Norman Potting, Laura Elphinstone (Chernobyl) as DS Bella Moy, Brad Morrison (Dinosaur) as DC Nick Nicholl and Sam Hoare (The Capture) as ACC Cassian Pewe. Season 4 will also include guest star Robert Glenister (Sherwood).
This season's first two episodes are once again penned by Whitmore and Court & Ip, with Tony Marchant (The Secret Agent) and Jess Williams (Grantchester) doing the back two installments. Director Brian Kelly (Downton Abbey) will return to helm the first installment. Author Peter James executive produces with Kiaran Murray-Smith, alongside Patrick Schweitzer for Tall Story Pictures and Andrew O'Connor and Paul Sandler for Vaudeville Productions.
Grace Seasons 4 is expected out on ITV and BritBox in 2024.
---
By
for on June 1st, 2023
More to Love from Telly Visions