By
for on August 20th, 2013
British Actors You Should Know: John Simm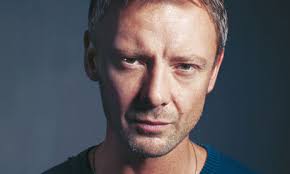 At work and with my friends, I often find myself recommending British series and movies wherein I spend the majority of my time just trying to explain who the actors are. Even people who are familiar with shows like Downton Abbey, for example, may still draw a blank when you mention the name Hugh Bonneville. You know…the 5th Earl of Grantham.
British telly looms large in my life, but I realize that's not the case for everyone. Therefore, I've made it my self–appointed mission to bring the existence of many fine British actors into the mainstream consciousness of American TV and movie watchers. For this installment, my choice is the talented English actor, John Simm. 
Why? Read on. 
Simm has been on the scene for twenty years with a variety of film and theater credits under his belt, but it's TV that has brought him some of his most memorable roles.
State of Play. I first discovered Mr. Simm in the wonderfully smart drama mini-series, State of Play. I sought it out because I love those All the President's Men sort of plotlines and, of course, the cast is amazing– Bill Nighy, James McAvoy, and Kelly MacDonald for starters. (And if you're saying "Who are they?", we'll cover those folks another day.)
But the man playing Cal McCaffrey, the lead journalist in this political thriller, was unfamiliar to me.  
[This video is no longer available.]
Simm's McCaffrey is a bundle of contradictions. He has the drive to find the truth, a vital trait for an investigative reporter, but he also has blind spots where his friends are concerned. He's cynical when it comes to his profession, but trusting in his personal life. He's smart yet allows himself to fall into an imprudent affair.  Cal is flawed, but a good man: the type of role Simm plays very well.
State of Play is available on Region 1 DVD and yes, the film with Russell Crowe and Ben Affleck is a condensed version of this mini-series. The film wasn't awful, but you should watch the mini-series for the fuller, richer story and the British accents.
Doctor Who. Chances are a portion of the American public knows John Simm based only on his appearance as The Master opposite David Tennant's Tenth Doctor.  
Appearing in Series 3 of Doctor Who and a the subsequent End of Time two-parter, Simm's manic portrayal of Harold Saxon/The Master showed a different side to this normally more understated dramatic actor. The expected Simm intensity is there; however, The Master is a much larger character (some might say verging on camp) with a cruel sense of humor and a very damaged soul. 
Mind you, Simm did cause a small Whovian storm recently when a Radio Times interview with the actor was published in which he allegedly said "I do get a lot of Doctor Who. God almighty, I'll be so happy when that's gone from my life."  The actor apparently took to Twitter to deny the slur against fans of the Time Lord and to state that his words were taken out of context.
These episodes are available to stream on Netflix and Amazon Instant Video.  They can also be found on Region 1 DVD. 
Life on Mars. That little unpleasantness aside, Simm is probably best known to fans of British telly as Sam Tyler from the extraordinary Life on Mars, truly my favorite British series of all time. 
[This video is no longer available.]
DCI Tyler is a career-minded, procedure-following Manchester police officer. After being involved in a hit and run car accident in 2006, Sam wakes up and finds he's in 1973. He spends the next 16 episodes trying to figure out if he is dead, in a coma or insane while having to deal with a demotion to DI and a whole new set of rules laid down by his renegade and slightly corrupt DCI, Gene Hunt. 
This unique series is funny, full of action and drama with just a dash of sci-fi flavor thrown in for good measure. Simm has the perfect range for this fish-out-of-water role. He balances the indignant opposition Sam feels he must wage against Gene Hunt and his crew with the compassion he shows for many of the victims he encounters during his very weird stay in 1973. Simm's greatest strength is the vulnerability he brings to the role as Sam struggles to make sense of what is happening to him physically and mentally, and ultimately in the decision he comes to when the choice is truly his to make.
I can't recommend this series enough.  It is perfect and John Simm is one big part of that perfection.
24 Hour Party People. And in support of the assertion that creative types are often multi-talented, here is John Simm assuming the persona of Joy Division and New Order band member, Bernard Sumner, in the film 24 Hour Party People:  Simm doesn't have a starring role here, but this biopic about the Manchester music scene in the mid-70's to the early 90's is entertaining and, at times, amusing and surreal.  You can stream it on Amazon Instant Video or buy it on Region 1 DVD.
Exile. Finally, in a nod to my last Actors/ActressesYou Should Know post, I present you with a double dose of top-notch acting. Exile stars John Simm as Tom Ronstadt, a self-destructive and washed up journalist forced to return to a home he fled as a teenager. His father, also a journalist, is now suffering from Alzheimer's disease and is cared for by Tom's overwhelmed sister, Nancy, played by Olivia Colman! 
It's a great story about family secrets and redemption. Oh yeah, and Jim Broadbent as Tom's father is no slouch either! I watched this on YouTube a few years back so I'm not sure if you can still find it there, but it is available on Region 1 DVD.
I hope you find something to enjoy from the John Simm oeuvre.  And if you're looking for his most recent work, keep on the lookout for The Village, a grim portrait of life in the Midlands at the beginning of WWI. Simm plays a struggling farmer and alcoholic named John Middleton who abuses his wife and sons while he tortures himself for his failures. I've not heard when it might be broadcast here. It's not even available on Region 2 DVD yet, but I hope it will make it to our shores eventually as it's a fine piece of period drama, boasts an excellent cast and is a great example of John Simm's explosive, intense side.
Thoughts, folks? Anyone have a favorite John Simm role? Curious to see what else he's done?
---
By
for on August 20th, 2013
More to Love from Telly Visions