By
for on May 1st, 2020
'Good Omens' Stars David Tennant and Michael Sheen Reunite for Anniversary Clip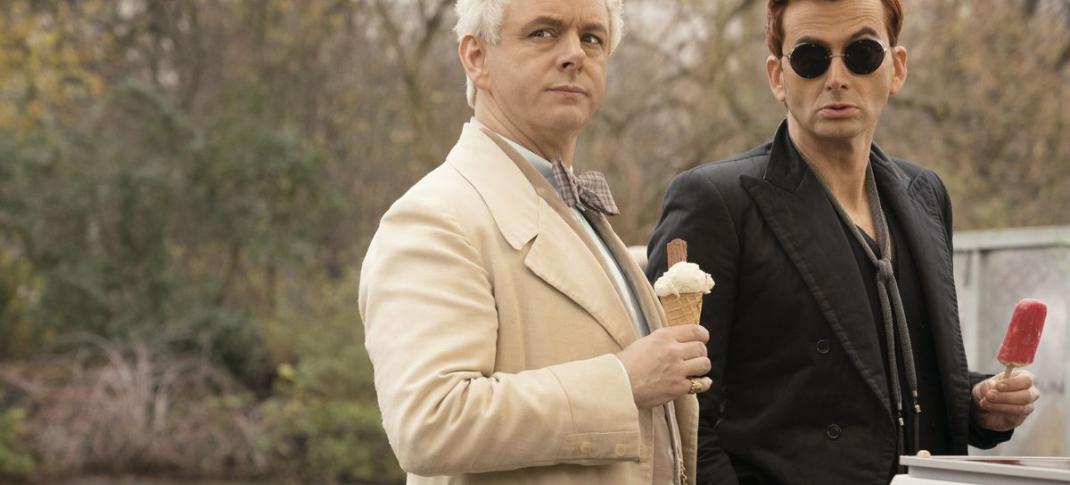 If there's ever been a time of late when we all desperately need the intercession of celestial beings, it's probably now - when we're all social distancing and doing our best to stay safe, healthy and sane during the COVID-19 pandemic. Author Neil Gaiman provides us with the next best thing - a special, brand new three-minute clip featuring the angel Aziraphale and the demon Crowley from his novel turned megahit Amazon series Good Omens, 
May marks the thirtieth anniversary of the bestselling novel, which Gaiman co-wrote with the late, very great Terry Pratchett and adapted himself into a six part, practically perfect Amazon drama last year, starring David Tennant and Michael Sheen as a broody demon and a bookish angel, respectively. To celebrate this landmark occasion, Gaiman penned a special quarantine mini-episode, giving us all a much-needed update on how precisely, Aziraphale and Crowley are handling the near-global lockdown we're all busy living under. 
Tennant and Sheen reprise their roles for this bit of audio drama perfection, as our favorite angel and demon BFFs catch up on everything they've been doing to keep busy in recent weeks. Crowley, as you might expect, is bored out of his mind, yet strangely reluctant to tempt humans into flouting CDC guidelines. Aziraphale, for his part, is....baking.  A lot. 
"This is our present to all of you," Gaiman wrote on Twitter. "It's to make people happy, because too many of us are sad."
Listen for yourselves below. 
Perhaps it's greedy to hope we might get a few more of these check-ins in the future?
I'm only human, y'all. This segment is so wonderfully perfect. Only Aziraphale would send would-be robbers home with cake. 
Listen to the ineffable beings. Stay home. Wash your hands. And stream Good Omens.
---
By
for on May 1st, 2020
More to Love from Telly Visions