By
for on October 10th, 2018
David Tennant and Michael Sheen Make Armageddon Look Fun in 'Good Omens' Trailer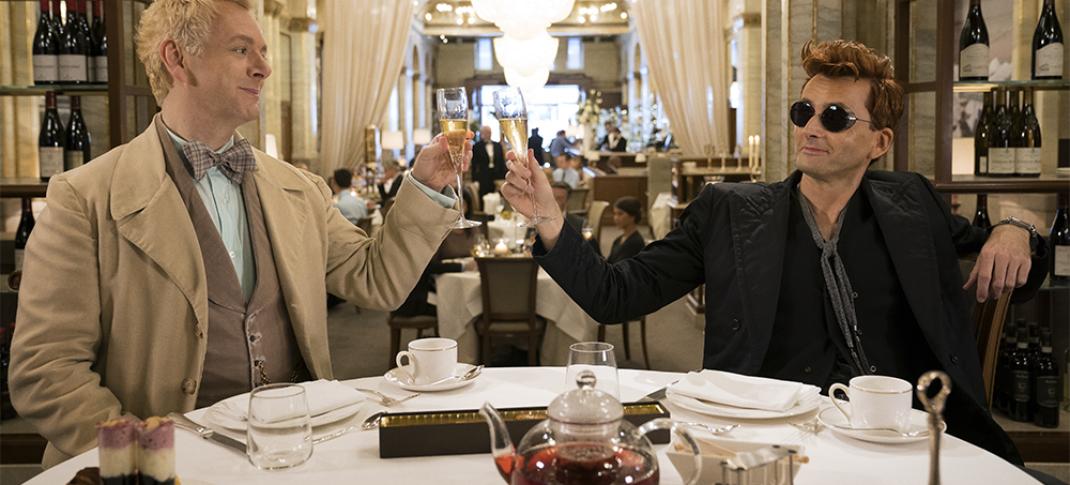 Amazon Prime Video dropped the first trailer for its upcoming adaptation of Neil Gaiman and Terry Pratchett's Good Omens at New York Comic Con last weekend and – spoiler alert! – it looks spectacular.
Based on the beloved 1990s novel, the six-part limited series stars David Tennant and Michael Sheen as Crowley and Aziraphale, a hard-living demon and a fussy angel, respectively, who want to prevent the end of the world. (This is an extremely basic description of the plot, but it'll actually be more fun the less you know going in. Scout's honor.)
Azirahale: Friends? We're not friends. We are an angel and a demon. We're on opposite sides!

Crowley: We're on OUR side.
Good Omens has had something a rocky road to the screen, originally rumored to be feature-length movie starring Johnny Depp (in 2002) and then a TV adaptation with Monty Python star Terry Jones (in 2011). Neither of those projects ever really got anywhere, and Pratchett's death in 2015 certainly made it seem that all was lost. Thankfully, Gaiman received a posthumous letter from Pratchett urging him to continue working to find a home for the pair's story. Subsequently, the author penned every episode that would become the upcoming Amazon series.  
You know, in case we needed another reason to get emotional over an adaptation of Good Omens ever seeing the light of day. It's not often you get a TV series that involves a multi-decade wait, a deathbed request, and a (sort of) happy ending via the pen of a devoted co-author and friend turned showrunner.  
Watch the teaser trailer for Good Omens below – it certainly appears as though Gaiman more than did justice to Pratchett's final request.
Tennant and Sheen are joined by a truly all-star cast which includes Jon Hamm, Miranda Richardson, Mark Gatiss, Jack Whitehall, Nick Offerman, Adira Arjona, Michael McKean, Derek Jacobi and more.
Good Omens is set to stream on Amazon at some point in 2019. (Hopefully, early 2019. Just saying.)
Are you looking forward to this upcoming adaptation? Are you a big fan of the novel or of Gaiman's work in general? Let's discuss in the comments.  
---
By
for on October 10th, 2018
More to Love from Telly Visions