By
for on July 25th, 2013
Go Behind the Scenes with 'Sherlock' Star Benedict Cumberbatch on 'Top Gear'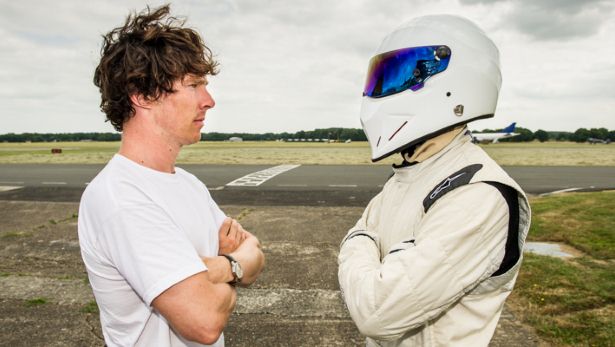 To the general joy of the majority of the internet, the currently ubiquitous Benedict Cumberbatch has now joined another beloved British television institution – Top Gear.  The Sherlock star recently appeared on mega-popular driving series as the Star in a Reasonably-Priced Car and did a lap of the Top Gear race track in this year's vehicle: a 1.6 Tech Line Vauxhall Astra. (And, really, if he can pilot a starship, the whole car thing should be a cakewalk, yes?)
Let's just be honest: we all knew this was appearance going to be amazing, because there are just so many elements combining here that the formation of a virtual Voltron of Top Gear Awesomeness was pretty inevitable. But, basically, the entire thing is actually just as awesome as you could have ever hoped. 
Before the all-important driving bit though, Cumberbatch sat down for a quick interview with host Jeremy Clarkson. During this segment, Cumberbatch spoke (again) about the Reichenbach Fall cliffhanger, talked about his first car and taught Clarkson how to throw a fake punch thanks to his recent training to play the villain in Star Trek Into Darkness. 
[This video is no longer available.]
However, there's also a truly fantastic behind-the-scenes segment documenting Cumberbatch's track experience, which is almost (actually, probably?) better than his proper show appearance. 
While the actor isn't going to be adding Top Gear Track Champion to his already bursting resume – he is currently sixth on the Reasonably-Priced Car leaderboard, coming in just behind Warwick Davis. Oh well – it would appear he can't actually do everything.  At least he did best the times set by Charles Dance and Ron Howard, among several other notable stars.
Watching this should probably make Sherlock fans very sad that Cumberbatch's co-star Martin Freeman doesn't drive, because honestly, wouldn't a Freeman guest star turn on Top Gear be epic?
---
By
for on July 25th, 2013
More to Love from Telly Visions