By
for on October 19th, 2013
Go Behind the Scenes of '12 Years a Slave' with Chiwetel Ejiofor, Michael Fassbender and Benedict Cumberbatch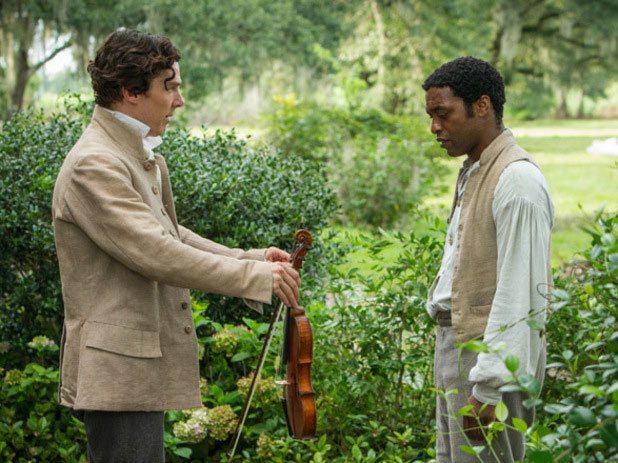 Director Steve McQueen's highly anticipated drama 12 Years a Slave – by many critical accounts a lock for a Best Picture Oscar next year – opened in theaters beginning October 18. Of course, that's a limited release, so you may still have to wait a bit before you get to see this powerful film for yourself if you don't live in a major metropolitan area.
The drama features a bevy of British stars – including a trio of up-and-coming "it" actors in star Chiwetel Ejiofor, as well as supporting players Michael Fassbender and Benedict Cumberbatch. There are also a few Americans you might recognize, most notably Brad Pitt. The film retells the true story of Solomon Northrup, a free black man from upstate New York who is abducted and sold into slavery in the pre-Civil War United States. Northrup was forced to work on plantations in Louisana for twelve years before his release and fought both to return home and preserve his dignity against impossible odds.
The film debuted at the Toronto International Film Festival last month to almost universal acclaim – with most critics hailing it as a harrowing, uncompromising (and sometimes difficult to watch) portrayal of slavery in America, and lining up to pour accolades on Ejiofor's performance, in particular.
Website ScreenSlam shared three behind-the-scenes set interviews with Ejiofor, Fassbender and Cumberbatch, as all three actors shared their thoughts on the film, their roles, and what it was like to work on the set and with acclaimed director McQueen. 
"I think It's about how hard it is to break somebody, what sort of reserves they have and how deep they're willing to go; and this is a story about one of the harshest structures ever been created in the history of the world." – Chiwetel Ejoifor 
"Filming with Steve is very fluid and fast and intuitive, so everyone needs to be tapped into it for it to work." – Michael Fassbender 
"Steve's a wonderful director to work for he's very clear. I mean, his visual aesthetic that you enjoy as an audience you enjoy as an actor as well. There's a real purity of purpose." – Benedict Cumberbatch 
Are you planning to see 12 Years a Slave?
ETA: Local folks, if you're curious about this film, it did open in DC this weekend, though at the moment it appears to only be playing in two places. So make some plans to check it out and let us know what you think. 
---
By
for on October 19th, 2013