By
for on May 3rd, 2022
'Gentleman Jack' Season 2, Episode 2 Recap: "Two Jacks Don't Suit."
The episode opens with Lister, glamorous in a fashionable massively-sleeved gown, and Ann, also beautifully dressed, dining at a hotel restaurant in Paris. Lister shows off for Ann's benefit and probably for the other patrons. She talks loudly about her aristocratic friends, gesticulates, and shamelessly name-drops. Ann, bless her, gazes at Lister with rapt adoration listening to her story of meeting paleontologist George Cuvier and giving an impromptu scientific lecture from inside a whale's skeleton. She doesn't mention that her audience was a giggling, adoring bevy of well-born beauties, including Lady Vere Cameron (Jodhi May).
It's only a matter of time before one of those old flames turns up, Isabella 'Tib' Norcliffe (Joanna Scanlan), a drunk, loud, indiscreet troublemaker. It's clear she's jealous, asking about Mariana, not only Lister's long-term lover but also Tib's, and Lister replies that she hasn't seen her since she visited Denmark a year or so ago. Tib gushes, invites Ann to tell her all about herself, and then ignores her.
The next day, while visiting the Louvre and with Ann chatting to acquaintances, Tib tackles Lister: "She hasn't got a clue, has she, about the vast tapestry of your fruity past?" Tib claims she's happy for Lister but suggests Ann is a touch insipid for that force of nature that is Gentleman Jack. Although Ann continues to bloom during the European tour, we've all wondered that. But will Lister have to admit how very vast her sexual past has been after assuring Ann that she was her first love at the beginning of the affair?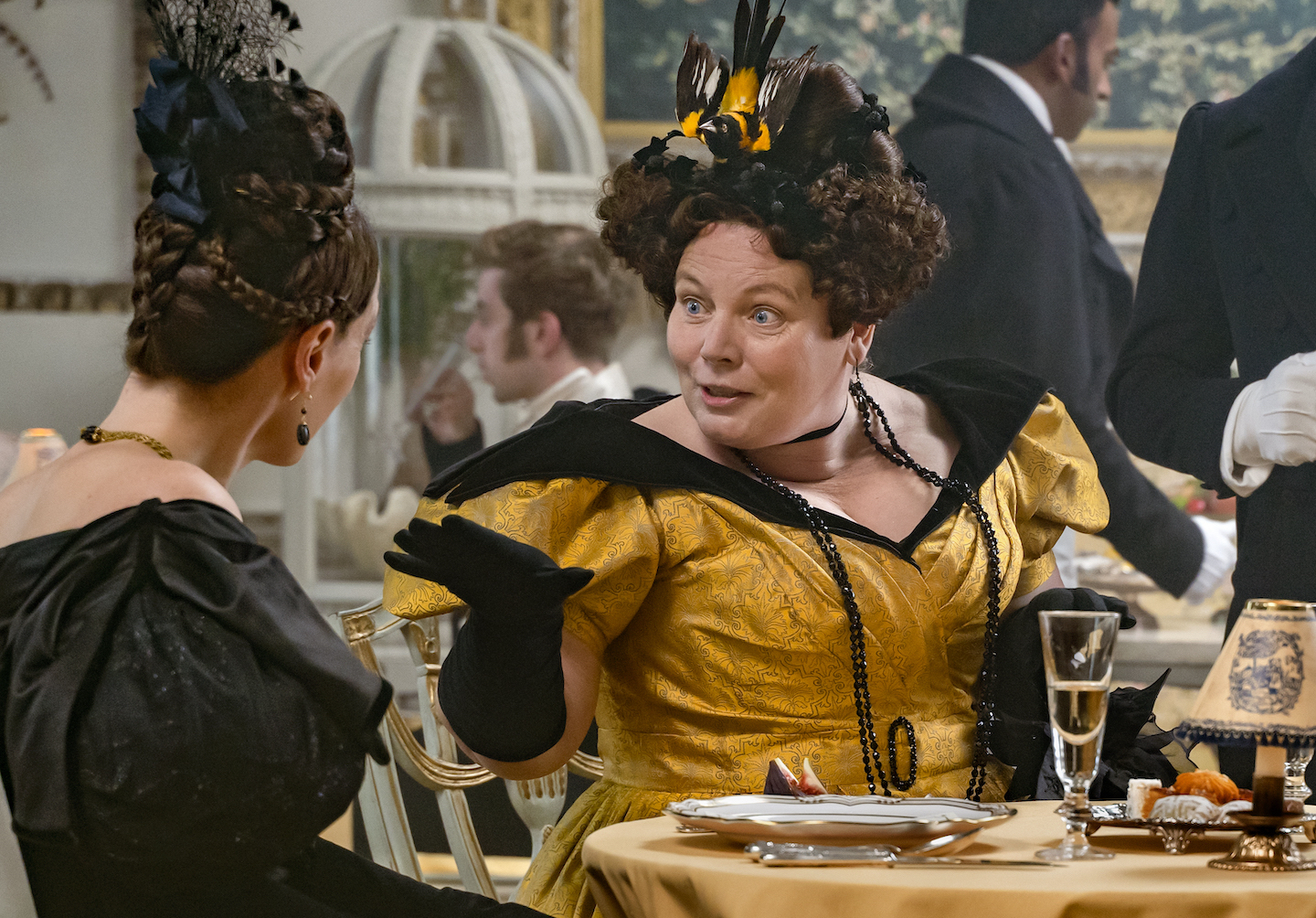 In Halifax, Marian Lister calls on stone-faced Aunt Ann Walker, who is holding a grudge against the Listers for not involving the Walker family in the couple's travel plans, and extending the trip by an extra month. Aunt Anne Lister's notes to Aunt Walker have gone unanswered, which is disappointing since Aunt Lister now has trouble getting around and can't pay visits in person. But Aunt Walker, like a steam-driven device of the Industrial Revolution, builds into an explosive rage. She is furious about Lister and Ann, and her niece hasn't been writing to her! Lister is too worldly for Ann. But it makes perfect sense for them to travel together, Marian responds; Lister's experience means she can protect Ann.
Meanwhile, Lister and Ann are having the trip of their lives in the mountains, braving cold and snow, and spending a romantic night in a cabin. Ann comments that she's never seen her like this before, so happy, so alive.
The Walkers hold a family conference, a masterclass in spite, prejudice, and hypocrisy. If Lister gets hold of Ann's money, she could become the most influential person in Halifax — a woman! Maybe they should get Lister married off, the Rawdon brothers suggest, willing to throw a bro under the Lister bus. The name of a random bachelor, Mr. James Ingham of Blake Hall, is bandied about. But the very worst aspect of Lister's behavior, Aunt Walker announces, is that of dereliction of duty!  How dare Lister gallivant off to Europe, abandoning her frail Aunt! And by implication, Ann is doing the same, shaming all of them, and causing talk. It would serve Lister right if she came home and found herself displaced by a younger relative.
They probably also know that Lister's land agent, Sam Washington, has moved his family into Ann's property, Crow's Nest, as caretakers. Sam's eldest daughter Suzannah (Amy James-Kelly), helps them move in, bringing us to the Pigs Eat Anything subplot. Suzannah's husband is Lister tenant Tom Sowden (Tom Lewis), the son of a violent alcoholic who disappeared under mysterious circumstances. The official story is he's gone to America, but Tom killed his father and let the pigs dispose of the evidence. His uncle Ben (Anthony Flanagan) is here, causing trouble. Ben chases Suzannah around the house with a pig's head, leading Sam to confront him. He responds by blackmailing the family, revealing he knows the truth about Tom's father's demise. He's also started an affair with Mrs. Sowden and has badly beaten at least one of the children.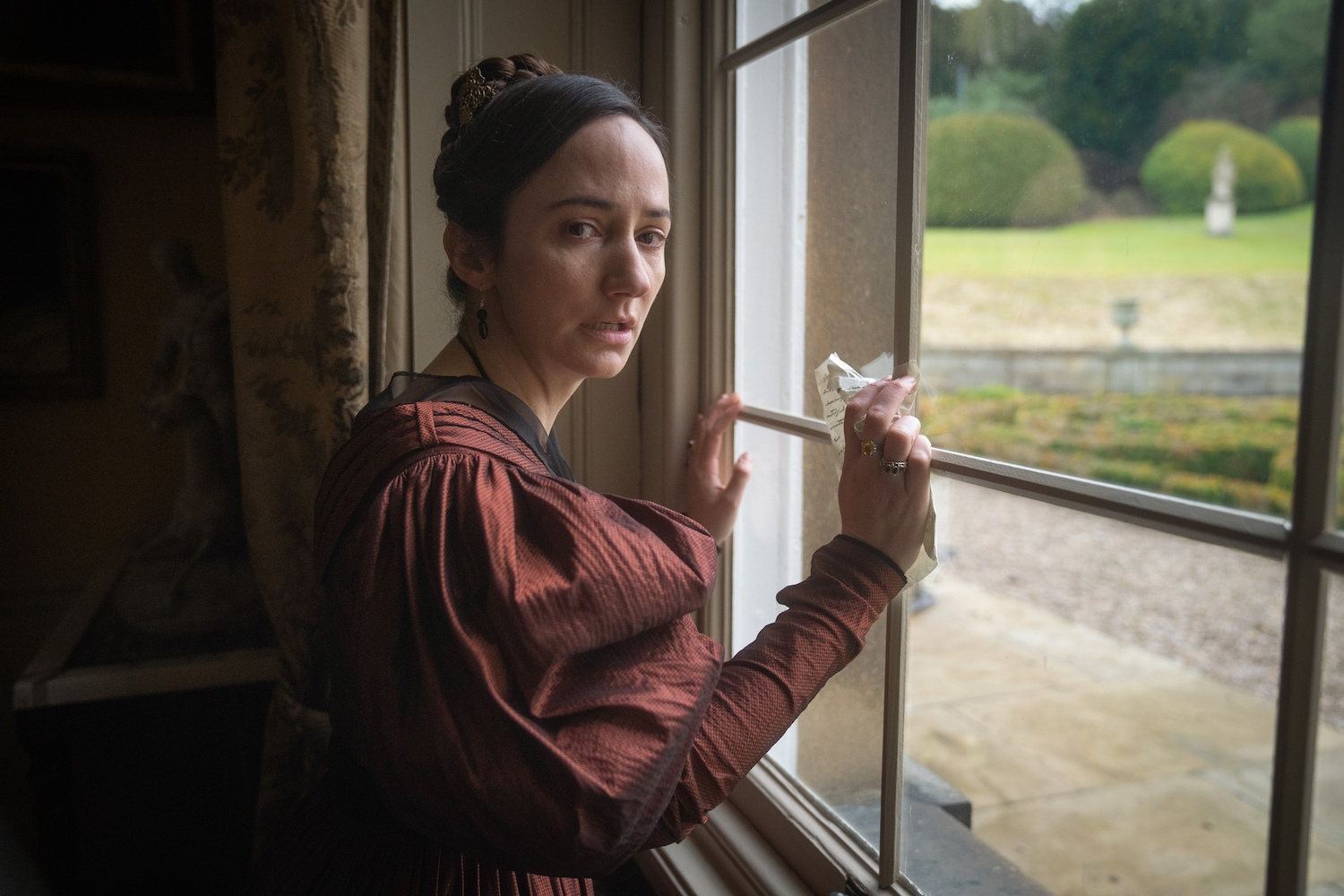 Traveling back from Europe, Lister receives a letter from Mariana, sent from Shibden, telling Lister Tib thought Ann was an unworthy successor to her. Ann asks later what has made her so sad, and Lister confesses that she wasn't entirely truthful; she and Mariana once loved each other dearly. Now her old friend is sick and low. Lister and Ann arrive home. Lister promotes the footman who traveled with them with a gold watch, as Lister's maid Eugenie (Albane Courtois) mutters that they went to Paris, and all she got was this lousy T-shirt and a pair of woolen stockings (not even Parisian ones). She and the new footman regard each other with approval.
Aunt Lister receives a letter from her niece that she and Ann are on their way home after adventures in the Alps and visiting steam engines — as Aunt Lister says, Anne Lister certainly knows how to show someone a good time! She's also annoyed that Lord Melbourne, whom she disapproves, has become Prime Minister. Lister's father, Jeremy, whose health is failing, is undergoing a Victorian late-life crisis in which he's decided to buy a gig. The family, including downstairs, are excited at the ladies' return. New footman Matthew (Leo Flanagan) is intrigued and confused by Lister. He asks, in genuine innocence, "Is she a man?"
Lister engages the family with anecdotes of their adventures abroad, including the story of how she evaded declaring lace handkerchiefs at customs by pinning them inside her drawers. Matthew the footman almost drops the teapot, Marian is horrified that her sister could have been searched, and Aunt Lister is shocked that her niece is a smuggler.
Ann is determined to sort things out with her Aunt Walker. She and Lister visit, bringing gifts, which her Aunt ignores. Ann enthuses herself about her improved health, the mountains, and their adventures. Aunt Walker breaks her frigid silence to comment that her friends will not visit Ann at Shibden Hall and that she will soon learn who her true friends are. A cousin, Delia Rawson (Poppy Allen-Quarmby), is also there. Aunt Walker announces she is not there to pay a call: Mary has become her companion, a position Ann could have taken if she had been available. Unsurprisingly, Ann now sees this as a lucky escape, although she's annoyed that her Aunt is living in what is technically her house.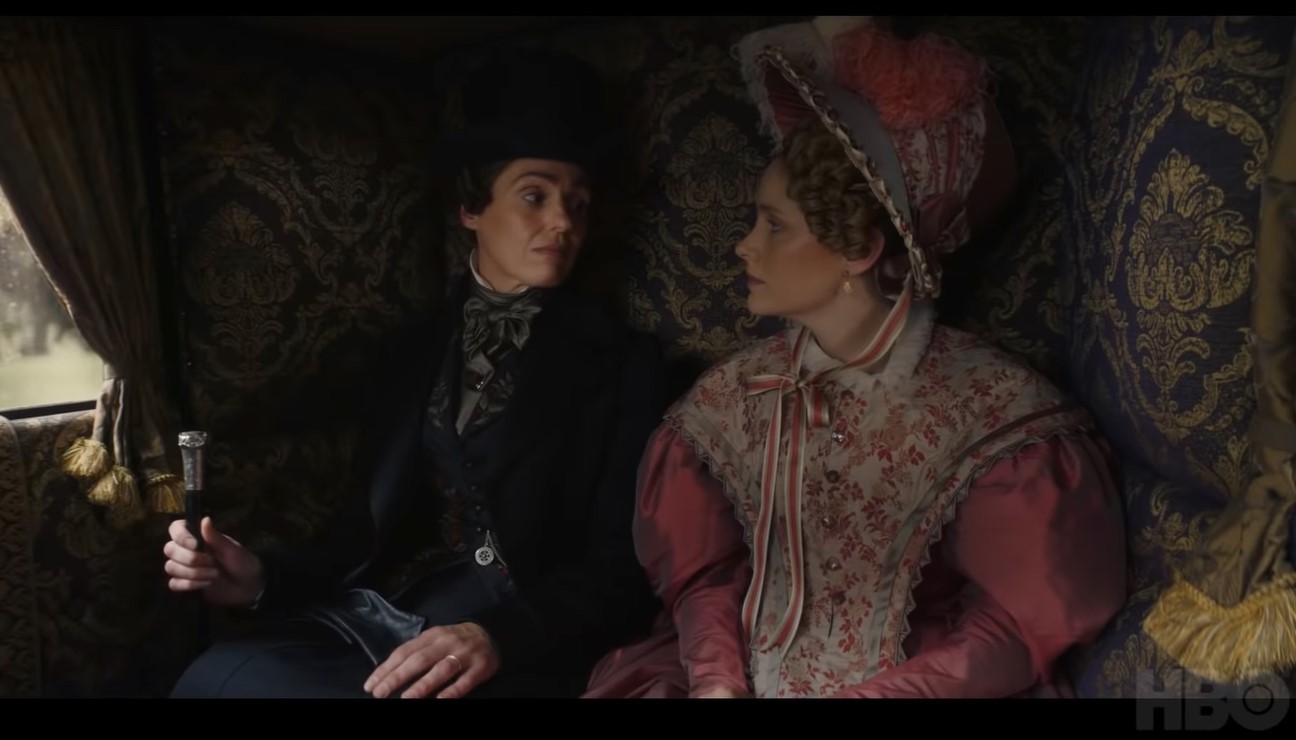 Ann's cousin William Priestley (Peter Davison) and his wife Eliza (Amelia Bullmore) call at Shibden Hall, where Marian tells them that Ann is out. Team Walker members refuse to see Aunt Lister (a distinct flaunting of etiquette), emphasizing they came to see Ann. Eliza makes a comment so cruel that even William is shocked: If only Ann's suicide attempt had been successful, the family wouldn't be having all these problems now. Disturbed by the Priestleys' rudeness, Marian tells Aunt Lister she has heard Lister referred to as unnatural, not just in Halifax but in York. Her aunt replies, she's interested in male things — medicine, mining, science. But they both know what the gossip means. Aunt Lister gives a beautiful, heartfelt defense of her niece:
You've no idea how many tears I've shed over Anne over the years. It's not because I'm ashamed of her, not once, not for a moment, but because I love her. I can never stand the thought of anything being said about her. And when I hear things like that, I think, 'shame on them.' Shame on anyone who says it or thinks or listens to it. These people––if any of these people had a fraction of her talent for happiness, for friendship, her passion for life, people, the world, and everything in it, then they'd have something to talk about. But they don't. Most people are mundane, narrow. And Anne, she's got too much about her for this world. I've known it since she was eleven. They can't put her into a neat little box because that makes her seem different. They say hateful things and try to belittle her. It used to upset her when she was younger, but now she's strong and clever, and they can't touch her. What harm does she do? You look at Miss Walker's face. Could she be any happier?
Lister and Ann visit Crow's Nest to take inventory. Two of Samuel Washington's children explore the forbidden upstairs part of the house and become trapped in a room with the two women. The astonished children hear every word and watch the two women's loving behavior and kisses in a large mirror. Ann is still smarting over her Aunt's rejection, but Lister comforts her, praising her for her generosity. She must continue to keep her dignity and keep busy. Fortunately, they're too busy to stay horizontal on the sofa for any length of time.
But Ann is still worried about her family and their influence. Can they do anything to her? Lister looks up from writing her diary and tells her she is proud of Ann's independence and brings up the subject of Mariana again. Would Ann mind if Mariana wanted to visit Shibden Hall? Of course not, Ann says and playfully uses Mariana's nickname for Lister, Fred. She suggests they visit all of her relatives. Traditionally, the honeymoon consisted of visits to family in this period, so this is quite a bold suggestion.
Ann finally writes to her sister about the inventory and division of the family property. Elizabeth, heavily pregnant, is distracted and has no objection, but her husband, Captain George Sutherland, is curious why Ann is asking about this now. His son is heir to the estate, so what difference could it make? Does she intend to marry, because if so, he must protect her from fortune hunters (i.e., keep the money in the family).
At the Sowdens' farm, Ben catches Mrs. Sowden in the kitchen and produces a bottle of port he's stolen from a cart carrying belongings from Crow's Nest to Shibden Hall. He's thinking drink and sex, but Mrs. Sowden, knowing the family is around, is reluctant to engage. But Tom interrupts and is horrified by their embrace and the presence of the stolen wine. Too late, he realizes his mother has become involved with another violent alcoholic, and Ben plans to blackmail the family into letting him stay.
Jeremy driving his new gig, sweeps into the yard at Shibden Hall, with Marian a whimpering, terrified mess beside him. Marian tells her sister their father's driving is dangerous and that they will receive complaints. Lister tells her father the gig is "very shiny," but he can tell she disapproves. Another letter from Mariana arrives, full of pain and savage disappointment and aiming to wound. Her drama queen tactics hit Lister in the gut every time. Mariana laments that her carriage drove by Shibden Hall for the first time because she had not been invited to visit. She continues:
Mariana has loved you dearly, fondly, and faithfully, and she loves you no less at present. She loves you too well to be a source of discomfort to you. Though we shall never meet again, my wishes and prayers for you will not cease. Entirely and affectionately yours ...
Lister collapses to the floor and cuts her hand with her paper knife, her contribution to the Gothic drama. But she's devastated. No, she says directly to the camera. No.
---
By
for on May 3rd, 2022
More to Love from Telly Visions