By
for on January 6th, 2015
Filming Officially Begins on the 'Sherlock' Special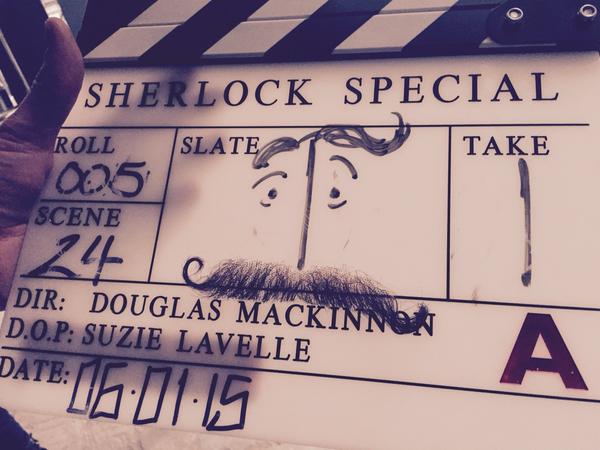 Well, we might not be sure what to call it, whether it's a holiday installment or what's going on with those outfits from the first promo photo – but it's official: Filming on the highly anticipated one-off episode of Sherlock kicked off today.
[I'll wait while you all take a moment to shriek or flail around or do whatever you need to do to get the excitement of that announcement out of your system.]
But, yes, it's true. Here it is straight from the horse's mouth, as it were – or at least the Twitter of co-creator Mark Gatiss: 
Element-hairy, my dear Watson! #Sherlock pic.twitter.com/LmUiHK2Nlr

— Mark Gatiss (@Markgatiss) January 6, 2015
Further confirmation arrived soon after  from the official BBC One Twitter as well: 
Element-hairy, my dear Watson! Filming is now underway on the #Sherlock Special, coming to @BBCOne in 2015. pic.twitter.com/sirTNafRh3

— BBC One (@BBCOne) January 6, 2015
It seems fitting that filing on a new Sherlock episode begins on what is generally accepted to be the birth date of the fictional sleuth himself (January 6).  But we still generally have no idea what this one-off is going to be about.
The lone promo photo that's been released shows stars Benedict Cumberbatch and Martin Freeman in Victorian period dress (and Freeman's dreadful Watson moustache has returned).  Executive producer Sue Vertue has confirmed those outfits are legit. Are we time traveling? Having a fever dream? Going to a fancy dress party? A Victorian alternate universe? A holiday miracle dream vision, straight out of Dickens? (That last bit is my personal nightmare. I can survive forever without ever seeing Sherlock Holmes reevaluate his life, Ebenezer Scrooge-style, thank you.)
And beyond that, where do the other random tidbits recently dropped by various production members fit in? Gatiss himself has promised that the special is going to deal with the Moriarty situation from the end of Series 3 – you know, the bit where his face  face suddenly appeared on all the screens in England despite the fact that we all saw him shoot himself in the head at the end of Series 2? Yeah, that. (At least that means we'll probably see Andrew Scott in the special, right? Maybe?)
Don't think too hard about how in the world Moriarty is going to mix in with the Victorian outfits, though. You'll just get a headache.
While no one directly involved with this episode will admit that it's a Christmas special – Gatiss himself is very particular on this point – personally, I would hazard that there's no way it isn't a Christmas special, given that it seems unlikely the BBC wouldn't hold the one singular episode of their most popular series that they're going to get in 2015 until the very end of the year. But, that's just me.  Feel free to take that with a mountain of salt.
At any rate, despite the fact that the Sherlock special will be completed quite early in the year – production on any given episode of this show tends to take about four weeks, not counting post-production editing and all of that – fans should probably prepare themselves to spend most of the year waiting to see it. So, there's plenty of time to speculate, at least.
What do you think this one-off installment of Sherlock will focus on?  Hit me with your craziest theories!
---
By
for on January 6th, 2015