By
for on December 28th, 2022
A Few Polite Suggestions For The Next 'Great British Baking Show' Host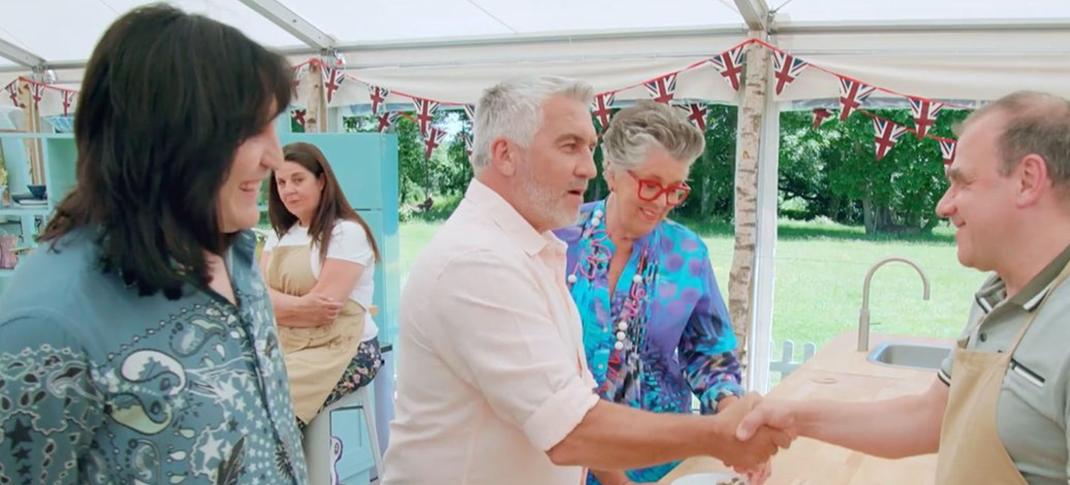 Since Sandi Toksvig's exit from the ten after a few short seasons on Channel 4's newly acquired The Great British Baking Show, the series has had a problem up in front of the tent: Too Much Boy Energy. Matt Lucas, who was already well known in America as Nardole from Doctor Who, joined the team to stand beside remaining host Noel Fielding. However, the combination of two male hosts, plus Paul Hollywood, gave the show a bit of a boy's club feel, with Prue Leith gamely sighing through whatever disrespectful thing they were doing to her now while the contestants grinned and tried to avoid them.
As we've discussed at length here at Telly Visions, the real problem in the tent is Paul, and until he retires or at least steps back in his hosting duties, the show will always be working with one hand tied behind its back. However, Matt Lucas' announcement he is leaving does give Love Productions a chance to recalibrate (and Channel 4 and Netflix an opportunity to recommend a couple of hires). The series' continuing popularity (not to mention its multi-season renewal) also means the producers can probably have their pick of the litter (as long as it's not Sue Perkins or Mel Giedroyc). 
Of course, as viewers and fans, we have a few ideas. Here are a few polite suggestions regarding who The Great British Baking Show should cast as co-host for Seasons 14, 15, and beyond.
The most obvious answer is most likely the one the show won't go with: comedian Jo Brand, who hosts the GBBO aftershow, An Extra Slice, since the series moved to BBC One in Season 5. We don't discuss An Extra Slice much in the US because, until recently, it wasn't available (all seasons are now on Roku). But Brand is notable as the only GBBO personality other than Paul Hollywood, who transferred from the BBC to Channel 4 completely intact. As someone who has interviewed every contestant since the show debuted in America, she's got the knowledge, and the clout, to come into the tent and not be overawed by it.
I've been talking to several friends watching back the early seasons of GBBO on Roku that never aired in the states, and the most significant reaction I've heard is the shock of discovering how much of it was a history program when it started. (It was the entire reason Sue and Mel were hosts y'all!) Love Productions has an excellent opportunity to bring back that more esoteric side of the show, and a fantastic crossover opportunity with Netflix, by hiring Lucy Worsley. The historian/host is known in the states for spouting British history as much as she is in the U.K. for spouting American stuff, making her a perfect host both audiences can agree on.
Most people don't know this, but Jameela Jamil started her career as a present on Channel 4 before she became famous on The Good Place. She's now a household name, a Marvel supervillain, she's hosted American competitions like Legendary, and she's been on the contestant side of the tent, having competed in The Great Comic Relief Bake Off back when the show was on the BBC. (It was Season 3, it's available on Roku, and she did poorly.) Plus, she's almost the same height as Noel, could help him produce funny opening sequences, and she'd bring some much-needed diversity to the show's main cast.
He's here; he's there; he's everywhere; Brett Goldstein is one of the few men I would include on this list, despite the serious boy energy the show has recently suffered from. Known for his foul-mouthed, aggressive Roy Kent character on Ted Lasso, who's secretly a big softie, anyone whose seen Goldstein in interviews knows he's just as soft (and foul-mouthed) in real life. The Tent needs nurturing types as hosts and those who will coach contestants into never giving up, and Goldstein fits that bill perfectly. (Also, he'd totally swear within audio distance of crying contestants to render the footage unusable.)
GBBO has been on the air for 13 years in the U.K. and has run through many contestants in that time, something it takes advantage of every year with its all-stars editions for The Great British Baking Show: Holidays. It should seriously consider also using that stable of fan-favorite talent in casting about for a new host. One suggestion Noel would delight in: Helena Garcia, the gothy baker from GBBO's 2019 season just before the pandemic hit. She and Noel got along like a house on fire, with a type of chemistry that cannot be faked, the kind of thing a show can only bottle like lightning and ride.
Listen, David Attenborough is 96 and needs a gig where he's not being flown to the ends of the earth all the time. However, the man is not ready to retire, so why not bring the most quintessentially British presenter to a show that is a celebration of British baking? He doesn't even have to show up to the tent if he doesn't want to. Let Noel walk around and interview the contestants while Attenborough provides the perfect voice-over commentary accompaniment as he watches the amateur baker in its natural habitat.
If Warner Media were more competent at marketing their British fare on HBO Max, it would not be nearly as much of a secret that The Great Pottery Throwdown has officially taken the lead from its parent show as the best Love Productions reality competition on streaming. The biggest reason is that judge Keith Brymer-Jones is far better than Paul Hollywood, but only slightly less well known is that its host, Siobhán McSweeney of Derry Girls fame, has such a deft touch with the contestants. Not that I think McSweeney should exit the pottery shed, far from it, but GBBO would be wise to bring her to the flagship show as well, both to promote the other series and get a little of her magic.
Much like Sue and Mel, Claudia Winkleman was a long-time presenter and host of high-profile reality competitions (including Strictly Come Dancing) when Love Production hired her to host GBBO's first spin-off, The Great British Sewing Bee. Unlike Siobhán McSweeney, putting her in the lineup for GBBO wouldn't be borrowing from Peter to pay Paul, as she left as host of the program after its first four seasons. Moreover, her long resume guarantees she'd walk into the tent knowing just how valuable she is to the program, and Paul Hollywood couldn't bully her into submission, which is something the show sorely needs.
It is a well-kept secret The Muppets, those all-American icons of comedy madness, were a success because the series was British productions. (It's one of the primary reasons Disney can't figure out how to reboot them.) It is high time the Brits reclaimed their felted friends and brought them back over to the side of the pond that knows what to do with them: Put them in the GBBO tent. Not while the contestants are baking, of course, but Noel, as the only human among a Muppet crew, is far too perfect to be ignored. Even Paul Hollywood's macho male nonsense is no match for the zany Muppet energy that would turn every week into a must-watch.
If GBBO were serious about finding someone to elevate the series to its BBC years highs, there's no one better than its most successful winner, Nadiya Hussain. She is to GBBO what Kelly Clarkson was to Idol or Christian Siriano to Project Runway. When ProjRun needed to reboot after being run into the ground on Lifetime and the Weinstein scandal, they hired Siriano. Nadiya would bring that same energy into the tent. Moreover, she'd bring sorely needed diversity to the lineup, the expertise of having been on the other side of the tables; and she never let Paul bully her as a contestant. You know she isn't going to put up with his nonsense now.
The Great British Baking Show Seasons 1-7 and all associated specials are streaming on Roku. Seasons 8-13 (labeled Collections 5-10) are streaming on Netflix.
---
By
for on December 28th, 2022
More to Love from Telly Visions