By
for on November 12th, 2021
'The Great British Baking Show' Renewed Through Season 15 (Collection 12)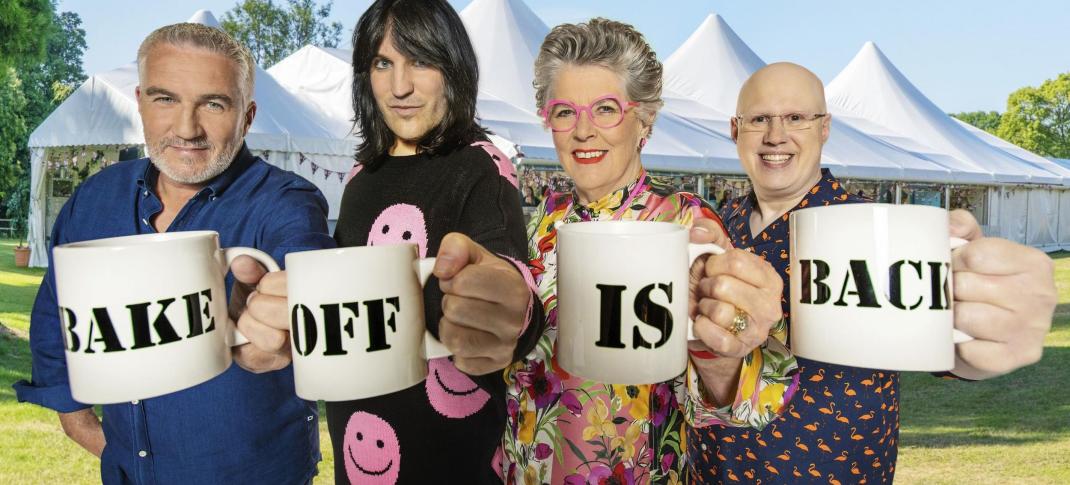 As The Great British Baking Show Collection 9 quarterfinals stream on Netflix this weekend, fans can take comfort that though favorites are leaving the tent, it will remain standing for at least three more years on Channel 4. The publicly-owned station announced it had re-upped its deal with Love Productions for another three years, guaranteeing the popular reality show's run through at least 2024. 
The announcement comes as the original ₤25 million deal signed in 2016 is set to expire. The Great British Bake Off, which initially debuted and built into the powerhouse it is today on the BBC, switched channels after Series 7 (Collection 4) premiered to ratings exceeding the Olympic Opening Ceremony. The current GBBO Season 12 (known here as GBBS Collection 9) is averaging 8.7 million viewers per episode according to Channel 4, making it the second biggest reality series in the U.K., just behind BBC's Strictly Come Dancing.
The original deal initially was just for GBBO. However, it has expanded since then to include other Love Production series that were initially BBC based, including companion show Bake Off: An Extra Slice, spinoffs Junior Bake Off, Bake Off: The Professionals, and most recently, The Great Pottery Throwdown. Those series have also been renewed as part of the deal, along with yearly charity special The Great Celebrity Bake Off for Stand Up to Cancer and the holiday specials. That leaves only The Great British Sewing Bee's fate up in the air. It is, to date, the only Love Production series from this set of reality shows that remains on the BBC.
In a statement, Channel 4's chief content officer Ian Katz said, "We are thrilled that Channel 4 will continue to serve up Bake Off's unique combination of warmth, humour, and soggy bottoms for years to come. Bake Off is all about optimism, celebrating eccentricity, and bringing the nation together — precisely what a publicly owned Channel 4 is here to do."
Notably, the deal does not directly mention whether or not Channel 4's deal with Netflix will continue or not. The streaming service stepped in when the show changed networks, seeing success as a second run home for the series, originally aired on PBS. Netflix now claims GBBO as a "Netflix Original" outside the U.K. It also carries the holiday specials (though a year behind) as part of the deal. But Richard McKerrow, CEO of Love Productions, mentioned that the company's "long-term commitment with Channel 4" is part of a "partnership which enables us to bring Bake Off to the widest audience possible," suggesting American fans have nothing to worry about.
The producers may not have namechecked Netflix because this deal is comprehensive for all Love production's shows on Ch4, and the streaming service does not co-produce any of the spinoffs included. (That's why Americans do not get Extra Slice, Juniors, The Cancer Charity specials, or The Professionals.) WarnerMedia recently stepped up to co-produce The Great Pottery Throwdown, which now streams in America as an HBO Max Original.
I had such a good time doing this! What a privilege to spend more time with @alexander_olly #Lydiawest and @nathancurtis90 whilst getting to know @RealMattLucas @noelfielding11 @PrueLeith and @PaulHollywood BAKE!!!! #greatbritishbakeoff #itsasin pic.twitter.com/btENUVdFdd

— Shaun Dooley (@shaundooley) November 11, 2021
Speaking of the holiday specials, American viewers can look forward to the 2020 Christmas and 2021 New Year specials arriving in early December here in the states. This round will include longtime fan-favorite Nancy Birtwistle's first return to the tent in a decade. Meanwhile, over in the U.K., the 2021 Christmas edition features the cast of It's A Sin, while the 2022 New Year's Day special will include Kim-Joy, among others. Both of those episodes will come to Netflix in December 2022.
All seasons of The Great British Baking Show that originally aired on PBS are still available for streaming via PBS' website and the PBS video app. All episodes that have ever legally aired in America are collected under various titles and iterations on Netflix. (The ones that haven't are hiding in plain sight on YouTube.) The Great Pottery Throwdown Seasons 1-4 are streaming on HBO Max, and if you haven't watched it, please do. I promise it's great. 
The Great British Baking Show Season 12/Collection 9 continues with new episodes every Friday on Netflix, with the finale streaming Thanksgiving weekend.
---
By
for on November 12th, 2021
More to Love from Telly Visions