By
for on August 17th, 2017
'Endeavour' Returns For a Fourth Round of 'Morse'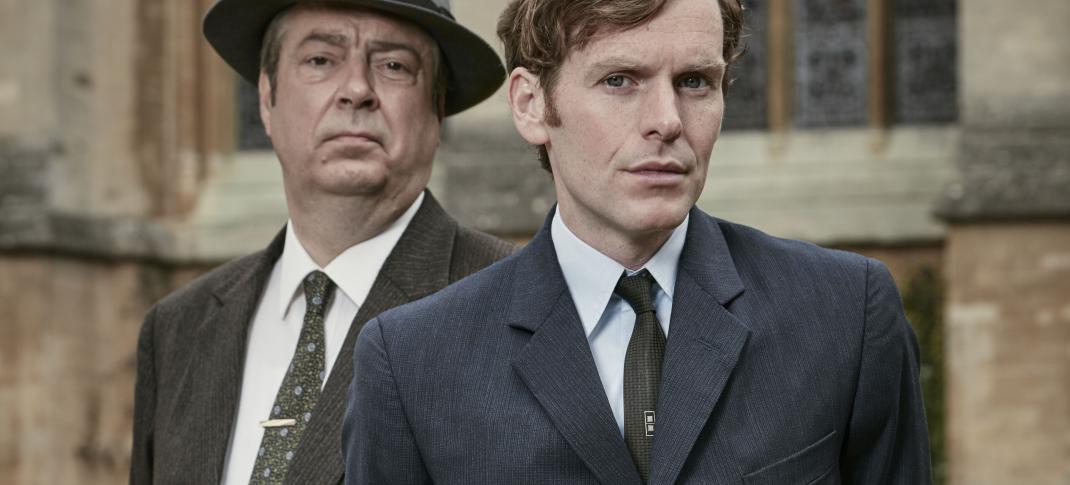 The exceedingly popular Inspector Morse prequel spin-off Endeavour rolls into its fourth season, as Endeavour Morse awaits his future that we all know will come eventually. And yet, despite the inevitability of a prequel reboot's future being set in stone years before, the tensions still run high.
DCI Morse: "I always drink at lunchtime. It helps my imagination."
ITV spent most of the 1980s in a rebuilding pattern after the strike of 1979 shut it down for months and left it without programming for even longer. Out of this rebuild came several popular series, pulled from popular UK mystery and drama writers, from Brideshead Revisited, to PD James' Adam Dalgliesh, to The Jewel In The Crown.
But perhaps one of the biggest successes came when Colin Dexter's Inspector Morse series arrived in 1987. Though the show was nominally a "mystery of the week" series in two hour installments, it was just as much a cultural phenomenon. Morse wasn't your avergae little grey cell tapping detective, but a fantasy of a highbrow educated British everyman: a hard drinking, jaguar driving, crossword doing, Oxford educated genius working class policeman. 
The show ran for 13 years, so long that the only way to end it was to kill off Morse in the final special. (His heart gave out.) But within a few years, ITV was back with Morse-related spin-offs. In 2006 they introduced Lewis, in which Morse's former, less-educated sidekick was now the lead inspector. (His younger partner Hathaway, was now the eruite, culturally educated one.) As that show began to wind down, ITV then attempted a second "backdoor pilot" special on the 25 anniversary of Morse's original debut, a period piece prequel called Endeavour.
Like all things Morse related, Endeavour has been a massive hit so far. So much so that other shows that have petered out are attempting (or looking at) the same "prequel reboot" formula (preboot?), including Prime Suspect (which didn't do so well) and Miss Fisher's Murder Mysteries (which is still working on being greenlit.)
DC Endeavour Morse: Monday: Cheese and pickle. Tuesday: Lunch meat...
DI Fred Thursday: Don't ruin it. Anticipation's half the fun.
Most seasons of Endeavour have focused on Morse's ambivalence about his career, and his disillusionment with detective work. The pilot all but saw him resign -- his now-boss in the regular series, DI Thursday, had to talk him into staying on. Thursday may not be an intellectual type, but he's not a Lewis working class Geordie type either. Instead he's that veteran-of-two-world-wars, queen-and-country-and-uncorruptable style mentor that populate these 1950s and 60s era pieces.
Morse was always portrayed in the original series as someone whose lack of ambition held him back from greatness. Here, he's constantly being pushed along, including into the Sergeant's exam that he sat for in the Series 3 finale. One can see why he would shuffle to a halt once the people above him stop pushing. We also have met the man who will become Superintendent Strange in the original series, who we see Morse argue with a lot. Though he's below Endeavour in Series 1, by Series 2 he's already set the Sergeant's exam, and joined the Freemasons (another constant plot point of these 1950s and 60s pieces), that will help him work his way up the chain.
Morse's love life, of course, is a complete disaster, with Thursday's daughter Joan having crushed on him without him cluing in, until it was too late. Now Joan's gone, and Morse is drinking, another staple of the original series -- or perhaps we should say something we know will be a staple of his future self? Either way, it's a major plot point. With this season promising that the time period will also be a factor (it's been four seasons, and two years, so we've reached 1967), how much of the counter culture will Morse find himself surrounded by? And what happens if he fails that exam?
Of course, we know he won't really fail, nor will he drop out of the force, no matter how many times he considers it. That's one of the beauties of the preboot series. Even if the writers are tempted to push the characters out of their regular comfort zones, they always have a reason to snap back to the status quo. The future is already written, the ink is already dry, and the episodes are streaming on Netflix, for those who might not have watched them the first time.
Endeavour Series 4 starts this Sunday on your local PBS station. Check your listings. We'll be recapping.
---
By
for on August 17th, 2017
More to Love from Telly Visions