By
for on September 23rd, 2019
The Emmy Spotlight Was Bright on 'Fleabag's' Phoebe Waller-Bridge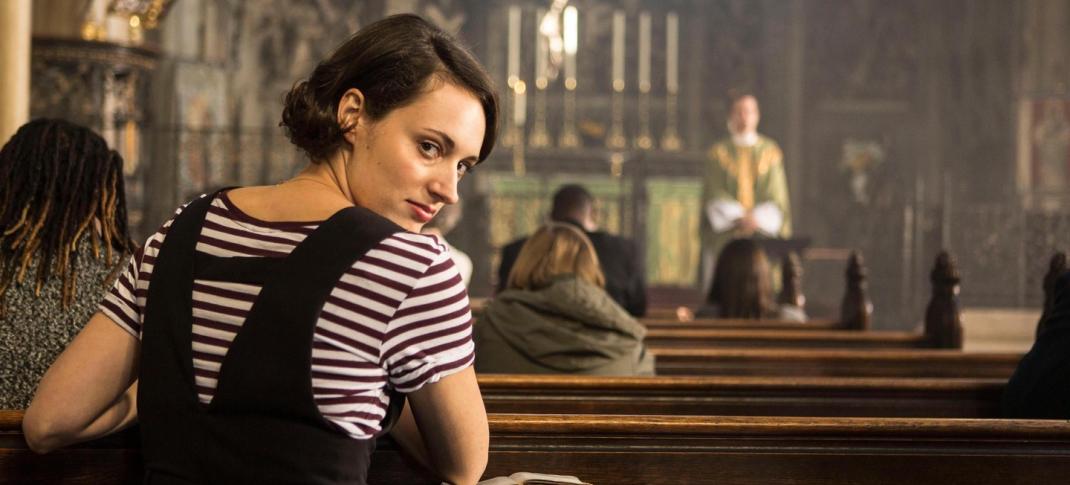 The 71st annual Primetime Emmy Awards ceremony honored a wide variety of television shows, many with British connections including Game of Thrones, Chernobyl, A Very English Scandal and Black Mirror: Bandersnatch.
But the undeniable belle of the ball was Phoebe Waller-Bridge. The English actress/writer/producer won three statuettes in the comedy category for her Amazon series, Fleabag – Outstanding Writing, Comedy Series and Lead Actress (which was expected to go to Veep star and perennial Emmy winner, Julia Louis-Dreyfus).
And when Waller-Bridge wasn't on the stage personally accepting her trio of awards in that stunning, blush-colored tulle number, she was being thanked by other winners. Namely Fleabag director Harry Bradbeer and actress Jodie Comer who was named Outstanding Lead Actress in a Drama Series for her performance as Villanelle in Killing Eve, another series created by Waller-Bridge.
For those who haven't heard of it, Fleabag is irreverent black comedy about a grief-stricken, sex-crazed, self-loathing young woman navigating an unraveling life in London. Waller-Bridge stars as the title character, known only as Fleabag.
What began in 2013 as an award-winning one woman play at the Edinburgh Fringe Festival was adapted by Waller-Bridge into a BBC TV series. It debuted in the U.K. in the summer of 2016 and was picked up by Amazon that same autumn. Waller-Bridge won three BAFTAs for Fleabag in 2017, but the show didn't really pierce the consciousness of American viewers until its second season dropped earlier this spring.
In the post awards press conference, Waller-Bridge said,  "Season 2 would not have happened or exploded in the way that it did if it wasn't for Andrew Scott (whose character is known to fans as Hot Priest) who came into this, into our Fleabag world, like a whirlwind, and gave a performance of such depth and complexity that just elevated the whole thing for all of us."
In the same interview, she also confirmed that season two was the end of the line for this award winning series.
"To be honest this feels like the most beautiful way to say goodbye to it actually. It does feel like the story is complete. It is so nice to hear that so many people loved it, it's like maybe she shouldn't have waved goodbye at the end… but it feels like the right way to end it, to go out on a high."
If you've only just discovered the charming Ms. Waller-Bridge, don't worry. There's season three of Killing Eve ahead in which Phoebe plans to make an appearance. She is also one of the co-writers for the upcoming James Bond film, No Time to Die. A woman of her talents is sure to have plenty of irons in the fire and the Emmy buzz will only offer her more opportunities to make us laugh and cry.
Are you already a fan of Fleabag? If not, do you think the Emmy accolades will make you more likely to give it a watch?
---
By
for on September 23rd, 2019
More to Love from Telly Visions