By
for on October 4th, 2018
'Doctor Who' Season 11 Arrives This Weekend, Now Is The Time To Join The Fandom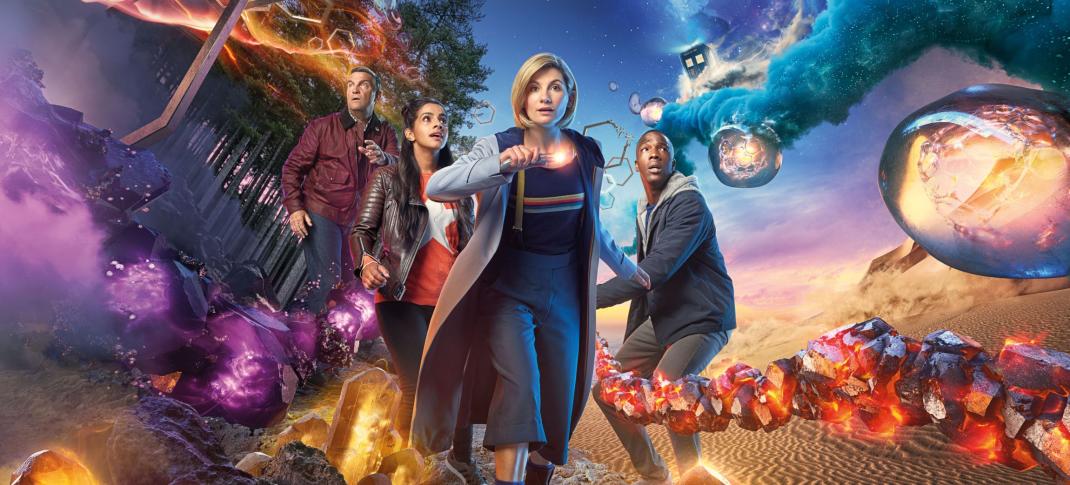 Doctor Who has been on television in one form or another for 36 seasons But with the premiere of Season 11 this October, there's never been a better time to start watching. With a new showrunner, an actress in the leading role for the first time, plus new monsters and a new attitude, this is the hardest reboot of the series since its 2005 return but reimagined for the 21st century.
Doctor Who is one of the most popular series at any comic convention, both in terms of both guest stars and cosplay. Like Star Trek and Star Wars, it has a long and storied history. But those fandoms began and ended in fits and starts. Doctor Who, on the other hand, by sheer accident discovered a way to continuously run by having the character "regenerate" into a new actor whenever a previous incarnation wanted to leave. The result was that the original series ran continuously on BBC for 26 years until it was canceled in 1989. There was a 1996 attempt at revival with an Americanized TV movie, followed by the current reboot which began in 2005, which is now going into its 11th season (or 37th series, if you're so inclined.)
With numbers like that, the idea of attempting to catch up can feel overwhelming to someone who has never seen a single episode. (Ten seasons is bad enough, 36 is close to impossible.) But what most modern day fans who are considering joining the fandom don't realize is this is a completely wrongheaded way to go about it. D
Doctor Who is a show that has existed for so long, the idea of binge-watched would have seemed crazy to the early producers. Heck, the idea of keeping episodes once they aired was so foreign, many from the mid-to-late sixties are completely gone, their masters reused to record other programs. 
But with the new season, there's no need to know anything about the old show. Heck, you don't even need to know what happened last year, let alone in, say, 1972. New showrunner Chris Chibnall has all but thrown out the playbook. Not only has he upended the old "white man's burden" through line by having the Doctor regenerate into a woman (Jodie Whittaker), he has also brought a wealth of diversity both in front of and behind the camera to the show. The logo has been completely reimagined. He has changed the format from the chaste "Doctor and Companion" love story to one where the Doctor has an entire phalanx of followers (Bradley Walsh, Tosin Cole, and Mandip Gill.) He has reportedly dumped all the old monsters. The early experimental electronica theme song has been updated (and was not featured at all in the premiere episode during early screenings.) Even the Doctor's ride, the TARDIS, has undergone a massive upgrade, though embargoes prevent anyone from revealing exactly how just yet.
Shows that run for years on end need to provide new entry points along the way if they have any hope of bringing in a new generation of fans. Back in the day, Doctor Who did that every time a new Doctor came along, changing the show completely to stay with the times. 
When the show rebooted in the mid-aughts, it remembered it needed to be accessible, but then never thought to keep doing so every time the role turned over. Chibnall has brought back the tradition of making it a show anyone can start watching and not feel left out. There's never been a better time to become a fan.
Doctor Who Season 11 premieres on Sunday, Oct 7th, on BBC America. The first airing will be a simulcast with the UK airing at 1:45 pm ET, and then again at the show's regular time of 8 p.m. ET. I'll be recapping, so come back and share your thoughts! 
---
By
for on October 4th, 2018
More to Love from Telly Visions