By
for on June 30th, 2023
Everything to Remember Ahead of 'Doc Martin' Season 9's Debut on PBS Passport
Doc Martin's ten-season run only just concluded in December of 2022, nearly two decades after its 2004 premiere. The series was on the air for so long that it outlasted one of my marriages and four of my cats; the last time it was on PBS (in 2015) was two presidents and one pandemic ago. The last time it streamed on PBS was never; PBS Passport didn't launch until December of that year; in fact, 17 streaming services have launched between the time Doc Martin was last on PBS and Season 9's impending arrival on PBS Passport on July 1, 2023. Viewers cannot expect to remember everything that happened in nearly ten years passed, so here's the Doc Martin recap you need.
Dr. Martin Bamford, played by Martin Clunes, was introduced nearly a quarter century ago in the 2000 film Saving Grace, which starred Brenda Blethyn (Vera), Craig Ferguson (The Late Late Show with Craig Ferguson), and Tcheky Karyo (Baptiste). That Dr. Martin was friendlier and more open-minded than today's version; two made-for-TV movies, Doc Martin and Doc Martin & the Legend of the Cloutie, in 2001 and 2003, where he finds his wife cheated on him with several of his best friends, turned him sour and moved him to Cornwall. By the time Doc Martin launched in 2004 with six episodes, he had become Dr. Martin Ellingham, a bedside manner-less legend.
The series rewrote Martin's relocation as giving up his career as a surgeon after developing a phobia of blood, becoming the local GP in Portwenn, where his Auntie Joan Norton (Stephanie Cole) lives. He meets teacher Louisa Glasson (Caroline Catz), whom he instantly offends, along with the rest of the town. Despite thinking he's made a mistake, Martin opens his practice and deals with a stomach bug epidemic, which helps him befriend Bert Large (Ian McNeice) and his son Al (Joe Absolom). He sacks his receptionist Elaine (Lucy Punch), turns down a date with Louisa, and slowly wins the town over, despite being pranked with a fake injury causing him to freak out over ketchup.
Doc Martin Season 2 expanded to eight episodes. It also included a Christmas special, the only one the show ever did, which PBS broadcast in two parts separate from the season. The premiere begins with Louisa's ex, Danny (Tristan Sturrock), coming to town and rekindling their relationship, but she eventually dumps him. Martin deals with the pharmacist Sally Tishell (Selina Cadell)'s crush on him and hires a new receptionist, Pauline Lamb (Katherine Parkinson), who winds up dating Al. Other plot points of note: PC Mark Mylow (Stewart Wright) falls in love with a con artist, and Martin's parents, Margaret (Claire Bloom) and Christopher (John Woodvine), visit; their cold manner explains a lot about him. 
Season 3 introduced PC Joe Penhale (John Marquez), Mylow's replacement, who becomes Martin's BFF, and the two solve local cases together. Having admitted her feelings for Martin, he and Louisa get engaged halfway through the season, but they call it off the day of the wedding, leaving the town in a wreck as everything that can go wrong already did even before they decided not to go through with it. This was also the season where the U.K. and U.S. episodes have different titles for reasons no one has ever adequately explained. 
Season 4 begins with Louisa gone and Martin considering returning to London when his ex-girlfriend, Dr. Edith Montgomery (Lia Williams), shows up and tries to get back together. That's a bit hampered as Louisa returns, pregnant with Martin's child. Sally's presumed dead husband, Clive (Malcolm Storry), turns back up and moves in with her. Martin gets offered a job at Imperial College London and decides to accept the job, telling Edith he doesn't want a relationship, but further estranging Louisa. The town says their farewells to Martin, who finds himself torn in the finale over going to London or staying with Louisa as she goes into labor.
Stream Now
Doc Martin
Surgeon Martin Ellingham (Martin Clunes) makes a life changing choice to retrain as a GP.
Image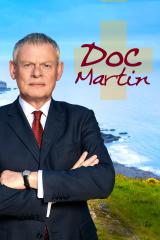 Season 5 finds Martin still in Portwenn, staying for the birth of his child. The new doctor, Diana Dibbs (Joanna Scanlan), turns out to be incompetent, so Martin gives up London to stay and raise his son. Pauline left, so he hires yet another receptionist, Morwenna Newcross (Jessica Ransom). Aunt Joan passes away, and Aunt Ruth (Eileen Atkins), a retired forensic psychiatrist, takes over the farm, forming the cast that would last through the end of the series. Viewers also met Louisa's mother, Eleanor (Louise Jameson), PC Joe's ex-wife Maggie (Julie Graham), and school teacher, Pippa (Buffy Davis). Sally's infatuation with Martin reaches a crisis which helps him and Louisa get back together.
Wedding bells kick off Season 6, as Martin and Louisa (finally) get married, and baby James Henry stays with Ruth while they disastrously honeymoon. Jennifer Cardew (Annabelle Apsion) steps in as the new pharmacist while Sally recovers, and Al falls in love with her, while Morwenna is courted by the town electrician, Michael Pruddy (Felix Scott). Meanwhile, Martin's coldness towards his son nearly destroys his marriage, especially when his mother visits again, trying to use him for money. Luckily, Ruth sets him straight just as Louisa prepares to fly to the continent with James for a long visit with her mother and begs for another chance.
Season 7 was the last to run on PBS in a timely manner. Martin sees therapist Dr. Rachel Timoney (Emily Bevan) while Louisa is in Spain. When she returns, she moves out, hiring Janice Bone (Robyn Addison) to babysit James. The now teenage Peter Cronk (Preston Nyman) starts assisting Martin, Buddy the Dog adopting him, introducing local vet Angela Sim (Caroline Quentin). PC Joe and Janice get cozy, but Martin and Louisa's relationship flounders, as Dr. Timoney suggests they shouldn't be together; but when Martin gets kidnapped, Louisa realizes she wants to stay together and fires Timoney. Also, this is the season Sigourney Weaver guest starred as American tourist Beth.
As for Season 8, exclusive to Acorn TV, Joe and Janice decide to get married, Louisa moves back in with Martin, and James Henry insists on adopting Buddy the Dog. However, the wedding is a disaster (as always), and Janice walks out on Joe. Ruth and Al's B&B and Bert's whiskey business all come to a head, and Morwenna and Al have to throw a fundraiser to save them. Their relationship surprises Morwenna's parents, Jack (Kevin Doyle) and Tara (Rebecca Lacey), who get a second opinion on Tara's cancer diagnosis. This season also killed off Clive, introduced Professor Sam Bradman (John Hollingworth), and brought back American tourist Beth for the finale.
As Season 9 rolls in, fans have questions. Martin stopped practicing medicine at the end of Season 8 after his blood phobia caused a complete disaster and got him pulled up before an inquiry hearing. Will he return to medicine? Will the Larges' business plans with Aunt Ruth ever work? Will Al and Morwenna get married? Will Louisa and Martin have more kids? There's a lot to cover in the show's final two seasons, and viewers can't wait to get started.
All episodes of Doc Martin Season 9 premiere on select PBS Passport on Saturday, July 1, 2023, and air on some PBS stations on July 2. Check your local listings/websites.
---
By
for on June 30th, 2023
More to Love from Telly Visions