By
for on April 21st, 2023
'DI Ray' Season 1 Will Premiere on PBS for 2023's Summer of Mysteries
One of the most frustrating aspects of the proliferation of streaming services and ITV and the BBC choosing to play the field, leasing content to the highest bidder, is that one never can tell where shows will land or if they will come to the U.S. at all. For example, the BBC just announced it's adapting Lord of the Flies, the first time it's ever been adapted for TV, but there's no point in Americans caring yet since it could wind up on any one of a dozen streaming services. That's why it was such a relief when DI Ray got scooped up by PBS Passport, and even better, now has a release date as part of the 2023 "Summer of Mysteries" lineup.
The series is the latest in a string of critical hits for producer Jed Mercurio, whose series Line of Duty is one of the U.K.'s most famous police procedurals. Since LoD and Mercurio's follow-up, Bodyguard became massive hits; he has moved to the executive producer role, putting his clout behind projects for several of his Line of Duty stars, from James Nesbitt in Bloodlands on Acorn TV to Vicky McClure in Trigger Point (sadly languishing unnoticed on Peacock). DI Ray was conceived and written by Maya Sondhi, who starred in LoD for multiple seasons, and is set in the same fictitious Birmingham-based police force as the Mercurio show.
DI Ray landing on PBS and being broadcast in the post-Grantchester Season 8 slot is a boon to Mercurio's HTM Productions, who have been unable to break through on more minor streaming services like Acorn or undermarketed ones like Peacock and would probably go ignored on Netflix as well. DI Ray arrived on PBS Passport for members in February 2023. Hopefully, getting promoted on most linear broadcasts along with viewers' favorite priest-and-cop mystery series will help it gain mainstream attention.
Here's the series synopsis from PBS:
When D.I. Rachita Ray, a British-Asian police officer new to homicide, is assigned to investigate the suspected honor killing of a young Muslim man, she quickly realizes the suspects can't be guilty. The evidence against the two brothers from a British Hindu family is flimsy at best. Her attempts at conveying this to her superiors and colleagues are ignored. Hidden biases and a keenness to wrap the case up mean no one is listening to her until her probing leads the team to a much more sinister crime. In this four-part drama, D.I. Ray goes on a journey that sees her uncover a complex web of deceit within organized crime while laying bare the wounds deep within herself that she has spent a lifetime ignoring.
DI Ray is filled with faces American audiences will recognize, starting with Parminder Nagra (Agents of SHIELD) as the titular DI Rachita Ray. Gemma Whelan (Game of Thrones) plays her boss, DCI Kerry Henderson, and Jamie Bamber (Battlestar Galactica) is her boyfriend. DCI Martyn Hunter. The series also features Sam Baker-Jones (The Walk-In) as DC Liam Payne, Maanuv Thiara (Landscapers) as PS Tony Khatri, and Jessica Temple (Martin's Close) as DC Carly Lake. Steve Oram (Killing Eve), Peter Bankolé (The Chelsea Detective), Ian Puleston-Davies (The Bay), Demelza O'Sullivan (Abatement), and Rick S. Carr (Last Tango In Halifax) also co-star.
DI Ray premieres at 10 p.m. ET, directly following Grantchester Season 8, on Sunday, July 9, 2023, on most PBS stations and will air on a weekly schedule through the end of the month. All four episodes as streaming on PBS Passport. As always, check your local listings. Season 2 is already greenlit.
Stream Now
DI Ray
D.I. Rachita Ray investigates the suspected honor killing of a young Muslim man.
Image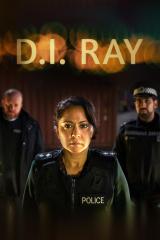 ---
By
for on April 21st, 2023
More to Love from Telly Visions