By
for on April 6th, 2023
'Grantchester' Season 8 Lands PBS Mid-Summer Premiere Slot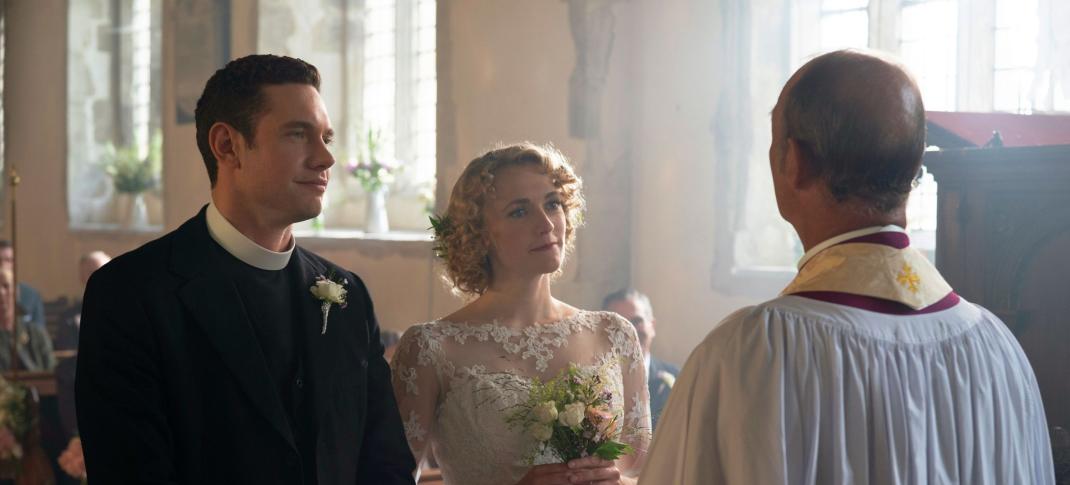 PBS has released its Summer 2023 schedule, including the new season premiere date for fan-favorite mystery series Grantchester. The series ended on a shocking finale that raced Will Davenport (Tom Brittany) and his newest love interest Bonnie Evans (Charlotte Richie), to the altar without passing go or collecting any dramatic value from their nuptial planning. The decision was helped along by the series keeping everything to do with the surprise wedding under wraps (Brittany joked filming it involved "as much secrecy as Marvel.") However, the sped-up nature of the development left viewers demanding to know how things will go now the two are wed.
Thankfully, the answer will come soon. The series returns to the same premiere slot it's held for the last couple of years, premiering the second Sunday in July, one week after Endeavour's series finale. Though the two shows have occasionally flipflopped so Grantchester airs first (and were separated during the 2021 post-pandemic season when everything was delayed), they've been the foundational pairing that anchored PBS' "Summer of Mysteries" lineup since 2015, and Masterpiece plans to let them stay that way for the final year both are on the air.
Unlike Endeavour, Grantchester is not expected to declare a final season anytime soon, and PBS' schedule suggests the series will become the foundation for premiering new shows. Endeavour's premiere on June 18 will be paired with the debut of the new Adrian Dunbar series Ridley at 8 p.m. ET. However, Dunbar's show, which ran four feature-length episodes in the U.K., is being divided into eight one-hour installments for the PBS run, so it will continue to act as the lead-in when Grantchester premieres directly following. DI Ray (currently streaming on PBS Passport) will also launch on broadcast the same night as Grantchester's arrival, directly following in the 10 p.m. berth.
As for Will and Bonnie Davenport, the Season 8 synopsis suggests all will not be wedded bliss, at least not for long.
Grantchester returns with Will happily married to Bonnie, and Geordie and Cathy content in their rebuilt relationship. But an accident and shocking announcements threaten the stability and happiness found by Grantchester's vicar and police detective duo. Exploring faith, forgiveness, and redemption, this explosive season of Grantchester tests the limits of Will and Geordie's relationship.
Brittany and Evans return as the newly-married Davenports, with Isaac Highams as Bonnie's son, Ernie. Robson Green will return as DI Geordie Keating, Kacey Ainsworth as his wife, Cathy, and Skye Lucia Degruttola as their eldest daughter, Esme. The rest of the main cast is also expected to return this season, including Al Weaver as Leonard Finch, Oliver Dimsdale as his boyfriend, Daniel Marlowe, and Tessa Peake-Jones as the vicarage housekeeper Mrs. Chapman, and Nick Brimble as her husband, Jack. 
Jemma Redgrave and Dominic Mafham will most likely appear as Will's mother and stepfather, the Gurney-Cliffords, with Emily Patrick as Will's stepsister, Tamara. Gary Beadle and Stuart Bowman will continue as Will's superiors in the church, Archdeacon Gabriel Atubo and Bishop Aubrey Gray; while over in the precinct, Bradley Hall will remain Geordie's bagman, DC Larry Peters, Melissa Johns, the hyper-competent police secretary Miss Scott, and Michael D. Xavier as the division's chief, DCI Elliot Wallace. 
Season 8 will feature a few guest stars as well, including Shaun Dingwall (Noughts + Crosses), Jeff Rawle (Doc Martin), and Jemima Rooper (Gold Digger), among the announced appearances. 
Grantchester Season 8 will premiere on most PBS stations on Sunday, July 9, 2023, at 9 p.m. ET, bracketed by Ridley at 8 p.m. and DI Ray at 10 p.m. ET. The six-episode season will air weekly through July, with a double-episode finale on Sunday, Aug 6, 2023. All six episodes are expected to drop on PBS Passport for members to binge on premiere day. As always, check your local listings.
---
By
for on April 6th, 2023
More to Love from Telly Visions