By
for on January 7th, 2023
New Mystery Series 'Ridley' Uncovers A PBS Premiere Date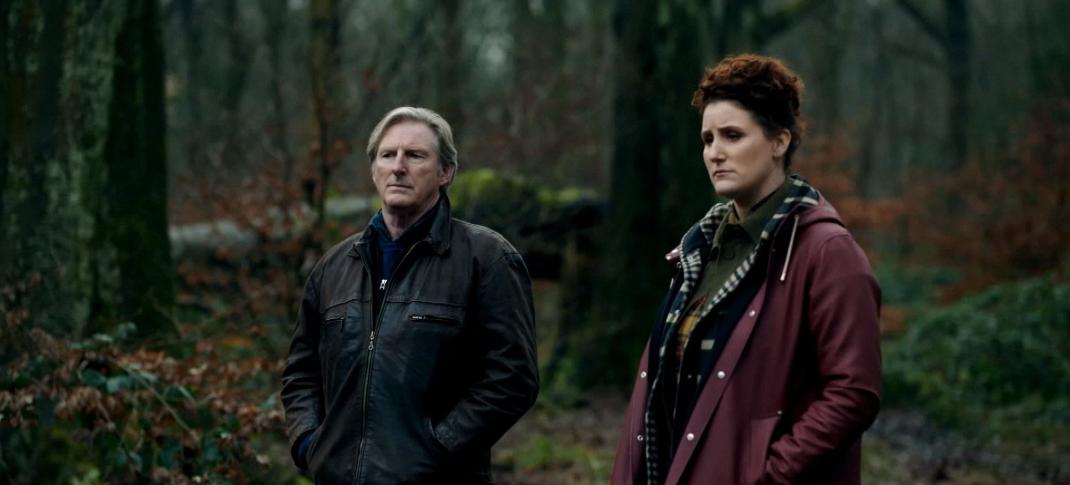 The thing about a good police procedural is that it can go on forever because crime never ends. There are always cases to solve, mysteries to uncover, and a deep-seated hunger in the public psyche for the sense of justice and order that provides among the chaos of daily life. When a good series hits with an actor who can hang on long term with no concerns about it becoming a typecasting problem, like Brenda Blethyn on Vera, or Mark Williams on Father Brown, it can run for decades without fail. Paul Matthew Thompson, the man behind both those series, now has what looks like it could be his next winner, Ridley, with Adrian Dunbar (Line of Duty) in the title role.
Dunbar does not need to fear typecasting; one might argue taking the role of Ridley was merely leaning into it. For over a decade, Dunbar has played Ted Hastings, the head of A-12, the Line of Duty division investigating internal corruption. His righteous tirades against police abusing their power and at the system that lets them get away with it have made him a fan-favorite and a beacon of moral righteousness. His new role, as Alex Ridley, is not quite the same paragon of goodness, but he is a wise old fox, and you'll need to get up extra early to get something by him. 
Dunbar's Ridley is a retired cop in this series, one that returns to the force to help those who are now on the job as a consultant. This was inspired by the real-life phenomenon of the past several years, as continued austerity measures have forced local cuts in police divisions, where retired detectives on pension find themselves called back to work as "consultants" to a force that is understaffed and overwhelmed. His partner, DI Carol Farman, played by Bronagh Waugh (Unforgotten), was once his protege and lobbies to bring him back to help her on cases.
Here's the official synopsis for Ridley from ITV, which initially aired the series in the U.K. last year.
The series will introduce us to charismatic Detective Inspector Alex Ridley, who has retired from the police after years of dedicated service. Ridley's replacement is DI Carol Farman, his former protégée whom Ridley mentored for many years. When Carol enlists him as a police consultant on a complex and compelling murder case, the investigation takes a dark and unexpected turn. Turning to her old mentor for support, Carol is keen to access Ridley's unique insight into crime-solving, which has served them so well in the past. With more intriguing cases to solve, Ridley will revive his formidable and successful partnership with Carol.
Dunbar and Waugh are joined by a core cast of Terence Maynard (Sherwood) as DCI Paul Goodwin, Ridley's old rival colleague, George Bukhari (Years and Years) as Farman's new rival colleague, DC Darren Lakhan, Georgie Glen (Call The Midwife) as Dr. Wendy Newstone the chief forensics officer, Julie Graham (Shetland) as Annie Marling, who was BFF to Ridley's late wife, and Bhavna Limbachia (Citizen Khan) as Carol's wife, Geri Farman.
The series initially ran four feature-length episodes, each of which is a case of the week, including murders of sheep farmers, bodies found on moors, people pushed off balconies, and episodes centered around the jazz club Ridley co-owns as his main retirement project, and where he regularly performs. (Will the show end with Dunbar sing to us every week? Time will tell.)
Ridley will premiere on PBS this summer, beginning Sunday, June 18, 2023, at 8 p.m. ET on most PBS stations. No word if PBS plans to split those episodes into eight 45-minute episodes or keep them as they were originally aired, but with Grantchester and Endeavour also coming this summer, it's a good bet on the former. All episodes will arrive on PBS Passport on the day of the premiere. As always, check your local listings.
---
By
for on January 7th, 2023
More to Love from Telly Visions