By
for on February 15th, 2018
Dated or Delightful: Coupling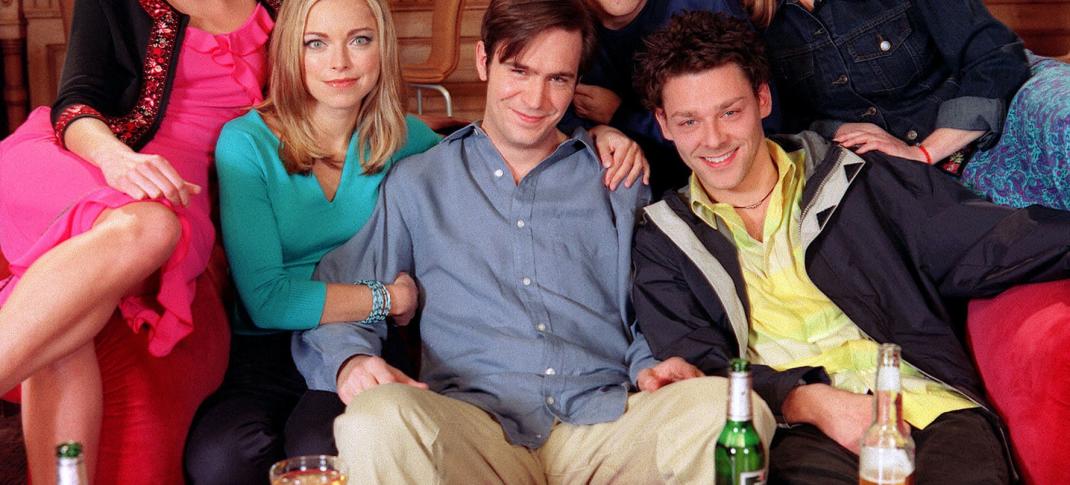 Seeing as February is the month for cherubs and hearts, I thought the return of our Dated or Delightful series should take a look back at something romance-based. And what British series has delved into this area more than BBC's Coupling?
Making its debut in May of 2000, Coupling centered around a group of six chums and their complicated sex lives. It ran for four series and (I will only mention this once) drew quite a few comparisons to the American mega-hit, Friends. I mean I get it; three men, three women, all the various and fluctuating relationship statuses plus an abundance of awkward, embarrassing situations.
That being said, Coupling was a far more adult and edgy series. It would certainly have been broadcast post-watershed (the hour past which programs are permitted to be less family friendly) due to its candid handling of topics such as impotence, masturbation, pornography and lesbianism.
Written by the eventual Sherlock and Doctor Who showrunner Steven Moffat and co-produced by his wife Sue Vertue, it has oft been reported that Coupling was based very loosely on the pair's early relationship. Moffat's characters were well developed and represented proficiency in romantic relationships which ranged from cool confidence to constant trepidation.
Allow me to reaquaint you with the gang and the actors who brought them to life.
Steve Taylor – Played by Pirates of the Caribbean and Smash star Jack Davenport, Steve is the everyman of the group. Hapless, indecisive and with a fear of commitment, he has problems extricating himself from bad relationships and staying in good ones. He also shows himself to be a fair student of gender differences when he goes on one of his hilarious rants. 
Jeff Murdock – Richard Coyle (Crossbones and The Collection) portrayed the oddly sweet man-child with a domineering mother. Jeff is obsessed with the female anatomy, but has little practical experience with real ladies. His nervousness around women has led to the development of many theories which include the nudity buffer, the sock gap, and the giggle loop. He also has the unfortunate habit of blabbering nonsense when faced with the formidable task of chatting a woman up. 
Patrick Maitland – Known for his work in The Crown and Lark Rise to Candleford, Ben Miles embodied the role of Patrick, the archetypal shallow playboy who views most females in purely sexual terms. His prized possession is his collection of video-taped intimate encounters which he hoards in a special cupboard. Direct and uncomplicated, Patrick's self-worth is strongly tied to his reputation as the man who leaves the ladies wanting more.
Susan Walker – Played by Green Wing and The Worst Week of My Life actress Sarah Alexander, Susan is a sensible, successful young career woman who seems to have life well in hand. At least when compared with her friends. Her colorful dating history notwithstanding, Susan has fallen for Steve despite his shortcomings as the ideal boyfriend.
Sally Harper – Kate Isitt (Last Tango in Halifax and Strictly Confidential)  portrayed Sally. While on the surface she's a bit snobbish and terribly concerned with her appearance, a deeper look at Sally reveals she's deeply insecure and anxious about ending up alone. Relying on Patrick the casanova for validation of her attractiveness is rather a bad choice on her part, but it ends up she may be the one to tame this infamous womanizer.
Jane Christie – Known for her roles on Leverage and Jekyll, Gina Bellman brought the egocentric and eccentric Jane to life. How Jane remains a part of her ex Steve's inner circle is anyone's guess. Is she bisexual as she claims? Maybe. Does she have a talent for identifying people's ideal celebrity friend just by looking at them? Possibly. After all, it's Jane's world and everyone else is just living in it.
Now finally to the question of dated or delightful! Coupling is just a few years shy of its 20-year anniversary. Obviously some things would be different if it was produced today.
For example, recent technological advances have massively transformed the experience of dating since the series debuted in 2000. No doubt social media and apps like Tinder would play a part in the characters' lives.
If Coupling were rebooted now, I can't help wondering if a character like Patrick would be cast as anything but a predatory creep. Despite the fact that the show actually satirizes male commitment phobia, the fellas might have to tone down their objectification of women if they want to be considered sitcom protagonists in today's more enlightened climate.
A recurring theme in the show that is definitley dated is the fantasy women that our trio of lads like to discuss – Ursula Andress, Helen Mirren, Britt Ekland and especially Jenny Agutter. I don't care if she got naked in Walkabout. She's Sister Julienne now for heaven's sake.
Lastly, I feel I must bring up the opening theme song, "Perhaps, Perhaps, Perhaps" performed by Mari Wilson. This song was originally written in the late 1940's and obviously was chosen for its seductive ambiance or something. I just don't like it. Call me an uncultured swine, but personally I find it hokey, not sexy.
Regardless of the aforementioned elements, I would classify Coupling as delightful overall. As long as there are misunderstandings between the sexes, the situations and gaffes of this series will ring amusingly true. I daresay these flawed yet well-drawn characters remind viewers of people in their daily lives even now.
If you haven't had the pleasure, the complete four series run of Coupling is currently streaming on Hulu. I recommend withholding judgement until you get into the second season. It took me that long to be fully convinced of the show's delightfulness.
On the other hand you may have already watched Coupling, maybe right here on WETA. If so, please share your opinion in the comments. Does it stand the test of time? Who's your favorite character? (Mine's Jeff, by the way. Too bad he left after the third series.) And the eternal question, of course, is it better than that American show that rhymes with "trends"?
---
By
for on February 15th, 2018
More to Love from Telly Visions