By
for on December 20th, 2016
Dated or Delightful: British Telly Comedy Christmas Specials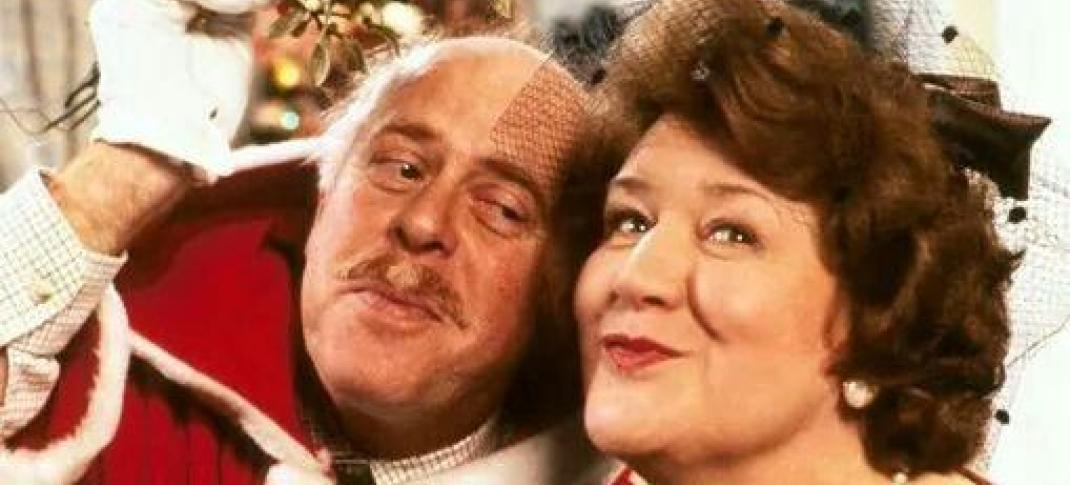 As many of you probably know I work in a library where I have the distinct pleasure of being in charge of the DVD collection. And as I go about my duties I occasionally come upon an item that I didn't realize we had. Recently, while restocking a display of our seasonal offerings, I stumbled across a festive anthology called the BBC Holiday Comedy Collection. I was especially delighted to find that it contained a number of Christmas episodes I've never seen before all from sitcoms of the 70's through the 90's.
It should come as no surprise that I checked that DVD out and started binge watching it immediately. I was most curious to find if these Yuletide episodes would be hopelessly dated or conversely lovely nostalgic celebrations of the season. From Blackadder's Christmas Carol (a Scrooge story in reverse) to the Vicar of Dibley's Nativity play that turns a bit too realistic, I plunged into a world of uniquely British Christmas traditions and universal holiday sentiments.
Therefore, after screening the lot, I contend that they are delightful for their timeless Christmas-ness.  I mean who doesn't yearn to revisit simpler times during the holidays, eh? Here are a handful of examples of the British Christmas idyll with a healthy sprinkling of laughter thrown in for good measure. I'll think you'll find Christmas "cheer" and mistletoe popular themes that run throughout.
Are You Being Served?  - Christmas Crackers
First aired: December 22, 1975
Cast includes: Frank Thornton, Mollie Sugden, John Inman, Wendy Richard, Trevor Bannister
Synopsis: Christmas is approaching and as usual Grace Bros. is looking for a way to increase holiday sales. The management has splurged on fairy tale character costumes for the staff and winter wonderland decorations to enchant the shoppers. The reward for Captain Peacock and his charges? A less than satisfactory canteen Christmas dinner…
Holiday tradition nods: Christmas crackers; a full dinner including turkey, Brussels sprouts and Christmas pud set alight;  pantomime costumes, grottos.
Good Neighbors aka The Good Life – Silly, But It's Fun
First Aired: December 26, 1977
Cast includes: Richard Briers, Felicity Kendal, Penelope Keith, Paul Eddington
Synopsis: When Margo's exacting standards result in the Leadbetter's Christmas being waylaid, Tom and Barbara invite them over for a self-sufficient celebration that costs only 15p! Festivity, frivolity and friendship ensue.
Holiday tradition nods: Paper hats and mottos in Christmas crackers; flirty mistletoe hijinks; gift exchanges; Christmas cheer (peapod wine); games played after dinner such as sardines and a balloon relay.
To the Manor Born – The First Noel
First Aired: December 25, 1979
Cast includes: Penelope Keith, Peter Bowles, Angela Thorne, Daphne Heard
Synopsis: It's Audrey's first Christmas after her ouster from the manor and it's been difficult for her to let go of her traditional festive duties, particularly since Mr. DeVere's efforts lack her aristocratic touch. They resolve their differences for Christmas and join in a neighborly celebration.
Holiday tradition nods: The Nativity crib, Queen's Christmas day speech, games after dinner such as charades and yes, sardines!
Last of the Summer Wine – Whoops
First Aired: December 25, 1981
Cast includes: Bill Owen, Peter Sallis, Brian Wilde
Synopsis: Acknowledging that Christmas is losing its magic and that they aren't getting any younger, Compo, Clegg and Foggy decide to revisit the old days by inviting two of their old school friends for Christmas drinks. Unfortunately, due to how much time has passed, "Splutter" and "Chuffer" don't recognize their old childhood mates.
Holiday tradition nods: Mince pies; balloons as decorations on Christmas trees (?); Christmas cheer (drinks); mistletoe as an excuse to fondle women.
Keeping Up Appearances - A Very Merry Hyacinth or The Father Christmas Suit
First Aired: December 25, 1991
Cast includes: Patricia Routledge, Clive Swift, Josephine Tewson, Judy Cornwell, Geoffrey Hughes, David Griffin, Mary Millar
Synopis: Hyacinth is in full Yuletide mode complete with Christmas cards, charitable acts and impressive social engagements. She's roped Richard into dressing up as Father Christmas to distribute gifts to the elderly. However, too much drink, several cases of mistaken identity and a mishap with Hyacinth's Daddy make for plenty of holiday-themed chaos.
Holiday tradition nods: Father Christmas; Boxing Day; mulled wine and hot mince pies; pantomime; more inappropriate mistletoe kissing.
Is there a UK special or film that's part of your Christmas traditions?  Share your thoughts with us about your favorite holiday telly. And speaking on behalf of Telly Visions, we wish you a joyous season of love and happiness!
---
By
for on December 20th, 2016