By
for on May 2nd, 2023
Acorn TV's 'Dalgliesh' seeks "A Certain Justice"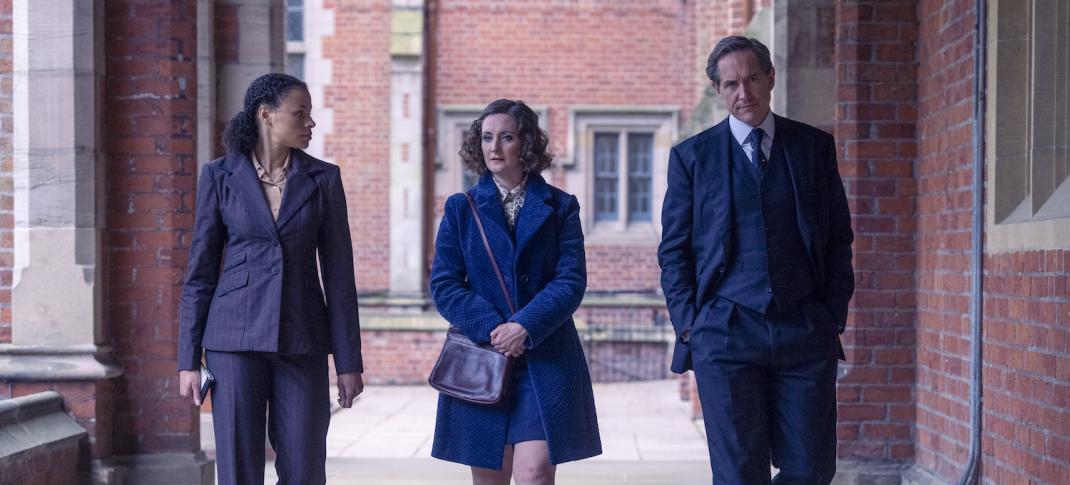 Dalgliesh and his team investigate the murder of a controversial barrister, although her death isn't the first we see in this two-part adaptation of P. D. James's novel A Certain Justice. A prostitute has been brutally murdered in her home, and Adam and DS Kate Miskin arrest her nephew, Garry Ashe (Yaseen Aroussi). The case rests on the evidence of a neighbor who thought she saw him enter the house at a specific time. The barrister for the defense, Venetia Aldridge (Sara Stewart), who has a reputation for intelligence and aggression, quickly demolishes the neighbor on the stand, and Garry is declared innocent.
A desire for vengeance is a powerful thing. It can be held in check, suppressed by a determined mind, but it's hard –– a fight, a battle, which must be fought every day.
Pawlett Court Chambers is the sort of setting we've come to expect from Dalgliesh –– archaic, picturesque, claustrophobic, and featuring an elite and insular set of characters/suspects, mostly at each others' throats. There's even a Chapel in the complex, a recurring feature for Dalgliesh, who's drawn to places of worship.
At home after the case, Venetia and her daughter Octavia (Daisy Waterstone) fight about her new boyfriend. Venetia slaps her face and, for a moment, looks shocked and contrite as Octavia runs away and then arrives late to a Chambers meeting. Her first request is that they fire their Clerk, Valerie Caldwell (Charlotte McCurry), the "dolly bird" (noticeable eyeshadow and a shortish skirt), who Venetia considers unprofessional. She makes it clear her goal is to destroy the old boy network of the Chambers, take over as Head, and put an end to nepotism.
Barrister Desmond Ulrick (Michael Maloney) is bringing his son, Matthew (Alex Hope), of whom Venetia has a very low opinion, into the practice as a pupil. Desmond Ulrick, the elderly Head of Chambers Hubert Langton (Michael Culkin), and Drysdale Laud (Silas Carson) all complain that the defense cases Venetia takes on are damaging to the Chambers' gentlemanly reputation. What isn't said aloud is that she's an uppity woman whose aggression and intellect, and even her unpleasantness, would be admired in a man.
Back at the precinct, Kate, who arrested Garry, is convinced of his guilt. She works off her outrage at the police shooting range, where she meets the new member of Adam's team, DS Daniel Tarrant (Alistair Brammer). Daniel is on a fast-track graduate scheme with the police, unlike Kate, who worked her way up from uniform. Not only will Daniel break up the close relationship between Kate and Adam, but he will most likely be promoted before her.
The next morning Venetia is found dead at her desk, wearing a judge's wig, her head covered in blood, and stabbed with a paperknife. Dalgliesh's team deduce she was killed as she opened the door to her murderer, dragged to the chair, and the rest was posthumously staged. The wig was Hubert's grandfather's, and the blood is Desmond's; he regularly donates blood for his son's medical treatment, and it's known he stores it in a refrigerator in his office. Everyone in the Chambers admits to finding Venetia difficult, cruel, and unpleasant, but according to their statements, the last person in Chambers was the cleaner, Janet Carpenter (Barbara Marten).
As Dalgliesh exits the building, an eccentric bystander, Edgar Froggart (David Bamber), tries to catch his attention, claiming insider knowledge. However, Adam heads to find Head of Chambers Hubert Langton praying in the Lincoln's Inn Chapel. The Chambers are revealed to be a competitive and toxic environment: clerk Valerie is being harassed and stalked by Hubert, who likes to watch her rehearse with the Choir in the Chapel. Barrister Drysdale Laud had a short affair with Venetia, but it seems to have no bearing on the case. Matthew Ulrick was terrified of Venetia, who bullied him.
Adam and Kate break Venetia's death to her daughter Octavia and her boyfriend, who, it turns out, is Garry Ashe. Octavia is hostile, but to Adam and Kate's frustration, both have an alibi for the time of the murder. Kate is furious, believing Garry is a psychopath and Octavia is in danger. He then finds Froggart, who, it turns out, was once a teacher at the school where Venetia's father was headmaster. He has followed her career with admiration since, to the point of obsession with scrapbooks of press cuttings. He lets Dalgliesh take them to see if he can find anything to connect to the murder.
Janet Carpenter's middle-class accent caught Dalgliesh's attention, so he visits the vicar's wife, who provided her references, learning she suffered a family tragedy. Granddaughter Daisy was raped and murdered, causing her mother, Dawn (Janet's daughter), to commit suicide. The murderer, Anthony Beale, was tried for a similar crime previously and acquitted, thanks to his lawyer, Venetia Aldridge. Janet isn't a suspect long; Garry is watching her. When the team arrives at her house, she is dead, throat cut, in a badly faked suicide staging. The killer used Janet's finger to scrawl R. vs. Beale 74 on the wall with her blood.
Dalgliesh goes to return the press clipping to Edgar, asking him why he left the school in 1943. Edgar tells him it was shuttered after a pupil named Marcus Campbell hung himself rather than face being beaten in front of the whole school by Venetia's father, a violent, abusive headmaster, resulting in scandal. Meanwhile, Garry isn't the only one doing a spot of stalking. In defiance of Dalgliesh's orders, Kate visits Octavia when Garry is out under the guise of bringing a framed photograph of mother and daughter released from evidence. Kate notices an expensive camera, which Octavia says is for Garry's birdwatching.
Kate suggests Garry doesn't have Octavia's best interests in mind and is not behaving like a normal boyfriend. When Garry comes home and finds the photograph, he freaks, forcing Octavia to pack, announcing they're leaving London, but not before stopping at the apartment where lived with his aunt, where he rummages under the floorboards. Dalgliesh heads to the Chapel to ask Minister Fr. Presteign (Michael Amariah) about Janet. Presteign can't reveal details from her confession, but Janet wrote him a letter. In it, she confesses she paid Garry to kill Venetia and seduce Octavia, and she defiled Venetia's body with the blood and wig upon finding her dead.
There's an APB (All Points Bulletin) out for Gary; Octavia, who has realized Kate was right, grabs a public phone at a gas station to call her. Kate says to play along, reassuring her the police are on their way. Allegedly they're off on a birdwatching trip in an isolated forested area. Garry spins a tale of taking Octavia to Monte Carlo, where they'll marry. After a night spent in a tumbledown hut, they wake to the police arriving, whereupon Garry takes her hostage, holding his knife against her throat. It's Kate who has the skill to shoot him dead. She weeps in Adam's arms afterward, but she's the one who breaks the hold and walks away from him. 
Adam seeks out Head of Chambers Hubert Langton to tell him to keep his hands off Valerie. He also realizes Langton has early dementia, terrified of his mind's deterioration and his memory gaps. He reassures Hubert he didn't have anything to do with Venetia's death since his housekeeper confirmed when he arrived home. Langton also remembers he'd watched Valerie sing that evening in the Chapel. Adam asks if he saw anyone else leave Chambers after, and he did –– Desmond Ulrick.
Adam visits Desmond at home and points out Desmond signs documents as Desmond Campbell Ulrick. His younger brother was Marcus Campbell, who Venetia's father drove to suicide. He saw Venetia inherited her father's cruelty and feared his son Matthew would be bullied out of the practice, his career ruined. Desmond had lied about the time he left the chambers. Ironically, Matthew proves his father is lying, having told the police their meeting time at a restaurant that night to celebrate his acceptance into Chambers. Desmond comments: "You know the world is better off without her. And there is a certain justice to it all."
But that's not Adam's definition of justice. He arrests Desmond for Venetia's murder. In the last scene, we return to the Chapel for a memorial service where Octavia weeps on Kate's shoulder. Kate, close to tears herself, meets Adam Dalgliesh's gaze. We wonder what he's thinking as his expression changes and the choir sings on.
---
By
for on May 2nd, 2023
More to Love from Telly Visions