By
for on October 30th, 2020
'The Crown' Season 4 Trailer Introduces Gillian Anderson's Margaret Thatcher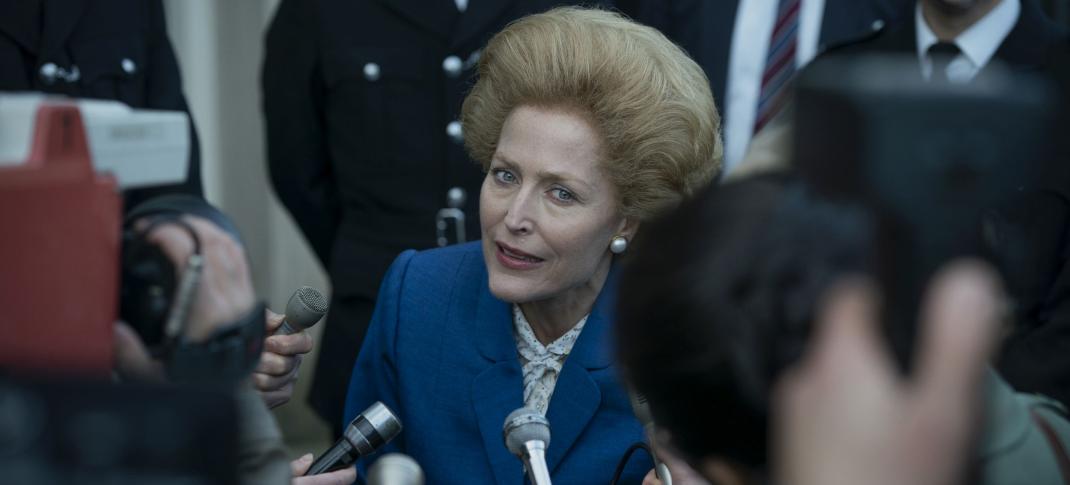 Though fans have been anticipating the arrival of Diana Spencer on The Crown virtually since the series began, the full trailer for Season 4 reminds us that there's another powerful woman waiting to step on the scene: Margaret Thatcher. 
Britain's first female Prime Minister arrives in full force in this clip, in the form of Gillian Anderson spouting classic Thatcheresque slogans about the self-sufficiency and sacrifice of the British people and enduring deeply awkward audiences with Olivia Colman's Queen Elizabeth. The delicious few seconds in which the two women discuss their respective ages is a tiny encapsulation of their oddly fraught relationship.
Though I suspect on some level we can't really blame either of them for not quite knowing how to navigate this strange new world that suddenly saw two women at the summit of British political life. (That line from Elizabeth about two women running the shop being precisely what the country needs feels like as much a sop to modern audiences who are hyper-aware of the difficult road that women in leadership roles such as theirs must travel rather than anything Elizabeth might have actually said.)
But, of course, no matter how appealing the prospect of watching Colman and Anderson spar through royal audiences is, we know we're really all here for one thing: Diana. 
It'll be interesting to see how The Crown handles the arrival of the People's Princess, given that it's spent the bulk of its first three seasons casting Quden Elizabeth in a fairly positive and sympathetic light. But as we can see from both this trailer and the teaser that preceded it, the very fact of Diana pushes the Queen into the background in the best-case scenario of this story and makes her into an outright villain in the worst.
Whereas the teaser trailer focused primarily on deconstructing the fairytale ideal that was Princess Diana, this clip seems more interested in the idea that, by joining the royal family, Diana was forced to stifle sacrifice some essential part of herself in the name of fitting in. Emma Corrin's performance, even in just the small moments we see here, already seems like a remarkable recreation of a woman who contained multitudes, yet somehow made everyone feel like they knew her. 
Watch the trailer for the new season for yourselves below. 
The Crown Season 4 will officially arrive on Netflix on Sunday, November 15.
What do you think of the new trailer? Are you excited for the upcoming season? Let us know in the comments!
---
By
for on October 30th, 2020
More to Love from Telly Visions