By
for on February 2nd, 2023
'The Confessions of Frannie Langton' Trailer Teases a Dark Tale of Forbidden Love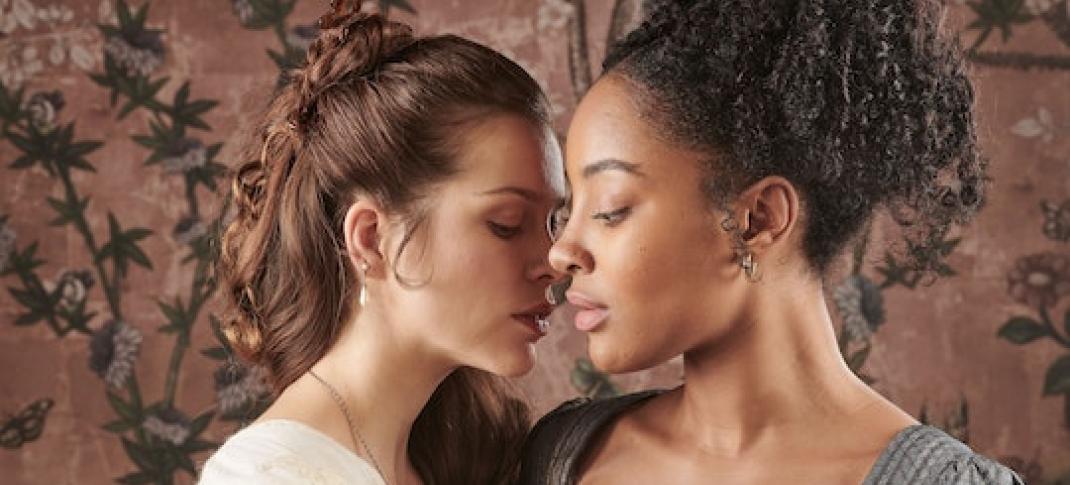 BritBox has released the trailer for its upcoming period drama The Confessions of Frannie Langton, a sumptuous four-part Gothic-style historical tale about love, exploitation, and murder. A rare period piece that actually seems ready to  wrestle with the reality of life for Black citizens in a post-slave trade Britain, the story features diverse characters, complex themes, and, yes, sapphic romance. 
Based on the novel of the same name by Sara Collins, The Confessions of Frannie Langton follows the story of the eponymous Frannie (Karla-Simone Spence), a young former slave who is accused of murdering her employer, the renowned scientist Mr. George Benham (Stephen Campbell Moore) and his beautiful wife, Marguerite (Sophie Cookson). Frannie, for her part, has no memory of the murder thanks to the hazy film left behind by her laudanum addiction, but she is adamant that she couldn't possibly have killed her mistress. (The two were actually having a romantic affair.)
As Frannie attempts to piece together the events of that horrifying night, she cannot believe she could have possibly hurt Marguerite, because she truly loved her passionately. But if Frannie didn't kill the Benhams, then who did? And what real hope does she have of clearing her name -- after all, what part of the machinery of British justice is going to believe the word of someone they still see as nothing more than a slave girl?
The series' description reads as follows. 
Set against the dazzling opulence of Georgian London, The Confessions of Frannie Langton, narrates Frannie's journey from a Jamaican plantation to the grand Mayfair mansion of celebrated scientist George Benham and his exquisitely beautiful wife, Madame Marguerite Benham. In a misguided and monstrous gesture Frannie is gifted to Benham by the man who owns her, John Langton, and she is employed as a maid in the household much to her chagrin.

As the plot twists and turns, events take a fateful turn as the Benhams are found murdered in their beds, with Frannie lying next to Marguerite. Frannie is accused of murder but swears that she couldn't possibly have killed her mistress because she was devoted to her. Dragged away to prison, Frannie attempts to piece together the events of that night.  She is deep into a laudanum addiction and unclear about precisely what happened…
Alongside Spence, Cookson, and Moore, the series' ensemble cast also includes Patrick Martins (Redemption), Steven Mackintosh (The Pact), and Amarah-Jae St. Aubyn (Small Axe), Lydia Page (The Larkins), and Pooky Quesnel (The A Word). 
Collins adapted her own book for television. The series is produced by Carol Harding (Agatha And The Curse of Ishtar) and directed by Andrea Harkin (The Trial of Christine Keeler).
All four episodes of The Confessions of Frannie Langton will stream on BritBox beginning Wednesday, March 8. 
---
By
for on February 2nd, 2023
More to Love from Telly Visions