By
for on December 24th, 2022
BritBox's 'Karen Pirie' is the Sort of Police Procedural We Need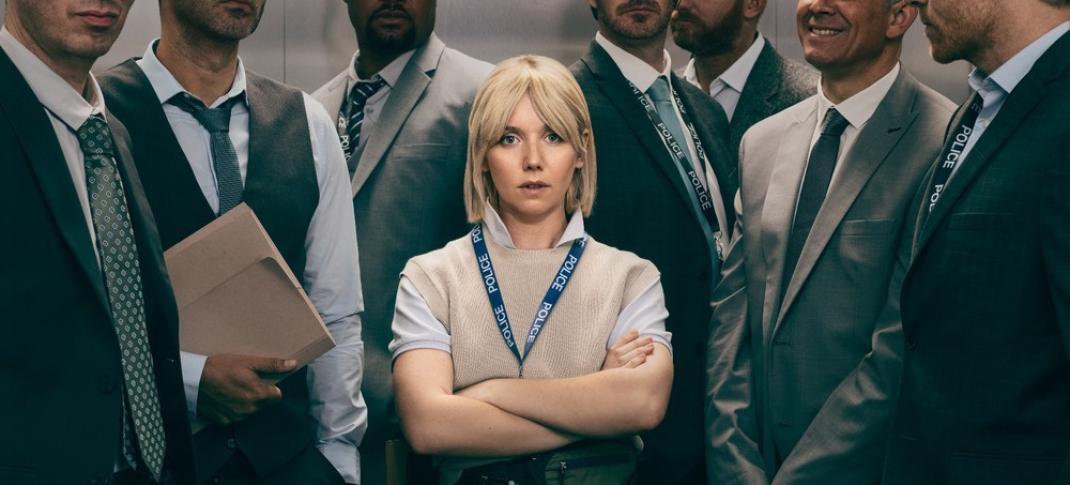 Karen Pirie is a new breed of police procedural, and it's about time. The team responsible for Line of Duty and Bodyguard, joined by writer/actor Emer Kenny (who also takes the role of Karen's best friend River) and director Gareth Bryn, have created a thoughtful, entertaining, and, yes, feminist series. Lauren Lyle (Marsali in Outlander) is stunningly good in the title role playing a young, ambitious, and dedicated Scottish police officer.
Karen has no dark secrets or past trauma, which is so refreshing in a mystery series. She is steely, witty, and articulate, and her exchanges with friends and colleagues are often surprisingly funny. She doesn't look like a cop –– she's small, wears no make-up, sports casual clothes, Doc Martens, and a fanny pack. But she can negotiate the labyrinth of white, male privilege that is the Scottish police with cool competence and good sense. When offered a promotion to investigate a cold case, she's pleasantly surprised but realizes she is being used to demonstrate how progressive and feminist the modern police is.
Her on-again-off-again boyfriend and colleague Phil Parhatka (Zach Wyatt) expected to receive the promotion and voices his suspicions of their superiors' motives. Their colleagues will claim that Karen was promoted because of her gender, just as they would argue if Phil had been promoted, that race was a factor. However, (unlike Karen's boss Chief Superintendent Jimmy Lawson (Stuart Bowman), who served on the original cold case Karen is to investigate), Phil does not underestimate Karen's skills.
Karen's cold case is the 1996 murder of a woman in the university city of St. Andrews. Three young men, all students, found young, beautiful Rosie Duff dying in the city's cathedral ruins. They'd been drinking and watching a soccer game at the pub where she worked and were arrested and questioned by the police but then released. The case was eventually abandoned. 
It might have stayed abandoned if not for a cheeky podcaster, Bel Richmond (Rakhee Thakrar), whose deep dive into the unsolved murder suggested that because Rosie was a working-class woman with an active social life, she wasn't considered worthy of police time and money. Reopening the case with a team led by a woman checks all the right boxes for an institution that wishes to be seen as pro-woman and progressive. The higher-ups in the police station realize they must contend with the internet and public opinion, something they're not ready for.
Jimmy introduces Karen to her team. It's a team of one, DC Jason Murray (Chris Jenks), and because he's relatively new and young, he goes by his nickname, "The Mint." (Murray's Mints are an old-fashioned candy produced for over a century in Britain.) Getting a nickname is part of the initiation into this particular male cult; however, it's notable that Jason proudly uses his nickname, while one of the few times Karen loses her cool is when hers –– which has never been used to her face because that would indicate acceptance –– is mentioned: "Ticker," as in checking off a list of things to be done.
As you'd expect, the initial case was poorly handled, and it becomes probable there's been a cover-up. The post-mortem indicated Rosie had a C-section, but there's nothing about her baby or the father. She and Jason re-interview Rosie's brothers (they were initially questioned in 1996, along with their deceased father), who refuse to engage when asked about the pregnancy. The officer who responded to the murder scene, Janice Hogg (Gemma McElhinney), married into the family; she claims the father was a classmate and the baby died. It doesn't take long for Karen to determine this is a lie, and Rosie's daughter was adopted.
As the head researcher for her podcast, Bel has more information, which she dangles from the luxury hotel where she operates. Karen refuses to trade information with her. In retaliation, Bel reveals the identities of the three then-students who found Rosie's body, and were treated as suspects, in the next episode, putting stress on the investigation and on them. All three are still around, as though they cannot bear to leave the scene of the most traumatic episode of their lives.
One of the best things about this series is the thoughtful approach to these three, bound by their collective history and mutual secrets and profoundly influenced by the murder. Earnest surgeon Ziggy (Jhon Lumsden as a student/Alec Newman as an adult) is driven and passionate about saving lives. He still carries guilt he couldn't save Rosie as she bled out. Poor, damaged Weird (Jack Hesketh/Michael Schaeffer) is still weird, teaching history at the university and coping with various addictions, and Alex (Ariyon Bakare/Buom Tihngang) is an artist, happily domesticated and expecting the birth of his first child. You don't want them to be guilty, although you know they have been keeping information from the police for years.
When Ziggy is killed under suspicious circumstances in a hit and run, Phil is put in charge of the case, and Karen suggests Bel ask for eyewitnesses to Ziggy's death on her podcast. Meanwhile, Karen and Jason struggle to put together the pieces of the night of Rosie's murder. When the pub closed, and Rosie had left work early that night, who had she gone to meet? Did Ziggy, Weird, and Alex go to the party that started later that night, was a car involved and was Rosie also there? And what happened after the party, where was Rosie murdered, and how did her murderer get her to the cathedral site?
As well as Karen's meticulous police work to re-create the people and places involved from twenty-five years ago, advances in DNA testing open up new lines of inquiry. Also, Bel takes a liking to Jason and shares significant photographic evidence with him. A "lost" piece of evidence is found and tested for DNA, and from the same garment, a streak of paint is analyzed. Meanwhile, the advent of genealogy sites allows Karen to search for Rosie's daughter, notably against her boss' wishes.
The series builds to a dramatic and satisfying conclusion with a twist that seems absolutely right, although you never saw it coming. Karen Pirie does everything a police procedural should. All three episodes of Karen Pirie are streaming on Britbox, and while there are hints (and much audience interest in the U.K.) of a second season, there is no definitive word at this time.
---
By
for on December 24th, 2022
More to Love from Telly Visions