By
for on April 2nd, 2022
Classics Revisited: 'Mansfield Park' (1999) Highlights the Frustrating Nature of the Original Novel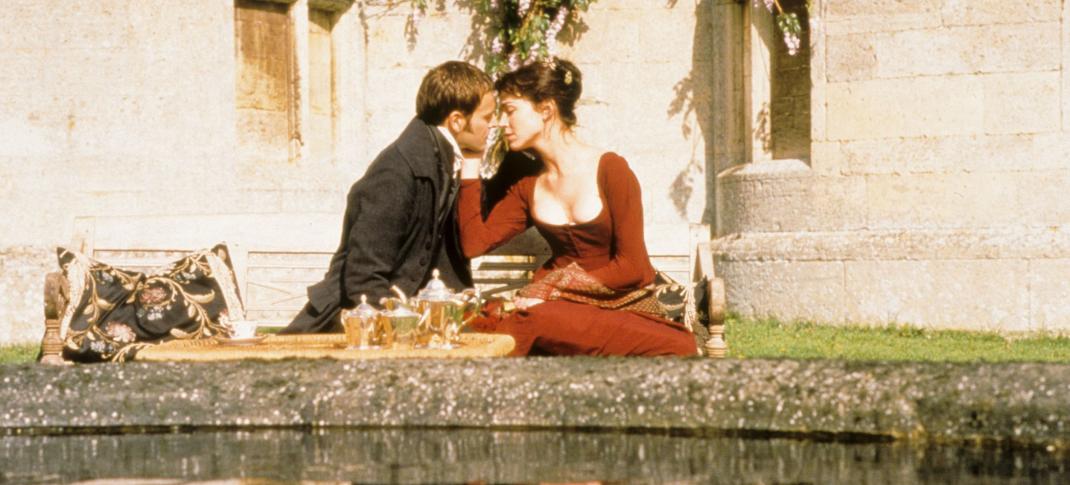 Mansfield Park is Jane Austen's third novel to be published, and if you've swooned over her other books, you may find this one ... difficult. Her contemporary readers didn't seem particularly bothered by the change of tone. After all, it was still much better than many books produced by her contemporaries, and it does contain some genuine wit and zingers. "Let other pens dwell on guilt and misery," one of Austen's most famous lines, comes from Mansfield Park. Is the book an indictment of British Imperialism and slavery? Is it inspired by the Evangelical movement (the Anglican Church reform of the period)?
Why do we find the book challenging and intriguing, its heroine maddening, and what compels us to return to the text to decode Mansfield Park's secrets? The heroine, Fanny Price, lacks the wit and liveliness of Elizabeth Bennet or the steadfast courage of Elinor Dashwood. The clergyman hero falls in love with someone else and dithers. Fanny has been interpreted as a fierce defender of morals in a hostile amoral environment or a complete wimp. Take your pick. So while I applaud director/screenwriter Patricia Rozema for her boldness, the movie doesn't work. And sadly, on a scale of one to ten as to whether it represents Austen, I think it comes in at about a three.
Played by Frances O'Connor (Mr. Selfridge), Fanny Price, sent to live with her relatives in the grandeur of Mansfield Park, is never entirely accepted as part of the family and lives in emotional and social isolation. She bonds with her cousin Edmund but is primarily an observer whose presence is ignored or exploited. And yes, there is something wrong with the Bertrams––they live in a vast, half-built house. They barely socialize, although the eldest daughter Maria has become engaged to a neighbor, the dullard Mr. Rushmore. When worldly brother-sister duo of Mary and Henry Crawford invade, the trouble really starts. It begins with some amateur theatricals and the performance of a shocking play, Lovers Vows.
Rozema attempts to jazz Fanny up, and though O'Connor is brilliant in the role, full of charm and liveliness, she is not Austen's Fanny Price. She's an aspiring writer, with much of her dialogue and literary squibs were taken from Jane Austen's juvenilia. There's the occasional crossing of the fourth wall when she exchanges a conspiratorial smile with us, and it works. At the same time, O'Connor doesn't let us forget that Fanny is lonely, damaged by the Price family's rejection. The family may have rescued her from poverty, but it's not clear that her original family loved her, or loved her enough. except for her younger brother William with whom she corresponds. Sadly, the film did not see fit to include William's story in this version.
But back to those Bertrams. One thing that shocked many Janeites in 1999 was that the film dealt quite blatantly with slavery. Sir Thomas Bertram has an estate in Antigua, where he must attend to urgent business, and his absence and return are major turning points in the novel. Austen's contemporary readers would have known immediately what his business was. They would have recognized the name of the house (High Court Judge Lord Mansfield made the controversial ruling in 1772 that enslaved people brought from the West Indies could not be forced to return as property). Austen also scatters other clues throughout the book, some obscure to us but instantly recognizable to readers in 1814.
The film bangs viewers over the head with the issue and then retreats. Sir Thomas's son and heir, Tom, played by James Purefoy (A Discovery of Witches), brings home a folder of near-pornographic sketches of atrocities inflicted on enslaved men and women after his trip to the plantation, and though the novel suggests the horror he's seen makes Tom dangerously ill, the film backs away from it. Meanwhile, Fanny engages Sir Thomas in a long-winded slavery argument on screen, when, in the novel version, her one comment is met with dead silence.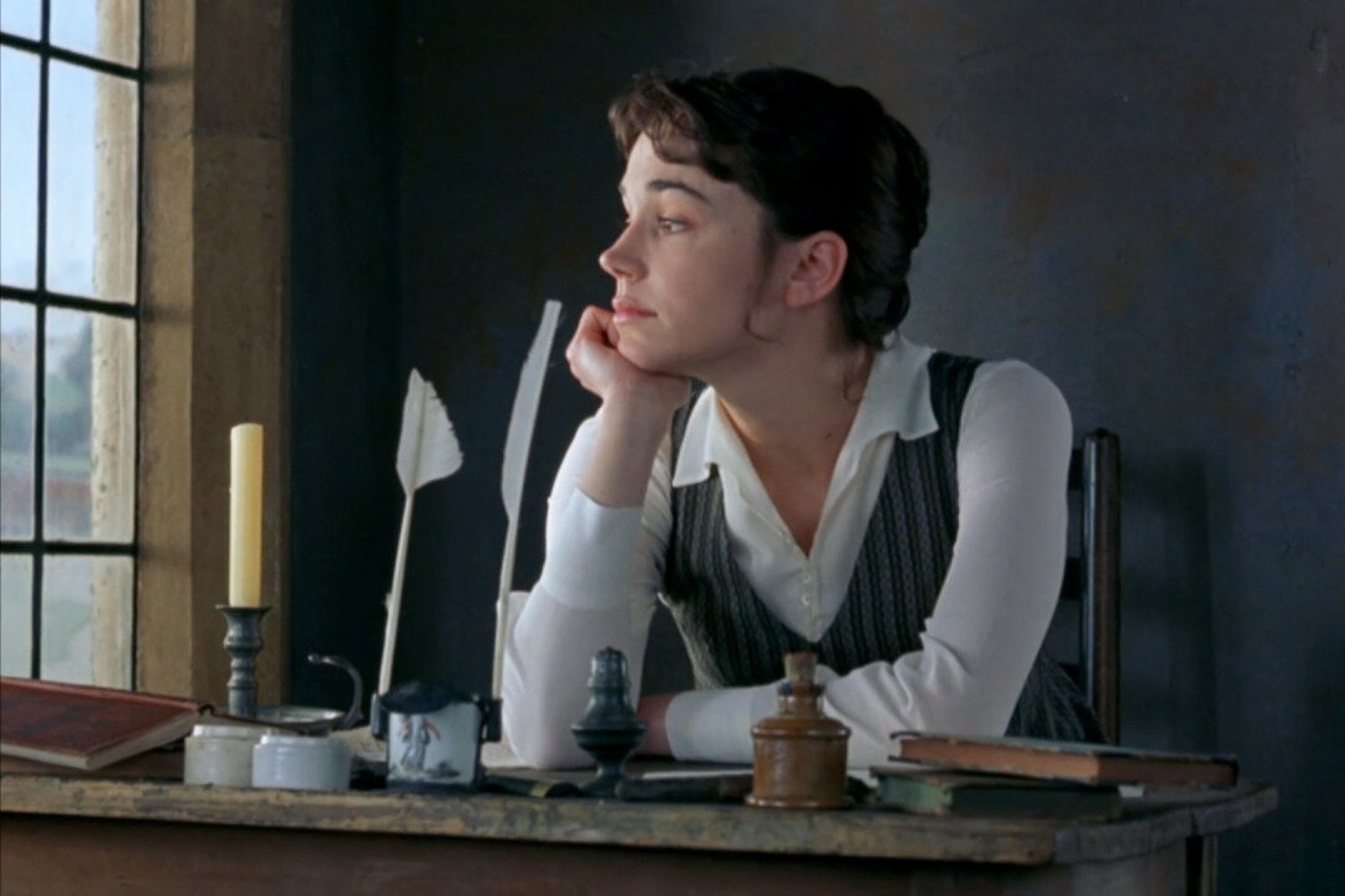 That silence is significant, translated in the film as the soulless emptiness of Mansfield Park, hardly a house full of opulent luxury (as many houses of absentee plantation owners were). It is a house without a heart, cold and isolated. So although sometimes Rozema gets it right, mostly she doesn't.
The cast is flawless, with Jonny Lee Miller (Elementary) as Edmund and the late, great Harold Pinter as Sir Thomas Bertram, one of his few substantial on-screen roles. Lindsay Duncan (Around the World in 80 Days) does double duty as Lady Bertram, who spends most of her time on the sofa with opiates and a pug, and as Fanny's mother, Mrs. Price, an inspired casting decision. Maria is played by Victoria Hamilton (Cobra) while Hugh Bonneville enjoys himself in the comic role of Mr. Rushmore, a far cry from Downton Abbey. Then there are the wicked yet attractive Crawford siblings, Henry (Alessandro Nivola) and Mary (Embeth Davidtz).
Henry is one of Austen's serial seducers, charming and amoral. He flirts with Maria even though she is engaged to Rushworth; Mary flirts with everyone and enchants Edmund despite his misgivings about her upbringing and deficient moral code. But Fanny does not fall for the Crawfords' wiles, seeing the truth behind their friendly overtures, at the cost of alienating herself first from Edmund and then enraging her uncle, who sends her back to her family in Portsmouth. It's a rude shock when Fanny experiences her family's poverty with too little money and too many mouths to feed again. Mrs. Price, we remember, married for love. And, sadly, given an opportunity to show us the diverse population of a major British port, Rozema doesn't do so.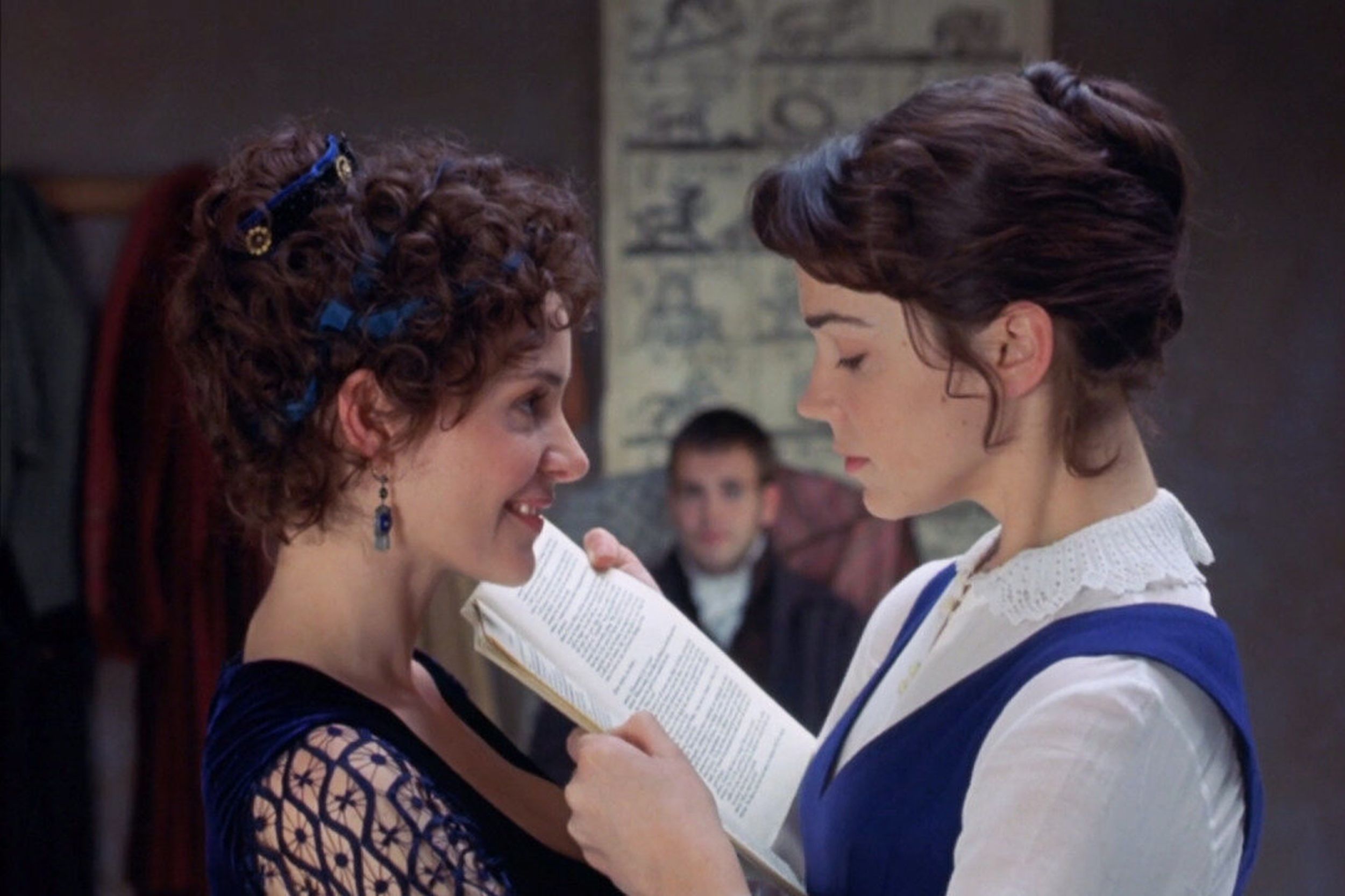 Rozema also introduces a relatively bizarre and unnecessary plot twist when Fanny accepts Henry's proposal on a visit to Portsmouth and then turns him down the next day. (In the books, she just turns him down like a sensible person.) It may have been inspired by an episode from Austen's life where she accepted a proposal from a wealthy landowner and turned him down the next day. We may never know the whole story of what happened. But the scene doesn't do much for the film other than giving us more footage of the hunky Henry and more fuel to drive his ultimate seduction of Maria.
At least the ending stays relatively faithful to the novel, with Mary showing herself cold and heartless. Though, once again, the movie alters the motive. Here it is over the prospect of Tom's death rather than Henry's destruction of Maria's marriage and her concern not that he did the deed but rather that he had been caught. But the overall missed opportunities pile up. Even with the addition of Sir Thomas giving up his plantation in Antigua and investing instead in tobacco, the ending feels less like lessons learned and more like from one wrong decision to another.
Over twenty years on, we are so much better informed about the period's history and know about Austen's abolitionist sympathies. With Sanditon and Bridgerton now major hits, isn't it time for a new Mansfield Park on the big or small screen? 
---
By
for on April 2nd, 2022
More to Love from Telly Visions