By
for on June 20th, 2020
6 Jane Austen Adaptations You Can Stream Right Now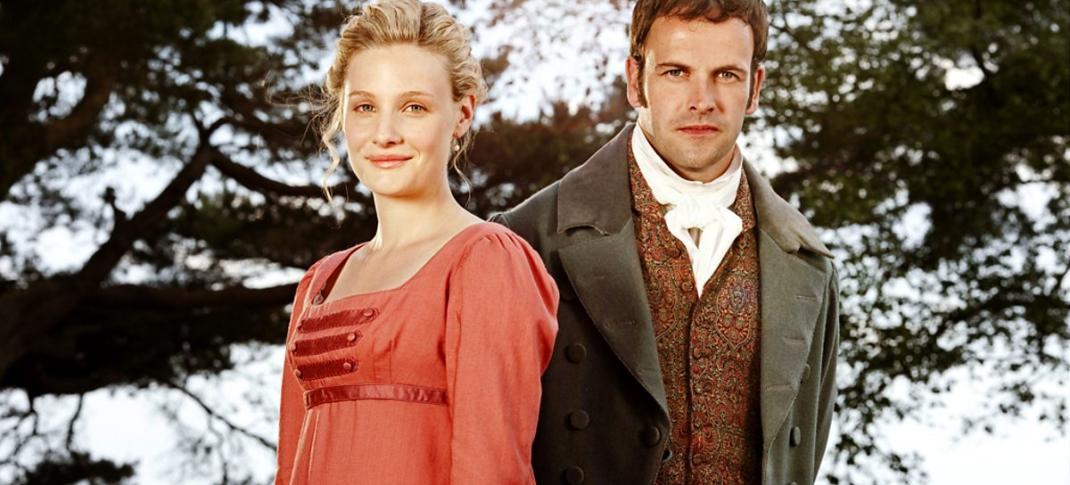 In the wake of a new theatrical version of Emma and the U.S. broadcast of Sanditon earlier this year, 2020 has proven a pretty great year to be a Jane Austen fan. And with everything going on in the world right now, there may still be no better time to turn to Austen's works for some much-needed escape.
Though real life may be full of more terrifying things than any of us are capable of processing at the moment, in the world of Austen, there are always good manners, longing glances, beautiful costumes, and barely-there but still meaningful hand touches. Love still conquers all in the end. (Most of the time, anyway.)
Here are a few of the best Jane Austen adaptations that are available to stream online right now, and where you can find them.
Pride and Prejudice (The 1995 Version)
This version of Pride and Prejudice can rightly be called one of the greatest period dramas ever made. It introduced an entirely new generation of fans to Austen's most famous novel, and still holds up remarkably well, even twenty-some years later. Plus, it also introduced us to a little actor by the name of Colin Firth, who rocketed to instant stardom simply by clambering out of a lake in a wet shirt.
The six-hour epic drama is perhaps the most accurate adaptation of Pride and Prejudice in existence, as its length makes it easy for the show to hew fairly closely to the original story. Plus, it's just so much fun to watch. It centers on the five Bennet sisters and their family, detailing the classic Regency story of who they're all going to marry. The romance between second-eldest daughter Elizabeth and the prickly, swoon-worthy Mr. Darcy is the stuff of literary legend.
Jennifer Ehle makes a charming Lizzie and her chemistry with Firth is altogether magical. There are sumptuous costumes, gorgeous sets – many of the homes featured in the series are actual English major houses you can visit – and a vast and talented supporting cast. It's hard to imagine there are a ton of Austen fans who haven't seen this adaptation, but it's always a great production to revisit and is worth another viewing. (Or several.)
You can stream this Pride and Prejudice on Hulu and Britbox.
Mansfield Park (The 1999 Version)
This 1999 Miramax adaptation of Austen's third novel Mansfield Park arrived at the height of the late 90s period film craze, so it's kind of surprising it's not more popular and/or well known. (Perhaps that's because it does differ in rather significant ways from the novel, even if the end result is an enjoyable one.)
Frances O'Connor stars as Fanny Price who is sent from her impoverished family to live with a rich aunt and uncle at the titular estate. Unfortunately, the end up treating her more as a servant than a relative, so it's good that her handsome cousin Edmund is there to be kind to her. (And inevitably get involved in a messy love quadrangle.)
Mansfield Park is one of the few Austen stories that deal with race and the slave trade, and this film makes that fact even more explicit, turning itself into an open critique of the Bertrams and the source of their wealth in Antiqua. The cast includes James Purefoy, Lindsay Duncan, Jonny Lee Miller, Hugh Bonneville, and more.
You can stream Mansfield Park on Netflix. 
Northanger Abbey (The 2007 Version)
British actress Felicity Jones stars in this TV film adaptation written by Andrew Davies, who's given us onscreen versions of Austen's Pride and Prejudice and Sanditon.
Jones plays Catherine Morland, a teenage girl obsessed with romances. When she's invited to the medieval country house known as Northanger Abbey, her youthful imagination runs away with her as she begins to confuse real-life with the fantasy of the novels she reads.
Jones is joined by a cast of then up and coming performers who will be well familiar to fans of British entertainment now, including JJ Field, Carey Mulligan, and more.
Northanger Abbey is available to stream on PBS Passport and via the PBS Masterpiece channel on Amazon Prime.
Sense and Sensibility (The 2008 Version)
When most of us think of Sense and Sensibility, our minds probably immediately jump to the Oscar-nominated Ang Lee film that starred Emma Thompson, Kate Winslet, and Hugh Grant. (Spoiler alert: Alan Rickman's Colonel Brandon is my dream man, everyone else can step off.) But there are many other adaptations of this particular Austen novel, which all have something to recommend them.
This three-part series features Downton Abbey's Dan Stevens as Edward Ferrars, and that is more than enough for me. J/K, there's a lot more going on here than just Stevens, but I'd be remiss to not call out a primary reason for fans who've never seen it to give this adaptation a look.
Given that its run time is considerably longer than Lee's film, there's space for the story to breathe, and a cast of British acting all-stars that include Dominic Cooper, Hattie Morahan, Janet McTeer, David Morrissey, Mark Gatiss and more certainly doesn't hurt.
 You can find Sense and Sensibility on Hulu and Amazon Prime Video.
Emma (The 2009 Version)
Though many fans may be more familiar with the 1996 feature film adaptation of Emma starring Gwyneth Paltrow and Jeremy Northam, the BBC version from 2009 is well worth your time. Starring Romola Garai and Jonny Lee Miller, the drama is whimsical, beautifully crafted, and really benefits from an extended four-hour runtime that allows it to fully dig into every aspect of the story.
Given that this series was released during a time of what many critics were referring as "Austen fatigue" – the BBC had been launching a new adaptation of the author's work on what was basically a yearly basis at that point – it may have flown under your radar at the time. Garai makes a lovely, complicated Emma and she and Miller have a sweet and charming chemistry together.
You can find Emma on Hulu and Britbox.
Love and Friendship
Kate Beckinsale stars in this frothy, charming adaptation of Austen's novella Lady Susan, though it's presented under the title of a completely different story – Love and Friendship. In it, the recently widowed Lady Susan Vernon seeks refuge with her in-laws to escape the scandalous rumors surrounding her private life. While there, she sets her sights on finding a rich husband for herself, and for her awkward teenaged daughter Frederica.
Beckinsale's performance alone – sharp, incisive, irreverent – is worth the price of admission, but she's joined by a cast that includes Chloe Sevigny, Xavier Samuel, Morfydd Clark, Jemma Redgrave, Emma Greenwell, and more.
You can find Love and Friendship on Amazon Prime Video.
---
By
for on June 20th, 2020
More to Love from Telly Visions