By
for on December 25th, 2020
'Call the Midwife' Holiday Special 2020 Recap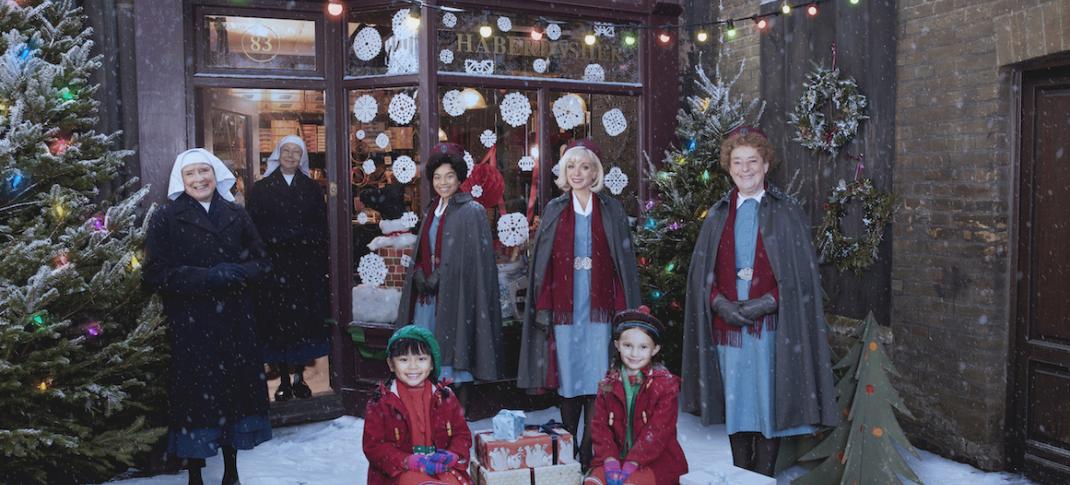 Christmas is finally here, and we know this for sure because the Call the Midwife holiday special has arrived as well. And I feel I speak for all of you when I say "Blimey, did we need this right about now!" 
This year's holiday adventure is only the second time in the past five years where all the midwives have spent the Christmas season in Poplar. No globetrotting to South Africa or galivanting to the Outer Hebrides of Scotland.  Not even a road trip to the Mother House. It feels good to have all our ladies home for the holidays. Well, almost all of them.
As the episode begins, we find that Nurse Dyer has packed up and left Poplar without a word to her friends and colleagues. We knew she would be exiting the series back in August, but not how her departure would be explained. Sister Julienne reveals that Valerie was distressed after her grandmother died and asked to resign. Concerned for her state of mind, the sister suggested the young nurse go to Hope Clinic in South Africa to keep busy and work through her grief. (This is reminiscent of when Reverend Tom left Poplar to become a missionary after his dear wife Barbara passed away.) Val's return to Nonnatus House is unlikely at best.
In other news, the Buckles have added a news agents/tobacconist shop to their Poplar retail empire. Nurse Crane and Miss Higgins formed a sort of spinster's alliance (for lack of a better term) and shared a Christmas meal of their choosing. Oh, and of course, there was that revelation that Millicent Higgins attends a spiritualist church and enjoys a Harvey Wallbanger while dancing the Charleston!
Building on the "old maid" theme, Trixie's wealthy godmother paid for a subscription to a marriage bureau to find Nurse Franklin a suitable husband. At first, Trixie was insulted but went along with the exercise to reinstate her dress allowance. She endured a Santa Baby montage filled with disappointing chaps- most of them with facial hair.  And while it was encouraging to see her resist the temptations of social drinking, I had to wonder if this was the same Trixie who just last season stood up to the council board demanding that the midwives continue to be funded? You don't need a man of means for your life to be meaningful, Miss Franklin.
And finally, Sister Monica Joan found herself in peril yet again. A scary tumble down the stairs resulted in a nasty double fracture of the leg. Sister MJ was distressed and depressed at being confined to a hospital bed and outfitted with a catheter to boot. While the other nuns basically told her to suck it up, Nurse Anderson took the bull by the horns and devised a plan to bring their beloved elder home for the holidays.
Now on to the main storylines that made up this year's special: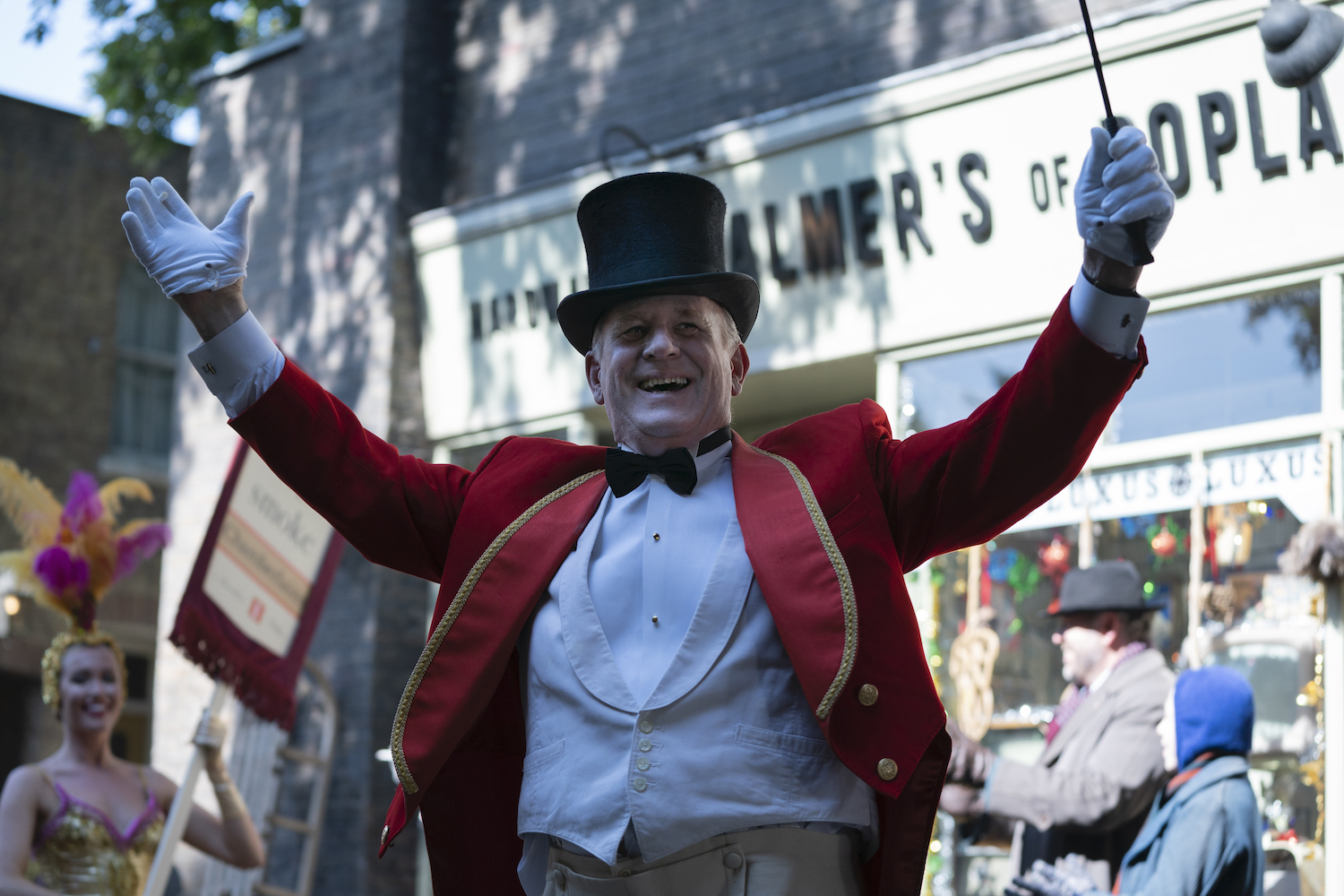 The circus rolled into town just in time for Christmas. And while Snowy the polar bear was a mascot in spirit only (sorry, Reggie) and the clowns were a bit creepy (sorry, Sister Frances), the magic made many in Poplar feel like children again.
Speaking of youngsters, Jaquetta Percival-Ellings (Lizzie Watts), a daring aerialist, was expecting her third child. After a gas explosion destroyed her family's caravan, her anxious father and ringmaster, Mr. Percival, (Peter Davison) insisted she get checked out by the midwives. Turns out he was the one who really needed medical attention. The ringmaster was being treated for lung cancer, and Dr. Turner told him it's likely spreading. Percival refused to agree to any procedures that would put him in the hospital or worry his daughter.
The following day, the midwives received a call from Jaquetta's husband. Nurse Crane took charge, ejecting all men, children, and dogs from the family's room at the pub. The labor was long and non-productive, so Dr. Turner and his forceps were called in. The baby boy struggled to breathe at first, but it was Jaquetta who was in real trouble. She suffered heart failure after the delivery and was rushed to the hospital. The patient will recover though it was highly recommended she have no more children.
Afterward, Nurse Crane assisted the distressed Mr. Percival with his oxygen treatment. He worried that he's been working his daughter too hard for a dream that isn't hers. Phyllis admitted she would have loved life on the trapeze. Percival recognized her as a kindred spirit and the next day arranged the exhilarating opportunity for her to fly through the big top in a sequined costume! Once back on solid ground, however, Phyllis recognized her ringmaster chum needed immediate medical attention.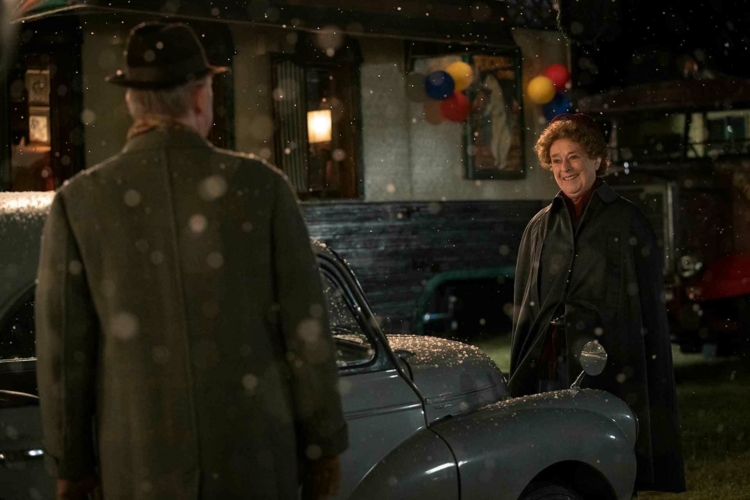 In the end, father and daughter had a loving chat about health, circus life, and family. Jaquetta was thankful for a childhood of magic and stardust and thinks that her sons may want to follow in their grandad's footsteps. She also agreed to a big top christening for all her boys with a suddenly churchless Cyril officiating.
Last but not least, let's talk about the heartbreaking story of miscarriage and healing. We first met Gloria Venables (Katie Lyons) in season six when she and Shelagh were roommates at St. Cuthbert's maternity ward. Since then, Mrs. Venables has lost three more babies which adds up to a traumatic seven miscarriages total. She had recently undergone a procedure for her incompetent cervix and (fingers crossed) was awaiting a full-term delivery. So afraid was she of hoping she could deliver a live child, she hadn't bought even one nappy for her baby's layette.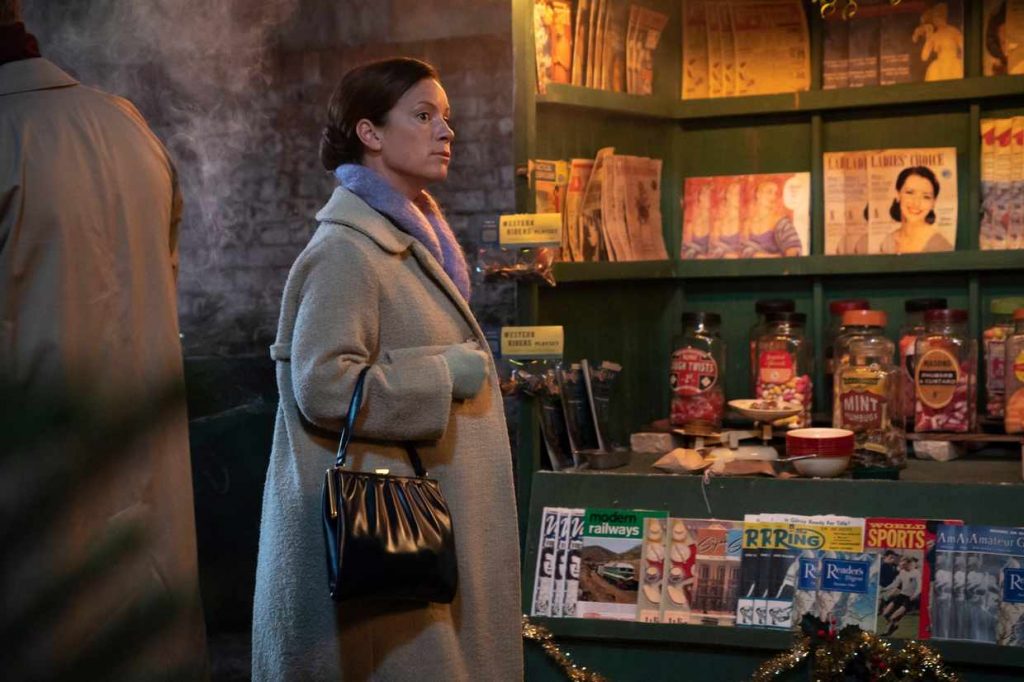 At this point, let's mention the woefully inadequate counseling she received from her specialist, Mr. Kenley, and the staff at St. Cuthbert's. (Admittedly he has been the foil for Dr. Turner and his team of midwives for years.) After glibly urging Gloria to think happy thoughts and not dwell on her miscarriages, the nervous mum rightfully requested to transfer her care to the Nonnatus team. A wise decision indeed because Shelagh possessed the compassion to understand what Gloria needed - to acknowledge each child she lost in order to move on and give birth to her new baby daughter. I must admit I watched this episode twice and sobbed at this part each time.
In the end, the whole gang, including the turkeyless Turner clan and a recently discharged Sister Monica Joan, gathered at Nonnatus House for a joyous Christmas dinner. Also, there is the ambiguous yet promising news that Sister Julienne confided to Trixie. Rather than closing, Nonnatus House will actually be expanding in the coming year. Could this have something to do with the questionnaires and suggestion box?
So until season 10 (which is currently filming) is set to air, we'll have to hold on to the big helping of love, hope, and compassion the holiday special served up. Share your opinions about this episode including your favorite quote. I'm going with Cyril's phone greeting - "This is Nonnatus House. I am afraid that I am not a midwife."
---
By
for on December 25th, 2020
More to Love from Telly Visions