By
for on September 22nd, 2023
The First Look at Paramount+ Thriller 'The Burning Girls' Is Dark and Atmospheric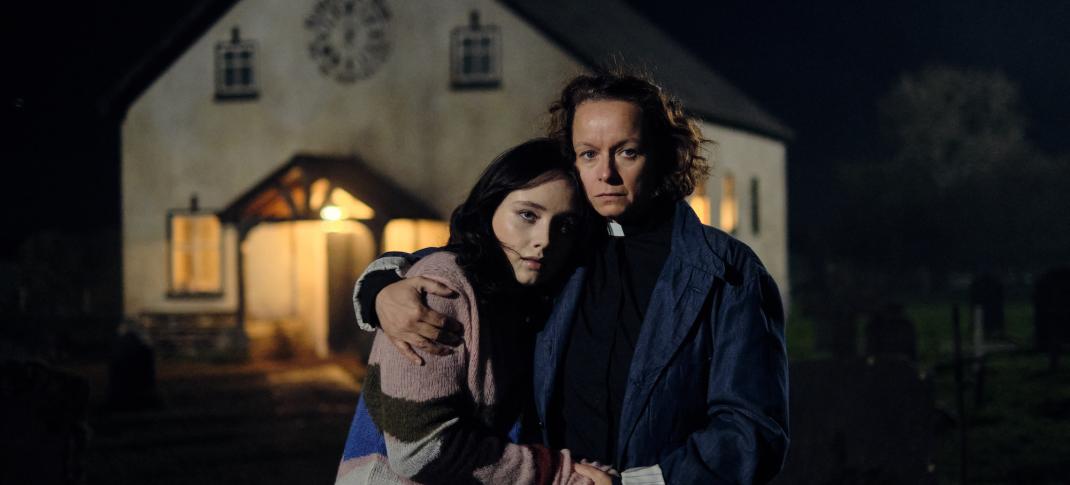 After a fairly slow start, streaming service Paramount+'s long-awaited raft of British content is finally beginning to arrive on screens around the world. Prestige heist drama The Gold (finally) premiered in the U.S. earlier this month and Sexy Beast is set to arrive later this year. Crime drama The Killing Kind recently aired in the U.K., and will likely come to America in the not too distant future. And next up is the dark thriller The Burning Girls, an adaptation of the novel of the same name by C.J. Tudor that features ghosts both figurative and literal.
(And no small amount of extremely creepy homemade dolls that may or may not be meant as protective magic.)
The Burning Girls follows the story of a village haunted by its dark and turbulent history, which involves multiple disturbing deaths and disappearances The series stars Samantha Morton (The Serpent Queen) as Reverend Jack Brooks, a single parent struggling to overcome a personal tragedy and looking for a fresh start with her daughter in a small town called Chapel Croft. But the insular village has secrets of its own and attempting to discover the truth about its bloody past comes with very real present-day dangers.
"I was immediately drawn to this character-led script, brought to life by a wonderfully talented and dedicated cast," Morton said in a statement. "On the surface, The Burning Girls is about community, but underneath it's every man for themselves. Untangling this intricate web was an absolute thrill."
Five hundred years ago in Chapel Croft, a group of eight Protestant martyrs, including two young girls, were betrayed and burned at the stake. Thirty years ago, two teenagers mysteriously disappeared from the village without a trace. And two months ago, just prior to Jack's arrival, the vicar of the local parish hanged himself in the nave of the church. The community is rife with conspiracies and reluctant to trust outsiders, and Jack soon learns that examining its secrets is a dangerous game, involving ancient superstitions and threatening messages. 
Bridgerton alum Ruby Stokes plays Jack's daughter Flo, a 15-year-old teenager who is described as "march[ing] to the beat of her own drum," and, who, if the trailer is anything to go by doesn't always understand her mother's determination to stay in the strange village.
"It was a pleasure working with such a talented and dedicated cast and crew," Stokes said. "A personal highlight; playing opposite Sam whom I greatly admire." 
Here's the series logline. 
When a female vicar and 15-year-old daughter move to Chapel Croft in the hope of a fresh start, their new beginning get off to a bad start as they find the village is rife with conspiracies and secrets.
The Burning Girls also stars BAFTA EE Rising Star nominee Conrad Khan (Peaky Blinders) as Lucas Wrigley, a mysterious alternative teen Flo befriends. The ensemble cast includes Rupert Graves (Sherlock), Elodie Grace Orkin (Stranger Things), David Dawson (The Last Kingdom), Paul Bradley (EastEnders), Jane Lapotaire (The Crown), Jack Roth (Medici), Mollie Holder (Sanditon), Safia Oakley-Green (Sherwood), Beth Cordingly (Learning to Walk Again), and John Macmillian (House of Dragon). 
The six-part series is adapted by Hans Rosenfeldt (Marcella), with Charles Martin (Skins) and Kieron Hawkes (Ripper Street) taking on directing duties. Richard Tulk-Hart and Tony Wood are executive producers alongside Tudor and Rosenfeldt.
The Burning Girls is set to premiere on Paramount+ in the U.K. on October 19. There's no word yet on when American audiences can expect to see the series cross the pond, but much like its sister show The Killing Kind, it seems like early 2024 is a fairly safe bet. 
---
By
for on September 22nd, 2023
More to Love from Telly Visions