By
for on September 11th, 2023
'The Killing Kind' Trailer Introduces New Crime-Solver Ingrid Lewis to the Small Screen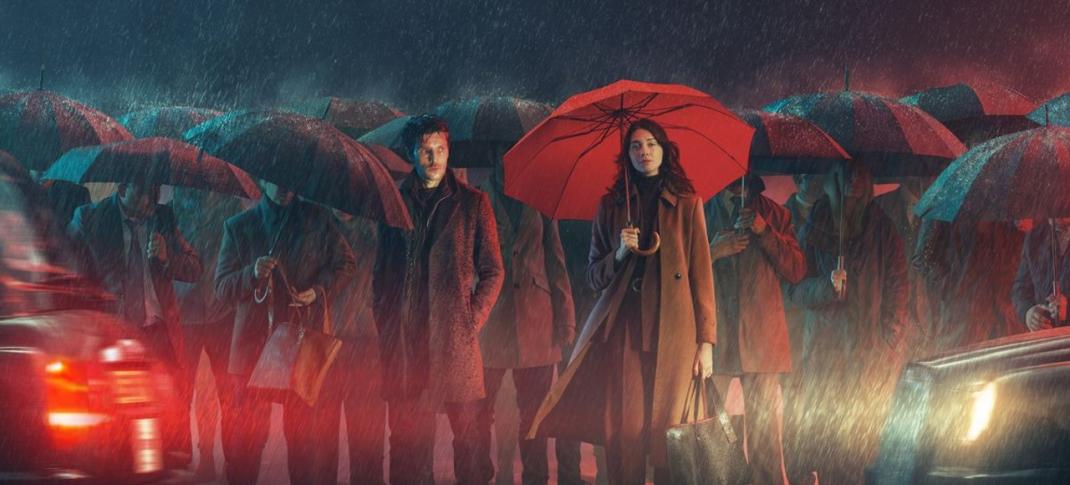 Jane Casey's novel, The Killing Kind, had barely hit shelves in 2021 when it was snapped up by Eleventh Hour Films, the same outfit behind PBS fan favorites like Magpie Murders and Foyle's War. It took over a year before the planned TV adaptation found a streaming home. Paramount picked up the series as part of its commitment to producing 50 international titles for its flagship streaming service, Paramount+. The series had a quick turnaround, with filming launched in the early spring of 2023 and now a premiere on the U.K. version of the streamer on September 7, 2023. 
Starring Emma Appleton (Everything I Know About Love) as Casey's protagonist, barrister Ingrid Lewis, The Killing Kind is a twisted tale of "the enemy of my enemy." Before the story (which is a standalone novel), Lewis successfully defended her client, James, played by Colin Morgan (We Hunt Together), against charges of stalking. She fell into bed with him once the case was over, only to discover that her life choices and successes had backfired — when she broke things off, James began to stalk her, turning her entire world inside out. 
Usually, this thriller setup would be the story a mystery writer would focus on, but not Casey. In The Killing Kind, this is all old news, a problem dealt with by law enforcement, and the case has been closed. When the series begins, Ingrid is struggling to move on with her life and learning to trust again. But when a new murderer begins targeting her workplace and colleagues, the trauma of her earlier experience with James roars back.
Luckily, Ingrid has a guardian angel at the ready, happy to kill anyone who goes after her: James. Check out the trailer.
Here's the series synopsis:
As a top-flight barrister, Ingrid Lewis is used to dealing with tricky clients, but no one rivals John Webster – good-looking, successful, and charismatic. Webster was accused of harassment and stalking by an ex-girlfriend, and in court, Ingrid defended him, winning the case. Following the trial, Ingrid got close to Webster – too close – and when she tried to exit the relationship, he turned on her, and her world imploded.

In this thrilling adaptation for the screen, The Killing Kind picks up just as Ingrid is rebuilding her life before a tragic incident occurs, and Webster reappears with a sensational claim, threatening to unravel her life once again.
Appleton and Morgan are joined by co-stars Elliot Barnes-Worrell (Van Der Valk) as Ingrid's ex-fiance Mark Orpen, Kerr Logan (Dead Still) as DS Luke Nash, Sara Powell (Unforgotten) as Ingrid's mentor, Belinda Grey, and Nicholas Rowe (A Spy Among Friends) as Belinda's husband and head of Chambers, Angus Grey. The cast also includes Rob Jarvis (Grace), Olivia D'Lima (Death in Paradise), and Sophie Stanton (The Full Monty).
The series was co-written by Zara Hayes (Showtrial) and Jonathan Stewart (Devotion), with Casey and Seth Sinclair (Pennyworth) also listed in the writing credits. Hayes also took on helming duties for three of the six episodes, with Chanya Button (Whitstable Pearl) directing the other three. Casey is the leading executive producer of the series with Hayes and Stewart, Paula Cuddy, Jill Green, and Eva Gutierrez.
The Killing Kind has already debuted in the U.K.. However, it is not currently listed on the schedule for the U.S. version of Paramount+ for 2023; American fans will probably not be able to stream it until early 2024.
---
By
for on September 11th, 2023
More to Love from Telly Visions