By
for on October 4th, 2023
'The Buccaneers' Trailer Sends a Squad of American Heiresses to London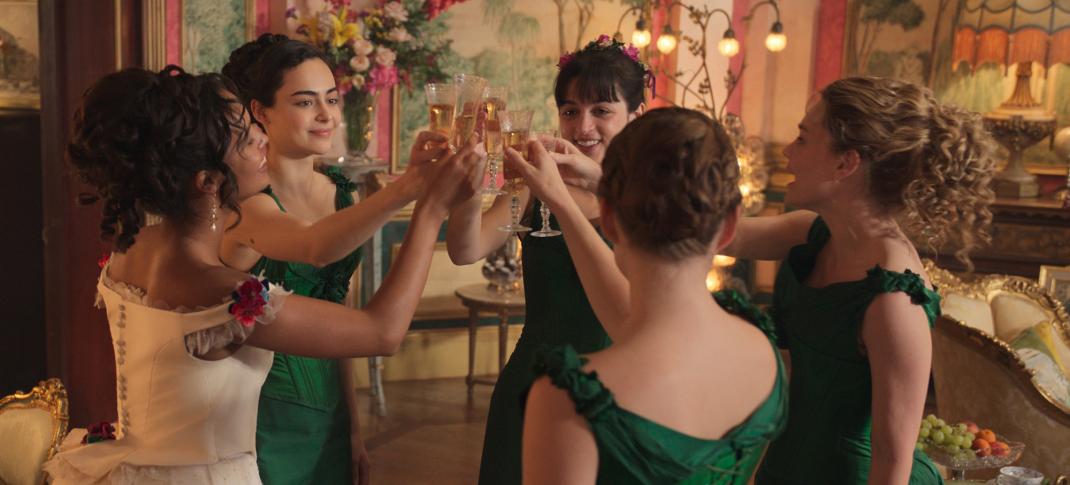 Apple TV+ has released the first trailer for its forthcoming period drama The Buccaneers, a series that's "Inspired by" Pulitzer Prize winner Edith Wharton's unfinished final novel. And if this first footage is anything to go by, the series appears to be a colorful, vibrant reinterpretation of the original.
The story follows the adventures of a group of nineteenth-century American heiresses, rich daughters of new-monied New Yorkers whose families' wealth all came from successful industrial ventures rather than longstanding inheritance. Wealthy but not seen as particularly respectable in society's terms, the group head to England to seek status among the titled but genteelly impoverished British aristocracy, essentially exchanging their fortunes for titles and estates. 
The girls are, naturally, extremely American about it all --- loud, anachronistically feminist, and seemingly incapable of understanding the intricacies of the British peerage. Set to a bright, poppy soundtrack that includes Olivia Rodrigo's "all-American bitch," the trailer makes it reasonably clear this series isn't be your mother's Edith Wharton. 
That isn't necessarily a bad thing per se. After all, Apple TV+'s own Dickinson has proven there's plenty of rich narrative ground to be mined from modern-ing up classics. The Buccaneers is, at its heart, a young adult drama, and there's something intriguing about the idea that it might take a more youthful approach to telling Wharton's story. 
Here's the series synopsis. 
The Buccaneers are the daughters of America's new rich — beautiful and untameable, despite the best efforts of England's finest governesses, they are on their way to London to snare themselves an aristocrat, low in funds but high in class, to make a perfect match.
The series stars Kristine Froseth (The Society), Alisha Boe (13 Reasons Why), Josie Totah (Saved by the Bell), Aubri Ibrag (Dive Club), Imogen Waterhouse (The Outpost), and Mia Threapleton (Shadows) as eponymous buccaneers Nan St. George, Conchita Closson, Mabel Elmsworth, Lizzy Elmsworth, Jinny St. George, and Honoria Marable. 
Mad Men star Christina Hendricks plays Mrs. St. George, mother of Nan and Jinny, and the ensemble cast is rounded out by a variety of dishy suitors for the young ladies, including Josh Dylan (Noughts + Crosses) as Lord Richard Marable, Barney Fishwick (Call the Midwife) as Lord James Seadown, and newcomers Guy Remmers as Theo, Duke of Tintagel, and Matthew Broome as Guy Thwarte.
Led by an all-female creative team, The Buccaneers is written by series creator Katherine Jakeways (Where This Service Will Terminate) and directed by BAFTA Award winner Susanna White (Jane Eyre), who both serve as executive producers alongside BAFTA Award nominee Beth Willis (Doctor Who). 
The Buccaneers will premiere globally on Apple TV+ on Wednesday, November 8, 2023, with the first three episodes followed by new installments every Wednesday through December 13.
---
By
for on October 4th, 2023
More to Love from Telly Visions