By
for on January 4th, 2015
The 'Broadchurch' Series 2 Trailer Looks Creepy and Amazing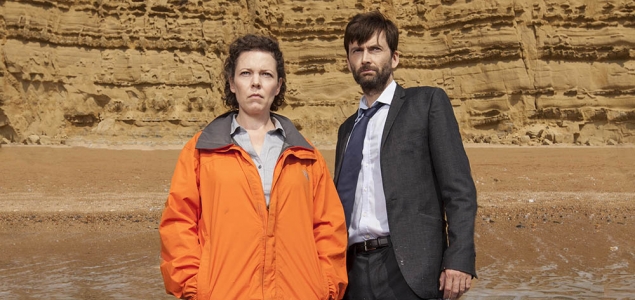 Now that we're at the beginning of a new year, it's natural to look ahead and start anticipating the positive raft of great British TV that's headed our way in 2015. As I've mentioned before, one of my 
most
 anticipated shows this year is the second season of 
crtically acclaimed mystery drama 
Broadchurch. 
The first season of the show delivered record ratings for ITV and became something of a watercooler phenemoneon, clocking in as
the most tweeted about British drama ever
, earning rave reviews from critics and fans alike, and basically dominating all entertainment discussion during the weeks it was airing. Literally everyone wanted to know who killed Danny Latimer.
Given the phenomenal success of the first season, the announcement that the show would continue certainly wasn't surprising; however, the fact that the mystery's core murder case was wrapped up so neatly by season's end left most viewers scratching their heads about where the show could go from that point. Well, now we finally have a few clues, thanks to the release of the first UK and US trailers for Season 2. 
After a barrage of moody teaser trailers touting the tag line The end is where it begins, ITV finally released a proper full trailer for Broardchurch Season 2, complete with haunting music, angsty town residents and the appearance of several new faces in town in the form of Eve Myles, Marianne Jean-Baptiste, James D'Arcy and Charlotte Rampling, among others.
Watch for yourselves below: 
Even after watching this trailer, however, the crucial question remains - what is Series 2 going to be about? My best guess - and the only think I think can be supported, even vaguely by the evidence in this trailer - is that we're finally going to find out what happened to DI Alec Hardy before he came to Broadchurch. I think it's a safe bet that the case we'll be dealing with is either directly or somehow connected to what happened to Hardy in Sandbrook. That case involved the murder of two young sisters and the prosecution fell apart when a pendant went missing, leaving a killer to walk free. Given that this trailer repeatedly features an extremely emotional Hardy, references missing girls and includes a blink-and-you'll-miss-it flash of a young girl wearing a pendant, it seems like a logical guess in my mind. We'll have to wait and see if I'm write. 
Stars David Tennant and Olivia Coleman are both back for Series 2, along with other familiar figures from Season 1 including Jodie Whittaker, Andrew Buchan and Arthur Darvillnso it also seems likely that we're nowhere done seeing the fallout from Danny's death, particularly in detective Ellie Miller's life, given her close connections to all parties involved. (I so can't wait.)
Broadchurch returns January 5 in the UK and is slated to air in the US on BBC America starting March 4. BBC America has also released a new trailer for Series 2, but it's focus is a bit different from its ITV counterpart. (In fact it's LOADED with spoilers for Season 1, so if for some reason you haven't seen it all yet DO NOT watch this trailer.) 
Though, really, if you haven't seen Broadchurch Season 1 yet, get yourself to Netflix right now. 
Who else is excited for this show's return? What do you think will happen in Broadchurch Series 2?
---
By
for on January 4th, 2015
More to Love from Telly Visions