By
for on October 14th, 2013
British Actors You Should Know: Tom Hiddleston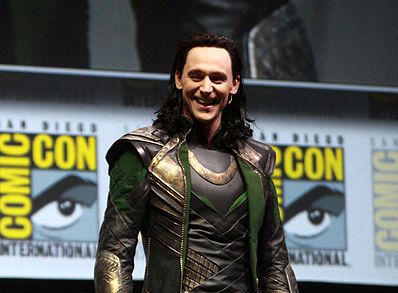 Much like previous British Actor You Should Know Benedict Cumberbatch, it's highly likely that you probably actually do know who Tom Hiddleston is, even if he's only "Loki from The Avengers" or "Henry V from The Hollow Crown" in your mind and you have no idea what his actual name is as a real live person.
You should probably remember his actual name though, because he's quite a talented actor with a diverse array of roles under his belt. And given the fact that he's now garnered quite the online army thanks to his Marvel role, general good nature and focus on worthy charitable causes, it would seem that he's not going anywhere time soon and will probably be making his mark on many more roles in future. (And it's the sort of acclaim that will be well deserved.)
However, Hiddleston's career is made of more roles than just Loki. Here's a look at a few of them. 
The Avengers. As mentioned above, out of everything in this list, this is probably the Hiddleston movie you've seen, considering that it cleaned up at the box office in Summer 2012. The blockbuster popcorn flick was written by Joss Whedon, of Buffy the Vampire Slayer fame, and brought together the major characters from all the Marvel films together for an incredibly fun ride. Hiddleston reprises his role as the villainous Loki from Thor (see below), alongside the various superheroes played by Robert Downey Jr., Chris Hemsworth, Chris Evans, Jeremy Renner, Scarlett Johansson, Mark Ruffalo and more. It's incredibly fun, and Hiddleston gives a memorable star-making performance. 
The Deep Blue Sea. This 2011 British romantic drama stars Hiddleston alongside Rachel Weisz and Simon Russell Beale (who recently won a BAFTA for playing Falstaff alongside Hiddleston in The Hollow Crown). It follows the story of Hester (Weisz), a young woman in the 1950s who starts an affair with a young RAF officer (Hiddleston) that throws her life into turmoil when she realizes she can no longer be happy with her stolid, proper husband (Beale). Dun dun dun…..
The Hollow Crown.  Hiddleston stars as King Henry V in this quartet of films adapting four of William Shakespeare's history plays and grouping them into a single chronological narrative. (Which means that Hiddleston plays the same character – from Prince Hal to King Henry – in Henry IV, Part One; Henry IV, Part Two and Henry V). His Henry V is wonderfully complex – and the fact that Hiddleston is a Shakespearian at heart just shines through every line. 
Midnight in Paris. A 2011 romantic comedy/fantasy from Woody Allen which follows the story of a writer who must face the shortcomings of his relationship with his materialistic fiancée, which become increasingly exaggerated as he travels back in time every night at midnight. Hiddleston plays writer F. Scott Fitzgerald, who shows up in the 1920s Paris timeline. It's hard to do this movie justice in a paragraph, but it's thoroughly charming and magical. Owen Wilson, Rachel McAdams, Marion Cotillard, Michael Sheen, Adrien Brody, Kathy Bates and more all star. 
[This video is no longer available.]
Only Lovers Left Alive. This is technically an upcoming role for Hiddleston, but the film sounds so interesting that it seemed worthy of inclusion. Only Lovers Left Alive tells the story of two vampires and their volatile, passionate relationship over the centuries. Hiddleston stars opposite the always amazing Tilda Swinton and the film was nominated for the Palm d'Or at the 2013 Cannes Film Festival. Sadly, it's unlikely to see a wide release until next year, but keep an eye out for it. 
Return to Cranford. In this sequel to charming period drama Cranford, we continue to follow the lives, loves and other adventures of the quirky residents in a small village called – you guessed it – Cranford. Hiddleston plays William Buxton, Eton-educated son of Mr. Buxton who falls in love with a girl named Peggy, of whom his father (of course) does not approve. The series is fun and adorable, and Hiddleston is appropriately swoon-worthy in a period dress sort of way. 
Thor. This 2011 superhero film is based on the Marvel Comics character of the same name, and tells the story of the crown prince of Asgard who is exiled from his homeland to Earth. Hiddleston plays Thor's trickster brother Loki, in what must certainly be considered the actor's breakout role, if the reaction to his recent appearance at Comic Con is anything to go by. Thor is directed by Kenneth Branagh (yes, the actor) and is s surprisingly fun ride, if you can ignore the utterly pointless romance plot that gets shoehorned into the middle of it. 
Sequel Thor: The Dark World hits theaters this November, so prepare for Hiddleston's star to rise even further.
Wallander. Adapted from the Swedish novels by Henning Mankell, Wallander stars Sir Kenneth Branagh as Detective Inspector Kurt Wallander, a dark and somewhat existential investigator whose personal life is kind of a wasteland as a result of his inability to let go of the dark cases on which he works. Hiddleston plays Wallander's second in command, Magnus Martinsson, in Series 1 and 2 of the gritty crime drama, and his presence is sorely missed in Series 3, when presumably the actor was too busy playing The Avengers' Loki to fit the show into his schedule. Given that a fourth and final series of Wallander is rumored to be in the works, maybe we'll see him again someday? (I don't remember whether the series directly addressed his absence in the most recent episodes?)  
[This video is no longer available.]
War Horse. Director Steven Spielberg's adaptation of the children's novel (and award-winning stage play) of the same name, War Horse is about what happens after a boy's beloved horse is sold to the army and thrust in the middle of World War I. The film follows Joey the horse's journey back to his boy (Albert), through the British cavalry, German soldiers and even No Man's Land.  Emily Watson, Jeremy Irvine, David Thewlis, Benedict Cumberbatch and more also star. Bring tissues. Just saying. 
Allright, Hiddlestoners - what'd I leave out? What's your favorite Hiddleston film? And if you had to recommend one film for newcomers to this actor, what would it be? 
---
By
for on October 14th, 2013