By
for on September 6th, 2023
British Actors You Should Know: Sanjeev Bhaskar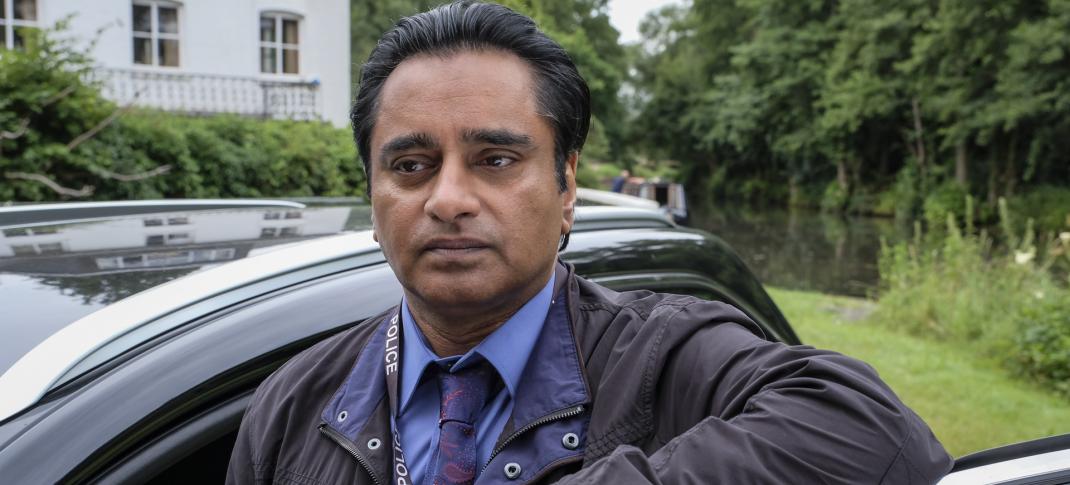 Actor Sanjeev Bhaskar was born in England in 1963 to immigrant parents who ran a laundromat in Hounslow, Middlesex. At school, he was one of three Asian students and found that although he was allowed to play "Kiss and Chase" (what it sounds like!), he was allowed to chase but not kiss. Unsurprisingly, he spent his youth learning to handle racist bullying and figured out early that comedy (pretending fish fingers were his favorite food) was the key to survival at school. He invited few friends home, embarrassed by the fact that the family lived above the laundromat, his mother wore a sari, and his family was so clearly "other." 
After discovering Shakespeare, Bhaskar learned RP (Received Pronunciation) and decided that the bard deserved the best. By the time he was in secondary school, the Asian population had increased, but this was the era of the National Front, and fights were common. Following business studies at the University of Hertfordshire, he went to work for IBM, only to re-discover his love of comedy as a hobby. He initially caught the attention of the BBC as a member of "The Secret Asians," a live comedy sketch show performing in London. That led to a radio, TV, and film career, mainly focused on comedy, exploring South Asian culture within U.K. society.
Bhaskar was well into his BBC career by the time Unforgotten came along, and he and his wife, Meera Syal (Mrs. Sidhu Investigates), are household names for their sitcoms. In addition to writing and acting, Bhaskar is the Chancellor of the University of Sussex, which awarded him an honorary degree in 2019. Let's take a look at his work!
Bhaskar's breakout BBC series, Goodness Gracious Me, ran first on radio and then transferred to television, becoming a cult hit and airing from 1998 to 2015. Written with wife and frequent collaborator Syal (they met on set), the series resonated strongly with Asian audiences. The show's title is that of a song from the 1960 movie The Millionairess starring Sophia Loren and Peter Sellers, who portrayed an Indian doctor (a brown face role). The cast gave the show the working title of Peter Sellers is Dead, but because they liked and admired Sellers' portrayal of a competent doctor and his other work, they agreed to use the song title instead.
Amma Kalia, in an article about Bhaskar, wrote:
With its skits on curry house culture, fake eastern mysticism and competitive mothers, it reached cult-classic status in British Asian households. Watching it at home as a child, I saw the constituent elements of my community reflected for the first time, with punchlines, played for laughs, that would be fully felt only by those who had lived those experiences. It was television that was for us, by us.
The show was hugely popular, spoofing Asian and British stereotypes. However, Bhaskar, long an advocate for diversity, commented recently: "It's slightly depressing that Goodness Gracious Me still feels like a landmark show."
(A word of explanation for this sketch –– in Britain, it's customary after a night's heavy drinking to "go for an Indian" to settle the stomach and avoid a hangover with a curry. Here, the participants are Asians in Mumbai, visiting an English cafe for a full English breakfast.)
Running from 2001 to 2006, the brilliantly funny series The Kumars at No. 42 is an inspired combination of a chat show and a sitcom. It features the beloved only son of an Asian family, Sanjeev Kumar (Bhaskar), who wants to have his own chat show. So his father builds him a studio in the garden, and the whole family helps –– or otherwise –– him achieve his dream. Dominating their son's show, they sit on the side of the stage like Elizabethan gallants at the Globe, disagreeing, joining the chat, and making demeaning comments about Sanjeev in English and Punjabi.
The Kumars also became a hit in the first season when it became apparent the celebrities making appearances didn't realize it was a show-within-a-show and took it very seriously. Syal appears as Sanjeev's Ummi (grandmother), with Indira Joshi (mum) and Ashwin Kumar (dad). Lissa Evans and Nick Wood direct the series. The Kumars at No. 42 was said to be one of the late Queen Elizabeth II's favorite TV shows.
Created in 2007 but not aired on ITV until 2009, Mumbai Calling was one of Bhaskar's less successful series, running only one season. Kenny Gupta (Bhaskar), a British-born accountant, is sent to Mumbai to turn around Teknobable, a failing call center. Suffering from culture shock, he discovers the current manager is using the call center for his own profitable enterprises and harassing the female staff. His British boss sends over his daughter Tiffany (Sophie Hunter) and the terrifying Terri Johnson (Daisy Beaumont) to help.
The trailer includes an outstanding cameo performance by Richard E. Grant, who teaches the team how to deal with Scottish customers. The series was written by Bhaskar and Simon Blackwell and directed by Allan McKeown.
A gentler, but still funny, series, The Indian Doctor is set in 1963, when Enoch Powell, who later revealed his extreme racist tendencies, but was then Health Minister, invited Indian doctors to work for the U.K. Sophisticated, upper-class Dr. Prem Sharma (Bhaskar) and his wife Kamina (Ayesha Darker), who hoped for a London post, find themselves in rural Wales in a coal-mining village.
Originally filmed as a daytime (and low-budget) series by the BBC, it ran for three seasons, prompting Bhaskar to question both BBC funding and diversity in 2013. A more serious role for Bhaskar, it helped paved the way for the character of Sunny in Unforgotten.
Another, more recent change of direction for Bhaskar was in last year's The Sandman on Netflix, a dark fantasy based on Neil Gaiman's landmark graphic novel series and starring Tom Sturridge as Lord Morpheus aka Dream, the cosmic being who controls all dreams. Season 1 covers the first two installments of the comics, with the first half focusing on Dream's return after a century's imprisonment. Finally free, he travels through dimensions of time and place to repair the chaos caused by his absence.
The series is a who's who of British A-listers, with Bhaskar appearing as Cain with Asim Chaundry as Abel, whose story has gone awry. However, they still battle it out. The series has been renewed for a second season, but it's not clear if Cain and Abel will be back for it.
'India with Sanjeev Bhaskar'
In 2007, commemorating the 60th anniversary of the independence of India and Pakistan, Bhaskar made India with Sanjeev Bhaskar, a series of documentaries exploring different facets of modern Indian life. He also dug deep into his own history, including an exploration of his family's ancestral home in Pakistan. This episode explores India's tech industry, including a visit to the Map Room, where the world's internet activities are observed. You have to wonder if Bhaskar ever envisioned anything like this when he worked for IBM long ago.
He also talks to the Indian employees who are the backbone of the modern web, a younger generation who are worlds away from traditional Indian lifestyles and values. The series inspired his first book, titled India with Sanjeev Bhaskar: One Man's Personal Journey Round the Subcontinent, published in 2009.
Begun in 2013 by Benedict Cumberbatch's SunyMarch outfit, Letters Live started as a one-off literacy charity event. A series of live readings by well-known actors of letters written by the famous and/or eccentric, the format proved so popular that it's still going. Part of the charm is that the event does not announce who will appear or what they will read beforehand, leaving it up to those asked to participate to decide. Bhaskar is practically a regular at the event, having appeared multiple times since his initial 2015 performance.
In this clip, Bhaskar reads a series of letters to Napoleon's wife, Josephine, written when he was on campaign, which reveals their (frequently funny) tempestuous and passionate relationship. Miriam Margoyles (Call The Midwife) provides a silent yet eloquent commentary from Josephine's point of view.
With Unforgotten Season 5 now stateside, Bhaskar gave us the scoop on what we've all been wondering: What is in that backpack? And what would Sunny put in Bhaskar's backpack? 
I think it would be things that are a lot darker than anything the costume department has put in there. I think there'd be mousetraps in there — the old-fashioned mousetraps that you find in cartoons, Tom and Jerry, and I think there'd be a lot of snacks. Sunny knows me well — he'd know to put a snack in there. I travel around with an iPad and a little speaker — I've been kind of movie-mad ever since I was a kid — so wherever I go and whenever I'm filming something, I have to know that I've downloaded a bunch of movies and TV shows so I can lock into them. So I think if he knew me well, it would be that. But I've got a feeling it may just be mousetraps.
Stream Now
Unforgotten
Police officers investigate the murder of a boy whose diary implicates four couples.
Image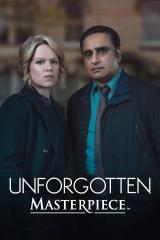 ---
By
for on September 6th, 2023
More to Love from Telly Visions