By
for on September 8th, 2013
British Actors You Should Know: Martin Freeman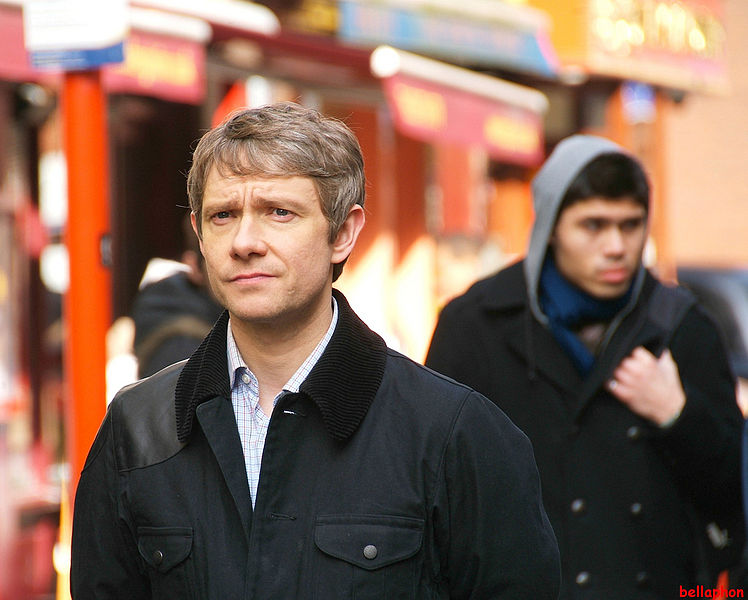 The most fun part of the British Actors and/or Actresses You Should Know series is the chance to introduce people to the larger bodies of work of actors they may only be passingly familiar with (British performers do tend to make up a large portion of Hey, It's That Guy references on the internet, after all.) Today's installment is a perfect example of this – most fans of British television know him, but probably couldn't tell you more than one or two things they've seen him in.
Many people are aware of Martin Freeman thanks to his work in The Office or, more recently, in Sherlock. However, fans who are only familiar with these performances may not know that Freeman has been a mainstay in British productions for years, and has participated in many great projects beyond these two.
Here's a look at some of them – and why they're worth your time. 
Call Register. A guy borrows his best friend's mobile phone in order to call a girl he recently met, but the phone recognizes the number being dialed, leading to a number of awkward and funny complications. This 2004 film was nominated for a BAFTA in the Best Short Film category. 
Charles II: The Power and the Passion. Freeman is part of an all-star ensemble in this chronicle of Charles II's time on the throne, his 10 year exile from Oliver Cromwell's England, and his triumphant return. Freeman plays Anthony Ashley Cooper, the first Earl of Shaftesbury, who was a prominent politician during Cromwell's Interregnum and a founder of the Whig party. Rufus Sewell stars as Charles II and a host of other familiar faces, including Rupert Graves, David Bradley, Helen McRory, Sean Biggerstaff and Dame Diana Rigg. If you're planning to watch however, make sure you find the original British version as the series A&E broadcast in the US was heavily (and clumsily it would seem) edited.  
The Good Night. In this film, a man searches for perfection in life, love, and art through a relationship with a literal dream girl when he sleeps at night. Freeman plays Gary, a once successful musician who is now struggling with his career and his relationship with his girlfriend. Gary is depressed and dejected until he meets Anna, who is everything he wants, only he can only be with her when he is asleep. As you might expect, problems arise when Gary increasing starts shunning reality for more time spent in his dreams. Strange concept, but an exceptionally strong supporting cast which features Gwyneth Paltrow, Simon Pegg, Penelope Cruz and Danny DeVito. 
The Hitchiker's Guide to the Galaxy. This is a 2005 film adaptation of Douglas Adams' beloved novel of the same name. Freeman plays main character Arthur Dent, a man who  discovers that his house is to be immediately demolished. His friend Ford Prefect, convinces him to go to the pub with him and confesses that he is both an alien from a planet in the vicinity of Betelgeuse, and a journalist working on the Hitchhiker's Guide to the Galaxy, a universal guide book, and that the Earth is to be demolished later that day by a race called Vogons, in order to make way for a hyperspace bypass. Then it just gets stranger after that. Stephen Fry, Alan Rickman, Bill Nighy, Sam Rockwell, Warwick Davis, Helen Mirren, Zooey Deschenel, Richard Griffiths and more also star (or at the very least lend their voices). 
The Hobbit: An Unexpected Journey. This movie made a billion dollars worldwide last year, so it's possible you've seen it already. Freeman plays the titular hobbit, Bilbo Baggins, who ends up on a quest with a company of dwarves and a wizard, ostensibly to reclaim the dwarves' homeland of Erebor, and he's pretty perfect in the role. Some other stuff ends up happening, including the discovery of a particularly mysterious Ring. Sir Ian McKellen, Richard Armitage, Andy Serkis, Sylvester McCoy and Christopher Lee are just some of the notable actors who put in appearances. An Unexpected Journey is the first installment in director Peter Jackson's Hobbit trilogy, with The Desolation of Smaug set to be released in December and There and Back Again slated for late 2014. 
Hot Fuzz. Freeman has actually had a part in all three films in director Edgar Wright's Cornetto Trilogy (though his role in The World's End looks the most substantial of the three). In Hot Fuzz, the Murdoch Mysteries-meets-Michael-Bay mash-up of action film and quaint English village, Freeman puts in a quick appearance as the Sergeant who transfers Simon Pegg from London to a quaint English village.  
Love Actually. This Christmas-themed romantic comedy features a star-studded cast of British talent and explores various aspects of love through ten separate stories that (mostly) all end up interconnecting in some way. Freeman plays John, a body double for an actors in sex scenes during films. He meets Judy, who has the same job and it's the weirdest meet cute possibly ever, but their relationship is very sweet. Emma Thompson, Colin Firth, Hugh Grant, Bill Nighy, Keira Knightley, Andrew Lincoln, Alan Rickman, Rowan Atkinson and more all star. (Personal aside: This is just the best holiday movie.) 
Nativity. Freeman plays primary school teacher Paul Maddens, who decides to take on the biggest challenge of his life - staging his school's musical production of the Nativity.  A festive frenzy ensues, particularly when Paul starts a rumor that a Hollywood talent scout may show up. This is a pretty cute holiday film, and has some surprisingly funny moments. It also stars Ashley Jensen, Ricky Tomlinson and Alan Carr. 
Nightwatching. Freeman stars as Rembrandt in this 2007 film which chronicles the artist's personal life and the creation of his most famous work, the painting The Night Watch. The film posits that Rembrandt suffered serious consequences in later life for using allegory to depict a conspiracy to commit murder within his portrait of the Amsterdam Musketeer Militia. Eva Birthistle, Jodhi May, Emily Holmes and Toby Jones also star. This film is worth a look almost exclusively to see Freeman in the over-the-top period costumes, but his performance here is quite well done.  
The Office. The original British sitcom that inspired the hit NBC American adaptation, The Office chronicles the day-to-day lives of office employees in the Slough branch of the fictional Wernham Hogg Paper Company. Freeman plays Tim Canterbury, a funny, unpretentious, downright adorable guy who still lives with his parents and feels unsatisfied with his life. He's also got a crush on the office receptionist, Dawn. (For those of you who have seen the American Office, Jim Halpert is the US version of this character.) Freeman is entirely charming in this role, and his comedic timing and deadpan wit will surprise those who only know him from Sherlock. (Plus: the British Office is just truly a fantastic comedy.) 
The Robinsons. This comedy from 2005 revolves around Ed Robinson (played by Freeman) and his slightly oddball family. Ed works in re-insurance until his colleague and secret lover gets promoted and fires him, causing him to reevaluate his life. Hugh Bonneville, Amanda Root and Abigail Cruttenden also star, but keep an eye out for appearances from folks like Roger Allam and Amanda Abbington. 
Sherlock. Many of you have probably seen Freeman's astonishing turn as loyal Sherlock Holmes sidekick John Watson in Sherlock, but just in case you haven't for some reason, consider this your reminder to make your life better by checking it out immediately. Freeman imbues John with a sort of everyman pathos that has been somehow missing from onscreen portrayals of the character all these years and his chemistry with co-star Benedict Cumberbatch creates the most believable and emotionally realistic BFF relationship on television. Freeman won the 2011 BAFTA for Best Supporting Actor for his portrayal of John (and quite frankly he really ought to have won it again in 2012, but that's another post).
What about you all? Do you have a favorite Freeman role? Something on this list you haven't seen before? Tell us in the comments! 
---
By
for on September 8th, 2013