By
for on October 18th, 2021
'Manhunt: The Night Stalker' is a Thrilling and Absorbing Sequel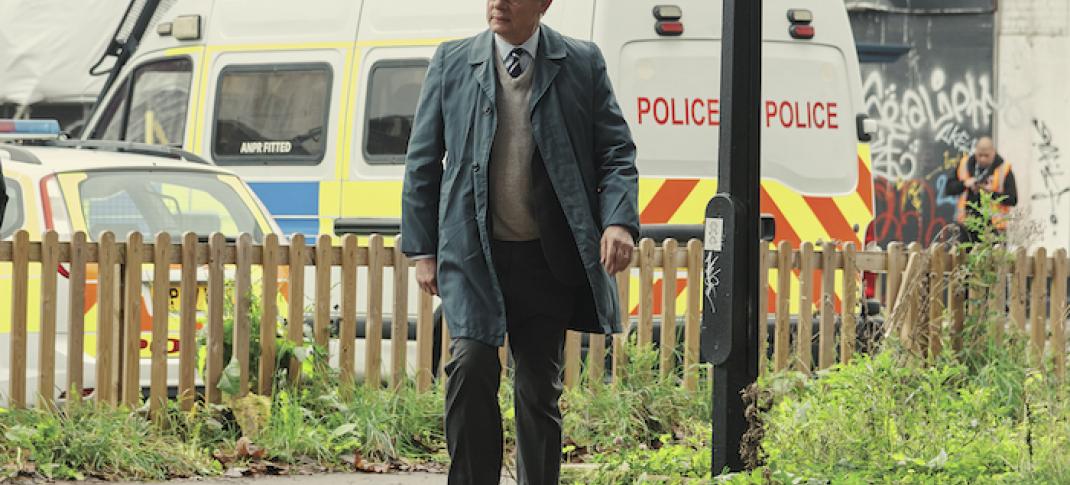 The second season of critically acclaimed crime drama Manhunt, now subtitled The Night Stalker, stars Martin Clunes as DI Colin Sutton in the story of another real-life case, drawing from Sutton's own memoirs, about the crimes of a serial rapist that occupied the London police for almost two decades.
Over a period of seventeen years, southeast London was terrorized by cases of housebreaking, robbery, and sexual assault, identical enough in their procedures and rituals to be attributed to one suspect. The Night Stalker, also known as the Minstead Man, is careful, meticulous, patient, and observant.
He leaves trademark reminders behind - household knickknacks lined up against an outside wall, lightbulbs removed and placed in a sink, disabled motion sensors. He wears a dark hoodie and sweats, and his face has never been captured on CCTV. His targets are always the elderly living alone, mostly women.
This series shows very little explicit violence, although what is hinted at is quite terrifying enough, invoking in one of the team's words, "sadness and fury." Sutton, too, is careful, meticulous, patient, and observant. In a beautifully nuanced performance, Clunes shows a man capable of great empathy and humanity. He engages a prime suspect with a chat about cricket. He is known, and liked, by many in the police community, even some very senior officers.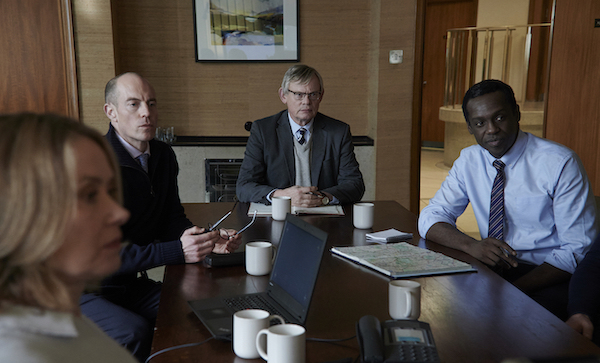 In 2009, with the case going stale and his career at Scotland Yard winding down, in Sutton is sent to serve as a fresh pair of eyes for Operation Minstead, which has plodded on with no results and is relying on a 1992 DNA sample as their most important evidence. Colin arrives at the unit to be greeted by DC Nathan Eason (Matthew Gravelle, Broadchurch) who tells him that DSU Simon Morgan (Matt Bardock), the head of the unit, is at a crime scene: The Night Stalker has struck again. Simon is obsessed with that sole DNA sample from years ago which reveals that the suspect is a male of Afro-Caribbean descent, and he believes that the sample, and the burgeoning field of DNA science, will solve the case.
But as of now, the investigation clutches at straws. Is there a link to a satellite TV installation company that has been working nearby? When the team asks the Black driver of the van for a DNA sample, he quite rightly refuses, and shames the Black member of the police team. Even Simon, as much as he'd like to get DNA samples of the entire population, admits it's impractical if not inflammatory.
Sutton meets with some resistance from his new team, particularly when they learn that Simon is taking medical leave for a few weeks and he'll be in charge. But he quietly takes over, accepting an inadequate office space, and gets to work: Reading, analyzing, making handwritten notes. He and Nathan work well together. Colin likes to talk cases over and does so every evening with his policy analyst wife Louise (Claudie Blakley, Pride and Prejudice) as they do the dishes, and with his parents when they visit for a barbecue. He's aware that taking on this case could jeopardize his career, or at least its future, given that he's so close to retirement. And he and Louise know that he dreads retirement.
Quite early on we learn that the DNA sample is pretty much useless because the police database's search feature is not set up for matching DNA. Colin, in addition to his alliance with Nathan, also makes a connection with DS Neville Hylton (Sule Rimi) who handles the database and is severely overworked. Colin's relationship with the team improves remarkably when he calls in the license plate of a car owned by the leader of the local Neighborhood Watch and is able to laugh with them at his mistake.
Clearly, a change of tactics is called for. Colin reports back to Scotland Yard, suggesting that the investigation should widen its search, to include burglaries of elderly people living alone. At Louise's suggestion, he half-seriously suggests the investigation should be renamed Minstead Lite. But just as he thought that his relationship with Simon's team was improving, after a near miss, and a chase on foot after the Night Stalker, a crucial piece of evidence is revealed. The Night Stalker has a favorite ATM, and cameras in two nearby phone boxes were installed. But once again, technology fails––they still can't identify his face from the footage.
Sutton is ordered, by a call to Nathan's phone from Simon, to call off a search of a nearby cut––a piece of land with a footpath going under a railway line––for a victim's discarded ATM card. Colin goes ahead with the search anyway, which turns up the card of another victim from two years ago, proving that they now know the Night Stalker's territory.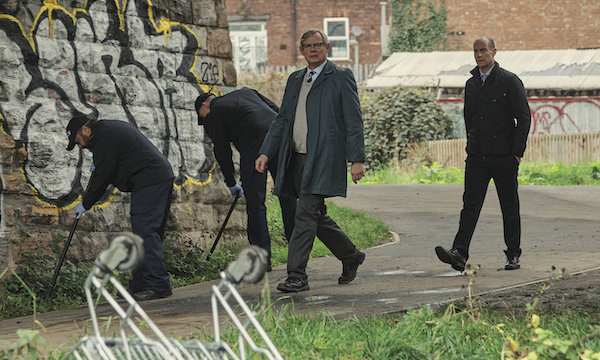 Colin convenes a meeting of police that he knows, or knows of, to advise him on how to request funding for a fully-fledged surveillance operation. He's taken by surprise when later he's summoned to present his case now––in twenty minutes––or in two months' time. He's at the bedside of a severely shocked and injured woman, who he's spoken to with great sensitivity and kindness, in one of the most moving scenes in the series.
After a dash across London, bearing only his handwritten notes, and no material for a formal presentation, he speaks from the heart:
The bottom line is this. I've got an 80–year old woman waiting for an HIV test. I've got a war hero who's too terrified to tell the Family Liaison Officer what this man did to him. I've got an 81–year old half-blind lady clutching my arm, saying 'he interfered with me.' This has got to stop and we have all got to take responsibility for stopping it as soon as we can.
One of the very senior officers on the committee (who knows and likes him, because Colin and his wife know everyone) gently replies, "You're pushing on an open door, Colin."
Consequently, the team is joined by seventy-five officers on the street and the powers of the Central 3000 Metro Police Surveillance Facility (or "the biggest train set" according to Colin and Nathan, as they are awed by the screens and flashing lights) a level of security that generally is used only for counter-terrorism. It's not straightforward at all. The Night Stalker goes quiet (as he does from time to time); and then strikes into unusual territory; the team thinks they have identified his car but it's a very common make, and Nathan has to leave for a training course. Neville stands in for him, but the team's morale suffers and everyone is exhausted. Colin barely sleeps, and Louise is concerned.
For such a quiet and restrained series, the tension and emotions build and build after the halfway point, even though we know the Night Stalker was caught, charged, and imprisoned, and it was because of the efforts of Colin and his team. You'll be surprised, and chilled––I know I was––by the background and history of the Night Stalker. Let's discuss!
---
By
for on October 18th, 2021
More to Love from Telly Visions