By
for on December 6th, 2014
BBC Radio 4's 'Good Omens' Gets an Airdate
Get ready, fans of radio drama, for the apocaly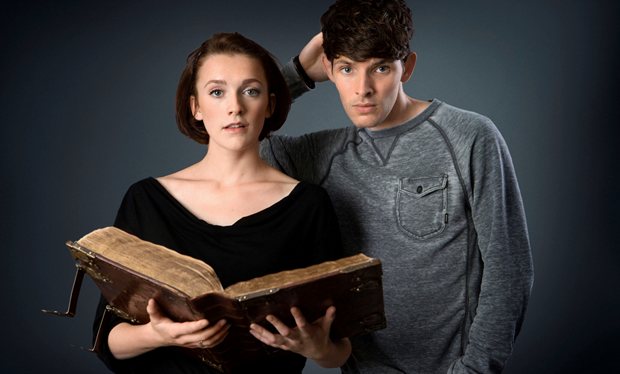 pse is nigh. (In the best way of course.)  The highly anticipated radio adaptation of Terry Pratchett and Neil Gaiman's 1990 cult classic Good Omens finally has an official airdate.
The six-part drama is due to begin with a double Monday, December 22 at 11pm and running throughout Christmas week before culminating in an hour-long finale on December 27. (This is a fairly similar rollout to what BBC Radio 4 did for their popular Neverwhere adaptation, stripping the episodes over the course of a week back in March.)
This news was officially announced on Twitter last week by Gaiman himself, who appeared to co-opt a rather special prop for the occasion: 
I have borrowed Aziraphale's flaming sword to let you know that Good Omens starts on Dec 22nd on BBC Radio 4. Look! pic.twitter.com/ST81u6tnBv

— Neil Gaiman (@neilhimself) November 27, 2014
Good Omens, subtitled The Nice and Accurate Prophecies of Agnes Nutter, Witch, tells the story of the End Times. Sort of. What it's really about is an angel (Aziraphale) and a demon (Crowley) who quite like living on Earth, actually, and aren't really that interested in the Apocalypse, to be quite honest, so they must join forces to defeat the Antichrist, whose name is Adam. They get an assist from a gang of young children, a trainee witchfinder and some flashcards. It's sort of complicated.
The BBC Radio 4 adaptation boasts a truly all-star (and rather huge) cast, led by Peter Serafinowicz as Crowley and Mark Heap as Aziraphale. They're joined by such notable performers as Merlin's Colin Morgan (Newton Pulsifier), Game of Thrones' Harry Lloyd (Pollution), Peep Show's Paterson Joseph (Famine), Fresh Meat's Charlotte Ritchie (Anathema Device), Whitechapel's Phil Davis (Hastur), Sherlock's Louise Brealey (Sister Mary Loquacious), Nicholas Briggs (Metatron) and loads more.
You can see a full cast gallery – there are over 15 official photos of the Good Omens cast at the BBC Radio 4 site besides the one we pulled above. There's also an official cast breakdown if you need some help figuring out who's who, who's playing what, and how they're all related to each other (a necessary evil in a story that involves everything from angels to demons to nuns to casual bystanders to the Four Horsemen of the Apocalypse.)
The extra nice part of all this is that Americans won't have to wait to hear this radio dramatization for themselves. Most internet radio apps (Tune In Radio is my personal favorite) will stream BBC radio for you for free and the BBC's iPlayer Radio isn't geolocked, which means it also works in America with no hassle. So you'll be able to hear the whole thing anytime for quite some time after it airs. Huzzah!
Is anybody else super excited for Good Omens? 
---
By
for on December 6th, 2014
More to Love from Telly Visions