By
for on September 14th, 2014
BBC Radio 4 to Adapt Neil Gaiman and Terry Pratchett's 'Good Omens'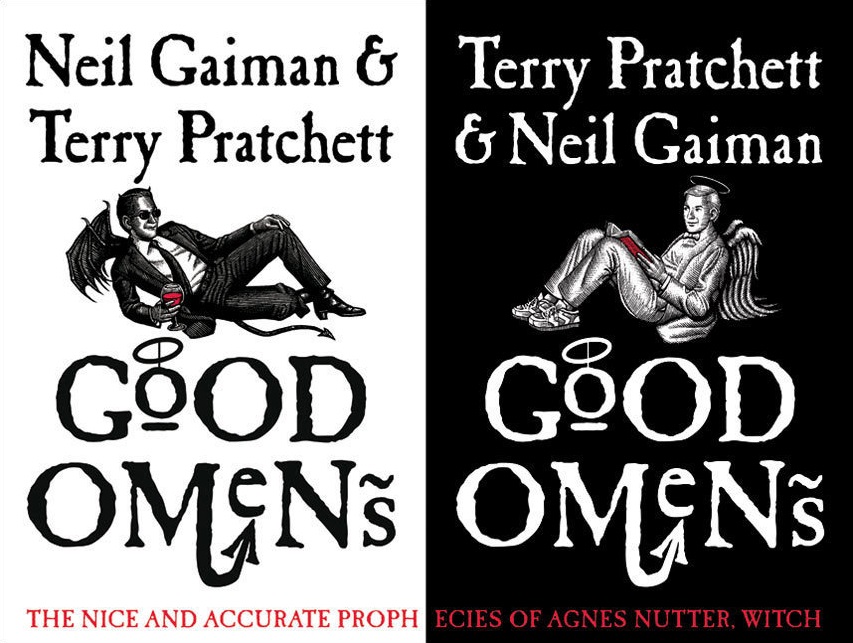 Fresh on the heels of their popular all-star adaptation of Neverwhere last year, BBC Radio 4 is set to bring another popular fantasy novel to life on the radio. They have joined forces with authors Neil Gaiman (who also penned Neverwhere) and Terry Pratchett to create the first ever dramatization of their co-authored 1990 cult-classic novel Good Omens.
Good Omens, subtitled The Nice and Accurate Prophecies of Agnes Nutter, Witch, tells the story of the End Times. Sort of. What it's really about is an angel (Aziraphale) and a demon (Crowley) who quite like living on Earth, actually, and aren't really that interested in the Rave to team up to stop the foretold Apocalypse from occurring and defeat the Antichrist, whose name is Adam. 
The cast, which is pretty all-star, features Spaced's Mark Heap and Shaun of the Dead's Peter Serafinowicz as Aziraphale and Crowley alongside a bunch of recognizable folks, including Merlin's Colin Morgan, Sherlock's Louise Brealey, Whitechapel's Phil Davis, Peep Show's Paterson Joseph, Game of Thrones' Clive Russell, Spaced's Julia Deakin and more. No roles have been officially announced beyond Aziraphale and Crowley, so it's probably time to start speculating about who exactly will end up playing whom here, huh?
This adaptation is being directed and adapted by Dirk Maggs and the same team that did Neverwhere (which not incidentally also featured an incredibly glitzy cast of stars like James McAvoy, Natalie Dormer, Benedict Cumberbatch and Sophie Okonedo) started recording in early September (in a "secret London location, apparently).
It's currently slated for a December transmission, and will air  across a week in five half-hour episodes and culminate in an hour-long "final apocalyptic showdown, on a Saturday, shortly before Woman's Hour, should the world not actually end". (Or, at least, according to the press release.)
Are you excited about the prospect of a Good Omens adaptation? Have you read the book? 
---
By
for on September 14th, 2014
More to Love from Telly Visions